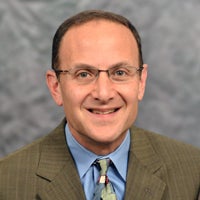 Professor, M.B.A. Director
Marketing
Phone: 401.874.4344
Email: dsheinin@uri.edu
Office Location: 328, Ballentine Hall
Biography
Daniel A. Sheinin (Ph.D. in Marketing, Columbia University) is Professor of Marketing. He was previously Assistant Professor of Marketing, Smith School of Business, University of Maryland College Park. Dan's research expertise is brand and product management, specifically covering questions such as how companies should build corporate brands to influence product judgments, whether brands should be extended into new categories, and how consumers evaluate multi-attribute products. Some of his research has appeared in the Journal of Marketing, Journal of Advertising, Marketing Letters, Journal of Business Research, and Journal of Marketing Theory and Practice. Dan's research has also been funded by Marketing Science Institute. He has substantial experience in consulting with a wide variety of businesses, from Fortune 500 multinationals like Stanley Black & Decker to regional law firms and local start-ups. Dan regularly presents his research at major international conferences sponsored by American Marketing Association, Academy of Marketing Science, and Association for Consumer Research. He helped develop URI's new branding initiative, including the "Think Big, We Do" slogan.
Dan was named Coordinator of the Marketing and Supply Chain Management areas in Fall 2013. He has taught at the executive, doctoral, M.B.A., and undergraduate levels. Dan presently teaches in an on-site Executive M.B.A program at Pfizer. His M.B.A. courses include the electives Product Management and Integrated Marketing Communications, and the required Managerial Marketing. Dan was a founding developer and instructor in URI's new full-time one-year M.B.A. program in Strategic Innovation in Providence. He also teaches Marketing Communications Management in the undergraduate program. Dan has received graduate and undergraduate teaching awards at both URI and University of Maryland. He has received a fellowship from the Advertising Education Foundation to work at Leo Burnett, a global marketing communications agency.
Prior to his academic career, Dan worked in brand management (after receiving a M.M. in Marketing and Finance from the Kellogg Graduate School of Management, Northwestern University) and management consulting (after receiving a B.A. in Economics from Amherst College). He is passionate about his family, tennis, and playing tennis with his family.
Selected Publications
Selected Recent Publications
Ozcan, Timucin and Daniel A. Sheinin (2013), "Eliminating Attribute Devaluation in All-in-One Products," Journal of Marketing Theory and Practice, 21 (4), 389-404.
Ozcan, Timocin and Daniel A. Sheinin (2012), "Effects Of Complete Products On Consumer Judgments," Journal of Product & Brand Management, 21 (4), 246-254.
Sheinin, Daniel A, Sajeev Varki, and Christy Ashley (2011), "The Differential Effect of Ad Novelty and Message Usefulness on Brand Judgments," Journal of Advertising (lead article), 40 (3), 5-18.
Sheinin, Daniel A., Laurette Dubé, and Bernd H. Schmitt (2008), "Derivative Beliefs and Evaluations," Journal of Product and Brand Management, 17 (7), 453-466.
Biehal, Gabriel J. and Daniel A. Sheinin (2007), "Corporate Messaging: Product Portfolio and Competitive Interference Effects," Journal of Marketing, 71 (2), 12-25.