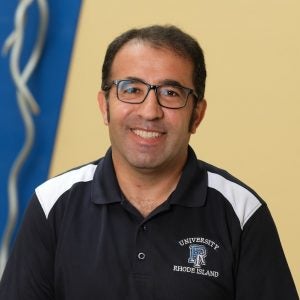 Professor
Supply Chain Management
Phone: 401.874.5750
Email: koray@uri.edu
Office Location: 318, Ballentine
Biography
Koray is a Professor of Supply Chain Management at URI. He earned his PhD in Business & Management in 2011 at the University of Maryland – College Park. His research interests include humanitarian logistics and disaster relief, scholarship of teaching and learning, emerging business/supply chain technologies, and geopolitics of supply chains.
Koray's career journey started as an electrical engineer. Having completed his master's degree at Colorado State University in Electrical & Computer Engineering, he returned to Turkey and worked on a network security project for the National Research Institute of Electronics and Cryptology (TUBITAK-UEKAE), and also taught computer programming courses at Istanbul University. His transition to the supply chain management domain started during his employment as a Logistics Systems Analyst at the United Nations in Amman / Jordan serving 5+ million refugees in the Near East. To build a theoretical foundation in this new humanitarian domain, he completed a Graduate Diploma in Purchasing and Supply from a U.K. Institute – CIPS.
During his employment at the United Nations in Jordan, he provided process mapping and programming support to the Procurement and Logistics Division. Upon talking to the beneficiaries and witnessing the agency's terrific impact on generations of refugees, he came to find a deeper meaning and satisfaction in this field. Eventually, he completed his PhD in supply chain management and started doing research to improve the efficiency and effectiveness of humanitarian supply chains.
Equally, teaching is another activity Koray is passionate about. He has taught students across the globe in many countries (USA, Georgia, Kyrgyzstan, Turkey, China, South Korea, France, Hungary). He takes pride in teaching at a state university and educating many first-generation college students from lower income families. At URI, he has taught SCA 460 – Global Supply Chain Management at the undergraduate, MBA, and MS levels (all modalities: in-person, hybrid, and online), SCA 255- Introduction to Operations and Supply Chain Management, and BUS 609 – Doctoral Seminar in Supply Chain Management.
Following the teacher-scholar model, he works with business students in the classroom to promote smart compassion by designing public service announcements. In collaboration with government agencies, he also developed decision support tools to educate the public in making right donation decisions. Koray is also engaged in scholarship of teaching and learning. He has co-published three pedagogical articles and shared his research on improving student engagement with the academic community.
Service and Engagement
As a major professor, Koray has supervised the doctoral dissertations of Hee Yoon Kwon (2020) and Jiayuan Zhang (2021), who, upon graduation, have started their academic careers at the CITADEL-Military College of South Carolina and Colorado State University – Fort Collins, respectively. Currently, he is the co-major professor of SCM doctoral student Kara Li Liu (2024).
He has served the profession in many capacities – most recently being the VP for Information Management at the Decision Sciences Institute. He is the co-editor of Decision Sciences Journal of Innovative Education (DSJIE) pandemic special issue and alse serves the journal as an Associate Editor. He is an Editorial Board Member for the Transportation Journal as well. Previously, he assumed the role of VP for Technology at the Northeast Decision Sciences Institute (2015-2020).
Koray was the founding coordinator of the SCM doctoral program in 2013-2022 and the founding Advisor to the Business Living & Learning Community (BLLC) at URI in 2015-2017.
He delivered talks and attended panels upon invitation by the University of Naples-Parthenope, Sino-American Logistics Council, Korean Institute of Ocean Science and Technology, University of Maryland Smith School of Business, and URI College of Engineering. Most recently, he helped organize the RI Regional AI and Data Analytics Workshop as a steering committee member and a convener.
As a nomad at heart, Koray enjoys exploring the globe. He has worked in six countries in three continents. After many years of exploration, he and family decided to settle down in New England and they call the beautiful state of Rhode Island home.
Research
Humanitarian Logistics and Disaster Relief, Trust and Technology in Supply Chain Management, Pedagogical Business Research, Geopolitics and Supply Chains.
Education
Ph.D. in Business and Management, University of Maryland, College Park, 2011
Graduate Diploma in Purchasing and Supply, CIPS Institute, U.K., 2007
M.S. in Electrical Engineering, Colorado State University, 2000
M.S. in International Relations & Political Science, University of Rhode Island, 2022-present
Selected Publications
Click here for his Google Scholar Profile and full list of publications
Ashraf, MH, Zhang, J., and Özpolat K., 2022 "Antecedents of blatant benevolence on social media", Behavior & Information Technology, https://doi.org/10.1080/0144929X.2022.2069595
Kwon, H., Zhang, J., Özpolat K., Lin, Y., Ng, A., 2021, "Op-ed writing assignment in supply chain management courses", Decision Sciences Journal of Innovative Education, 19(1), 90-111
Yalcin, M.G., Özpolat K., Schniederjans, D., 2018, "Post-implementation analysis: dependence and trust in VMI context", International Journal of Physical Distribution and Logistics Management, 48(7), 724-740
Özpolat K., Jank W., 2015, "Getting the Most out of Third-party Trust Seals: An Empirical Analysis," Decision Support Systems, 73 (2015), 47-56
Özpolat K., Ribbink, D., Hales, D., Windle, R., 2015, "Food Aid Procurement and Transportation Decision-making in Governmental Agencies: The United Nations/European Union versus the United States Approach," Transportation Journal, 54(2), 159-185.
Özpolat K., Gao G., Jank W., Viswanathan S., 2013. "The Value of Third Party Assurance Seals in Online Retailing: An Empirical Investigation," Information Systems Research, 24(4), 100-1111
Cantor D.E, Corsi T.M., Grimm C.M. and Özpolat K., 2010, "A Driver Focused Truck Crash Prediction Model," Transportation Research Part-E, 46, 683-692
Selected Media Coverage & Recently Published Op-eds (opinions/guest columns)
Op-ed: Providence Journal, April 17, 2022. "Uncle, you don't know! Russia is fighting Nazism in Ukraine"", Özpolat K.
Op-ed: Providence Journal, March 24, 2022. "Will Ukraine War Hasten Globalization's End?"", Özpolat K.
Interview: URI.edu home page featured story, December 2020, "Path to a vaccine"
Op-ed: Providence Journal, December 5, 2020. "The world needs US leadership with COVID vaccine", Özpolat K., Yalcin M. G.,
Interview: Radio channel – WPRO with Steve Klamkin, November 2020, "Distributing the COVID vaccine"
Op-ed: Providence Journal, November 16, 2020. "We are not out of the woods yet with COVID19", Özpolat K., Yalcin M.,
Op-ed: Providence Journal, Özpolat K., Ebrahimpour, M., May 16, 2020. "Graduating in a recession? Dare to dream!",
Op-ed: Providence Journal, March 21, 2020. "Other Countries doing better than US in COVID19 Response", Zhang, J., Özpolat K.,
Interview: URI Momentum Research Magazine, Spring 2020 "Ensuring Efficiency in Humanitarian Aid Logistics"
Awards
Thomas Chisholm Graduate Teaching Award, College of Business, University of Rhode Island, 2021
Highly Commended Paper Award – Emerald Literati Network & Supply Chain Management, 2017
Dean's "Excellence in Research" Award, College of Business Administration, University of Rhode Island, 2016
Dean's William A. Orme Working Paper Series Award, College of Business Administration, University of Rhode Island, 2015
Outstanding Reviewer Award – Emerald Literati Network & Journal of Humanitarian Logistics and Supply Chain Management, 2013
Dean's Outstanding New Teacher Award, College of Business Administration, University of Rhode Island – 2013
Dean's Outstanding Research Award, College of Business Administration, University of Rhode Island – 2013