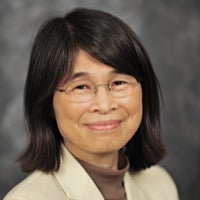 Teaching Professor
Business Analytics & Intelligence
Phone: 401.874.4324
Email: wusuri@uri.edu
Office Location: 206, Ballentine Hall
Biography
Su Wu's multidisciplinary background consists of a B.S. in Business Administration from National Taiwan University, an M.S.E. in Computer and Information Science from University of Pennsylvania, and an M.S. and a Ph.D. in Electrical Engineering with emphasis on Biomedical Engineering from University of Rhode Island.
Su teaches Managerial Statistics at both the graduate and undergraduate level, as well as Decision-Support Computer Modeling and Supply Chain Operations Management at the undergraduate level. She has also taught Statistical Methods for Management at Pfizer in an on-site Executive MBA program.
In May 2015, Su received the Thomas Chisholm Graduate Teaching Award, which recognizes graduate teaching excellence.
Su is a member of the Undergraduate and Part-Time MBA Curriculum Affairs and Assessment Committee in the College of Business Administration. She also helped start the Healthcare MBA Program, which began in Fall 2015.
Su volunteers on several work groups related to standards for healthcare IT interoperability with Health Level Seven International (HL7). She has also worked with Kent Hospital of Care New England on healthcare IT and clinical decision support systems.
Research
Research interests include healthcare, big data analytics, bioelectromagnetics, biophysics-based modeling and simulation, renewable energy, K-12 and higher education.
Education
Ph.D., Electrical Engineering (biophysics and biomedical engineering), University of Rhode Island. 2001
M.S., Electrical Engineering, University of Rhode Island, 1993
M.S.E., Computer and Information Science, University of Pennsylvania, 1984
B.S., Manufacturing and Business Management, National Taiwan University, Taipei, Taiwan, 1975
Selected Publications
Selected Recent Publications
Jervis, K., Wu, S., and Yu, T. (2015): Adoption of Health Insurance Exchanges: An Economic Analysis (a working paper)
Gates, J., Jervis, K., Maier-Speredelozzi, V., Ozpolat, K., Wang, J., Wu, S. (2013): The Use of Smart Card Technology in Health Care in "The Encyclopedia of Information Science and Technology", IGI-Global Publisher, July 2014 (authors are listed alphabetically)
Wu, S., Polk, C. and Mehta, S. (2012): Human Leukemic Jurkat T-Cell Growth Modulation in Magnetic Fields at Cyclotron Frequencies. (in draft)