By Sarah Schechter, CELS Communications Fellow
Studying bugs may not be for everyone, but Nelle Couret learned that sometimes changing your perspective on these creatures can have a career-altering impact.
"I'll admit, I was afraid of bugs as a kid," she said. "I associated them with diseases and poverty, and I think a lot of people do." But over time, Couret realized that understanding how insects and arachnids can affect human health is something she is passionate about.
"My broader mission is to reduce the burden of human disease, and that impact is central to how I form my research questions."
Now an assistant professor of biological sciences at URI, Couret studies arthropods that transmit human pathogens, including mosquitoes and ticks. A fundamental aspect of her research is learning how environmental factors, like changes in temperature, and ecological aspects, like the microbiome of arthropods, may alter transmission cycles and patterns of disease spread. Another key element of her work is translating these findings into effective methods of disease prevention and control.
Couret came to URI in 2015 after earning her Ph.D. in the ecology of infectious disease from Emory University in 2014. Much of her work had involved mosquitoes, a group of insects well known for spreading malaria and other diseases. But she soon realized that the most widely impactful arthropod-borne diseases in Rhode Island were those transmitted by ticks, specifically the blacklegged tick, also known as the deer tick.
"The blacklegged tick is responsible for 95% of tick-borne disease in the United States," Couret said, "and Rhode Island is among the states with the highest incidence, with Lyme disease being the most common." After joining CELS, Couret began studying blacklegged ticks in collaboration with longstanding tick researchers Howard Ginsberg and Thomas Mather (a.k.a., " the tick guy"). "There is still so much we don't understand about the biology of this tick, and unlocking that may be the key to its control," Couret added.
Understanding the biology of ticks is the centerpiece of a four-year, $2.6 million, award from the National Institutes of Health. The award, for which Couret is the principal investigator, comes through the prestigious joint NSF-NIH-USDA program in Ecology and Evolution of Infectious Disease. "The Lyme disease transmission cycle is complex, and to better understand we have a strong, interdisciplinary team including Sukanya Narasimhan at Yale, a molecular biologist, Jean Tsao at Michigan State, a tick ecologist, and Cynthia Lord at the University of Florida, a tick-borne disease modeler," said Couret. "We are studying the ecological interactions within ticks and then learning about how to integrate the microbiome into our understanding of the transmission cycles of a tick-borne disease."
While working on groundbreaking science, the grant also offers opportunities to mentor students and trainees through professional development on scientific skills, writing practices, mindset, and science communication. "As important as progressing the science, is building up the next generation of scientists and having a very positive culture of research practices that affirm the humanity of our team," she said.
Among the many unanswered questions surrounding ticks, Couret studies how to control ticks and manage tick-borne disease risk. In collaboration with Thomas Mather, Steve Alm, and Mathew Kiessewater, Couret is part of the leadership team for The New England Center for Excellence in Vector-borne Disease (NEWVEC), a $10 million grant over five years funded by the Centers for Disease Control and Prevention
"Within NEWVEC, my work is on understanding how we, both individuals and control agencies, can make effective, evidence-based decisions that control ticks, and therefore reduce the burden of tick-borne disease," Couret said. Led by Steven Rich at UMASS Amherst, the goal of NEWVEC is also to build a network of researchers and public health practitioners to more effectively control ticks and mosquitoes in New England.
Couret says that a key aspect of her research is that "it pairs studies of fundamental questions in ecology and evolution of arthropod-borne pathogens with applications for prevention and control of arthropod-borne disease." Even though her mission is to reduce disease, Couret has a more basic motivation for her research. "Curiosity is really my core driver," she said. "It's great to work in a profession where I get to satisfy that curiosity." She notes that with over five million described species of arthropod there are endless opportunities for research. "I'll never run out of new things to learn about arthropods and that's very exciting."
Couret shares her passion for bugs with her students in courses such as Introductory Ecology and Humans, Insects, and Disease. "It's very fulfilling to open students up to the world of insects, and I think it's great to show them that there are many profitable careers related to insects," she said.
Course activities include asking students to consider their background and understanding of insects to determine connections to their own fields of interest. For students pursuing careers in agriculture, veterinary medicine, and health sciences, Couret notes that "all of those have direct ties to entomology." Students have the opportunity to reflect on their experiences with bugs and develop new perspectives on how insects impact many different aspects of our lives from our enjoyment of nature to the foods we eat to our culture and health. Couret shares that, "as long as students can make a connection to something that they really care about, that is the entry point to learning."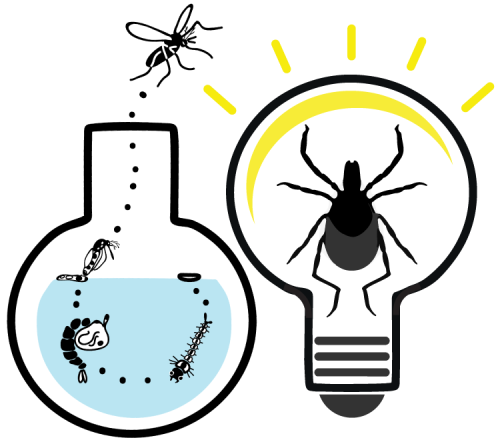 In addition to her teaching and research, Couret is also committed to making science more inclusive. In 2016, she won a CELS Multicultural Faculty Fellowship, which aims to increase the diversity of the faculty and promote inclusive and multicultural teaching and research practices. Couret also strives to be an inclusive science communicator and creates educational comics to share her research with a wider audience. Couret encourages other scientists to find creative ways to share their research with people that don't read academic journals or attend academic conferences. "I think that science comics have an important role to play to broaden the reach of our study findings," she said."And it also makes it more fun for us, so it's a win-win."
The lens of inclusive science communication extends into her teaching, and Couret collaborates with students in her classes and lab who share a love of art to create comics which can be viewed at www.vectorbiology.org. Couret inspires her students through her love of learning and passion for impact-driven research, and aspires to answer as many unanswered questions as possible.