This competitive fellowship is designed to help graduate students in the University of Rhode Island's College of the Environment and Life Sciences (CELS) strengthen science communication skills through hands-on experience promoting the college to internal and external audiences. Under the guidance of a skilled communications professional, the student will promote CELS faculty, students, alumni, and academic programs to prospective students, parents, and the general public via the CELS website, social media, and other communications tools.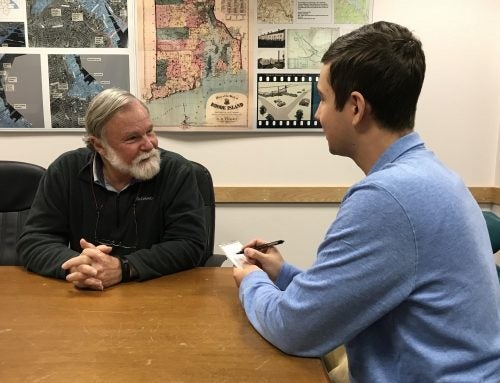 CELS Communications Fellows represent the college's communications department and work closely with the dean and associate deans, faculty, and staff to raise the college's public profile. Fellows write stories on CELS students, faculty, and staff as part of the college's Big Thinker series, provide content for a monthly CELS eNewsletter and the college's social media accounts (Facebook, Twitter, Instagram), track social media metrics and help to develop communication strategies.
As part of the Fellowship, the successful candidate will also work with Metcalf Institute, a global leader in providing science training to journalists and communications training to scientists. Fellows write profiles on Metcalf alumni, assist with Metcalf's annual science immersion workshop for journalists in June, conduct research, and contribute to other projects throughout the academic year.
"Participating in the Communications Fellowship program was one of the most worthwhile experiences of my life. Learning to write for a varied audience, in addition to the scientific community, is one of the most useful skills I developed"
Morgan Devlin '16, staff scientist at Langan Engineering & Environmental Science
"By crafting Big Thinker articles month after month, I refined my ability to write clearly and concisely for a diverse audience," said Rita, a 2017 CELS alumna and GIS Manager and Principal Planner for the Town of Middletown. "I am humbled by the constant encouragement, personal support, and professional training I received as part of this fellowship."
"I can say with confidence that I am a stronger science communicator because of the fellowship and mentorship I received from professional staff at CELS and Metcalf Institute. From interviewing scientists across disciplines to managing a communications strategy and mentoring other peers, the CELS fellowship has helped me develop critical professional and leadership skills that I will utilize in my career."
Gloria Kostadinova '17, marketing communication coordinator, Clean Ocean Access
The fellowship package
The fellowship provides employment for the academic year and summer break during which the student is required to work on campus. The fellowship package includes full tuition for the academic year; a 20 hour-per-week stipend; and travel, registration fee, and expenses related to one relevant professional conference per academic year. Fellows may receive this entire package, which includes two weeks of unpaid vacation, for up to two years.
Eligibility
The fellowship is only open to Masters of Environmental Science and Management (MESM) applicants with strong written and verbal communication skills. You must have submitted a completed application to the MESM graduate program to be eligible to apply. Applicants should include a letter describing their interests in the Fellowship and how the experience would enhance their career objectives, at least two original writing samples, resume, and a letter of reference. The applications should be sent to Brett Still, MESM Coordinator and CELS lecturer, University of Rhode Island, Kingston, RI 02881, or email: bstill@uri.edu.
Application deadline March 15, 2023.