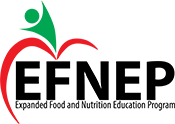 Rhode Island Expanded Food and Nutrition Education Program
What curricula does EFNEP teach?
Choose Health: Food, Fun, and Fitness
6 lessons for grades 3 through 5
Topics include: healthy drinks, MyPlate, the Nutrition Facts Label, whole grains, fast food, healthy breakfast, and physical activity.
Teen Cuisine
6 lessons for grades 6 through 12
Lessons include hands-on cooking activities
Topics Include: MyPlate, food safety, physical activity, Nutrition Facts label, portions, healthy breakfast, fast food, healthy drinks, and healthy snacks.
Eating Smart, Being Active
9 lessons for parents or caregivers with children
Topics include: MyPlate, physical activity, meal planning, unit pricing, fruits and vegetables, whole grains, Nutrition Facts Label, protein rich foods, food safety, dairy, mindful eating practices, and more!