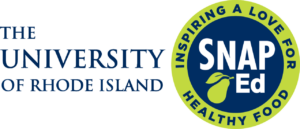 URI SNAP-Ed Nutrition Education
About
What does SNAP-Ed do?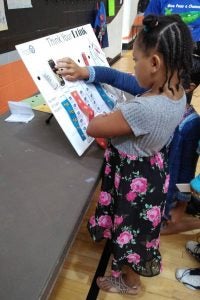 We provide nutrition education workshops and resources to communities eligible for Supplemental Nutrition Assistance Program (SNAP) benefits (formerly known as food stamps). At SNAP-Ed we believe all foods can fit into a healthy lifestyle. We also believe everyone should be able to enjoy healthy options on a limited budget. We bring easy-to-understand information directly to sites where youth, families, adults and older adults live, learn, eat, shop, work and play. Community participants join one-time workshops or a series of workshops, available in both English and Spanish, to discuss and learn many nutrition topics. Examples of topics include:
Eat healthy with MyPlate's 5 food groups (Vegetables, Fruits, Protein, Grains, and Dairy)

Enjoy a rainbow of fruits and vegetables

Make at least half of your grains whole grains

Vary your protein routine by including more plant-based foods

Find ways to stay active each day

Plan ahead and shop smart to save money on healthy foods

Create family routines that support healthy habits

Choose drinks with less sugar
SNAP-Ed workshops focus on nutrition information and choosing healthy options on a budget. They are hands-on and often include cooking recipe demonstrations and recipe tastings. SNAP-Ed also works with community partners on policy, system and environmental (PSE) efforts, including professional development training and train-the-trainer curriculum opportunities. Lastly, SNAP-Ed creates recipes, handouts and videos to help spread nutrition information and free resources to anyone.
Where can you find SNAP-Ed?
We partner with communities to offer nutrition education to youth, families, adults and older adults throughout the state. Youth and their families may see us at early childcare centers, schools, after school settings, community recreation centers, and summer meal sites. Adults and older adults may see us at job training and adult education sites, public housing, faith-based centers, community centers, congregate meal sites, SNAP offices, tribal organizations, health care clinics, food pantries, emergency meal sites, food stores, and farmers' markets.
We also love to collaborate with community partners that work with the population we serve to ensure we are meeting their needs and streamline effective resources. We offer policy, system and environmental (PSE) initiatives that help to make the healthier choice, the easier choice. This may include: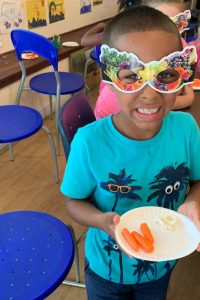 Assisting with policy creation or changes

Contributing at committee, coalition and working group meetings

Providing educational tools and resources to be embedded into curriculums

Displaying signs, posters or bulletin boards of nutrition education information/messages

Professional development trainings for those who work with the SNAP eligible population such as teachers, nurses, school food service staff, summer meal program professionals, early childhood educators, food pantry volunteers, community health workers, nutritionists who work for the Special Supplemental Nutrition Program for Women, Infants, and Children (WIC), and many more