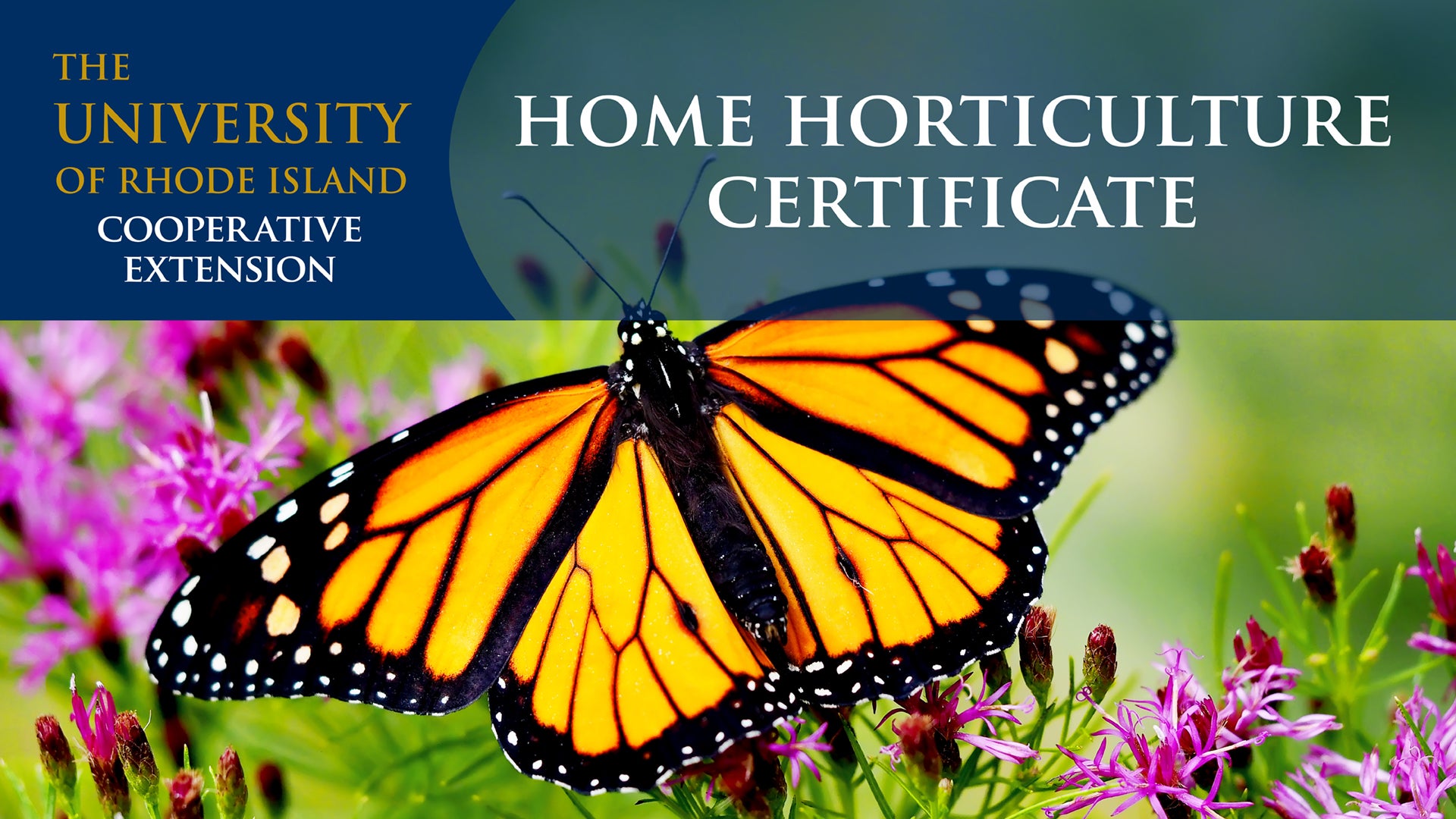 About
The Home Horticulture Certificate (HHC) is a comprehensive horticultural education program that takes participants on an educational journey through fourteen weeks of classroom and practicum instruction. All weekly sessions are taught by URI Cooperative Extension faculty and staff. Students are supported by an undergraduate teaching assistant, who provides assistance with the online learning management system and navigating "school". Students are required to share written reflections on the course material via weekly discussion forums visible to the course cohort. A hands-on, practical course project that focuses on landscape observation and analysis draws the concepts learned in class together, culminating with a project showcase and discussion session. 
FAQs
Who is the Home Horticulture Certificate for?
The Home Horticulture Certificate (HHC) was developed in 2019 as a new horticultural education offering through URI Cooperative Extension to run concurrently with URI Master Gardener Program (MGP) core training course. The HHC includes the same in-depth, science-based content offered through the MGP core training, but does not require hands-on volunteer service for completion, and does not lead to certification as a URI Master Gardener. The Home Horticulture Certificate may be right for you if you are:
Working in a field related to gardening and want to learn more about the science of gardening;
Interested in expanding your own gardening knowledge and applying it to your own projects; and/or
Don't have time for or interest in volunteering.
How is the Home Horticulture Certificate structured?
The 2021 Home Horticulture Certificate was offered completely online, with seven synchronous class meetings on Zoom, and seven asynchronous (aka "on-your-own") weeks of instruction. Click here to view the 2021 course schedule. Details about the structure of the 2022 course are not confirmed, but it is likely that the course will incorporate virtual classroom instruction, in-person practicum sessions, and online engagement with other participants via discussion forums.
How do I apply? What is the cost?
Registration for the Home Horticulture Certificate begins each June, and closes on November 1st. The 2022 course fee is $500. Stay tuned to this webpage for the application and registration information.
What if I'd rather become a URI Master Gardener volunteer?
Please visit the URI Master Gardener Program core training website here: https://web.uri.edu/mastergardener/training/ 
Questions? Please contact:
Community Engagement Coordinator, Produce Safety Educator
(401)874-4453 – sejal@uri.edu
Program Administrator, Extension Educator
Cooperative Extension
(401) 874-4096 – keventurini@uri.edu