Agriculture and Food Systems Fellows Program
RI Agriculture and Food System Fellows Program
Each year, top agricultural and food system companies, organizations and researchers partner with URI Cooperative Extension to mentor Fellows hired to work on their teams on real-world projects. Five students each from the Community College of Rhode Island (CCRI) and URI are selected each year beginning in 2023 to participate in the program. Fellows are paid hourly for their contribution to mentor-supervised projects in sustainable agricultural intensification, food and nutrition translation, science communication and agricultural science policy leadership to ten students per year.
Want to be in the know about application dates, new mentor organizations and other updates about the program? Join the mailing list and we'll send you important announcements!
Join the mailing list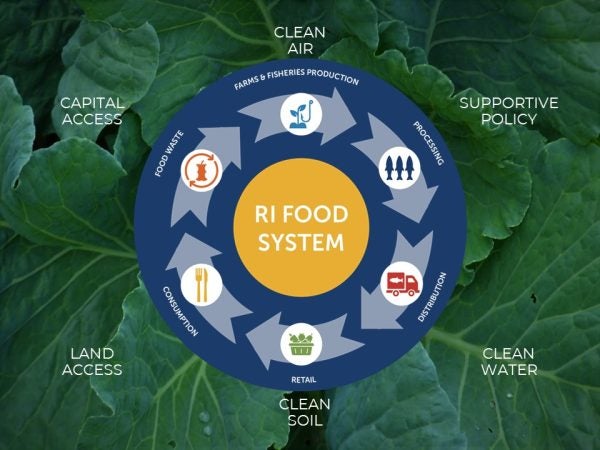 How can I support the AFSFP?
Are you an agricultural producer? A nutrition or public health professional? A policymaker or food justice advocate? Click "Become a Mentor or Partner" to learn more about how you can support the AFSFP as a mentor, educational partner or program sponsor!
Who can apply?
Students enrolled at CCRI and URI are eligible to apply. A passion for learning about the food system and a strong commitment to meeting program requirements are the only prerequisites for applicants. All are welcome! Click "Apply to be an AFS Fellow" to learn more!
How does this program address food insecurity issues that disproportionately affect people of color?
The AFSFP engages historically underrepresented students from CCRI and URI to target preparation of a diverse workforce that is inclusive, employable, and globally-competent with the complex skill set necessary for equitable and meaningful change. Additionally, this project aims to spark interest in agriculture and food system careers amongst middle and high school youth from underrepresented backgrounds, as they co-create projects as a part of a near-peer team with AFSFP undergraduate fellows.
How do you plan to prepare AFS Fellows to address the critical inequalities and injustices that characterize our current food system?
AFS Fellows will complete a Justice, Equity, Diversity & Inclusion (JEDI) microcredential training tailored to the program and taught by the Director of URI's Office of Community Equity and Diversity. They will also engage with resources curated by Food Solutions New England's 21-Day Equity Challenge team, leading discussions with their cohort during all-hands meetings.