Student Learning Facilities
Computer Science Lab Complex, which houses two large computer classrooms, two meeting rooms and student lounge area is the main facility and meeting place for the department. Here, students access the URI network, socialize, or meet with their professors. The complex is equipped with many extra power outlets in the labs, meeting rooms and lounge area to encourage students and faculty to bring their own laptops to work on problems together, communicate and connect.
---
Student Lounge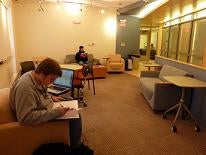 Outside of the lab is a large, open lounge area for students to work quietly between classes. We have a Wi-Fi access point for students using laptops, as well as an ample amount of power outlets. In addition to the free Wifi for CS students, there are also two white boards for people to use during discussions. The lounge area has a brand new, efficient system to keep the air temperature well controlled over the cold winter moths as well as during the hot summers.
Nearby is a large, new conference room that seats fourteen and allows for a projector hook-up to a laptop. It is well set up for conferences and presentations.
---
Digital Forensics Center and Cyber Security Center (DFCSC)

The DFCSC has a lab of forensic computers ready for training law enforcement officers and computer forensic students. Additionally, the DFCSC maintains at least 4 forensic equipped computers ready to be used on active cases. The DFCSC lab space is re-configurable to seat up to 14 interns and students at once. The dedicated analysis laboratory is equipped with all of the most current commercial forensic tools and applications.