Facts and Figures
411+
Undergraduate students
94.2% of our recent teacher graduates achieved either effective or highly effective within their first 3 years of teaching, very similar to the entire teacher population of Rhode Island (94.7%).
Over 90% of the candidates rated their final practicum experience as good or excellent.
75% of candidates rated their clinical educator as highly effective.
Over 90% of the candidates feel well prepared to continue their own professional development in the future and adapt their professional practice as needed.
Approximately 90% of candidates who completed an initial licensure program from 2022 felt either well prepared or exceptionally prepared to implement the Rhode Island Professional Teacher Standards in their own classroom
The average SAT scores for incoming candidates has been higher than the University average over the past 5 years
Degrees Offered
The School of Education offers a range of bachelor's, master's, doctoral, and teacher certification programs.
See all academic programs »
Accreditation
Our teacher education programs are accredited by Association for Advancing Quality in Educator Preparation (AAQEP) and certified by RIDE (Rhode Island Department of Education).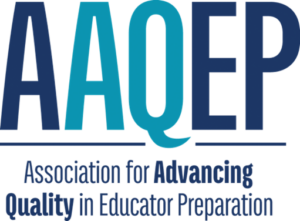 Rhode Island Educator Preparation Index
For information about hiring and retention of our graduates, please see the Rhode Island Educator Preparation Index on the RIDE website.
Complete this brief survey to provide your feedback on the Educator Preparation Index.
Satisfaction of Program Completers and Employers
Candidate Impact Data
Candidate Outcomes
Upon successful completion of a URI teacher certification program, candidates will:
Have a firm understanding of the content and pedagogical knowledge, skills and dispositions for teachers.
Be successful in lesson planning for active learning.
Complete multiple practicum experiences, culminating with a final practicum/internship that prepares candidates to be the teacher of record in their own classroom.
Understand and assess their impact on student learning.
Our Mission
The mission of the University of Rhode Island's School of Education is to prepare future professionals to be exemplary practitioners and scholars. To achieve this mission, faculty seek to generate, use, and disseminate knowledge about teaching, learning, and human development and strive to establish and maintain partnerships for the purpose of addressing and resolving critical educational problems that impede and impact the learning of children and youth.
Our Vision
The University of Rhode Island's School of Education envisions a world where all children and youth are prepared to meet the challenges of a diverse, ever-evolving, global society embedded in a technological era. To this end, the School and its Faculty are committed to quality research, teaching, and community service partnerships and outreach activities that enhance the knowledge base of all disciplines housed within the school, and are supportive of initiatives designed to exemplify teaching and learning across learners of all ages.
Diversity Vision
The University of Rhode Island's Teacher Preparation Programs view the documented low achievement levels of students of color, language minority students, students from poverty backgrounds, and students with disabilities, and the marginalizing of diverse cultural groups as educational injustices. In response, we assume the moral responsibility of preparing all teachers to meet the needs of diverse learners. Informed by this knowledge base, we collaborated on a vision that defines diversity and identifies the dispositions, knowledge, and skills our teacher candidates must possess to meet the needs of an increasingly diverse student population.
Definition
Diversity is differences among groups of people and individuals including ethnicity, race, socioeconomic status, gender, learning and physical exceptionalities, language, religion, sexual orientation, and geographical area.
Dispositions
High expectations for all students
Assumption of responsibility and self-efficacy for high level student achievement
A sense of equity characterized by equality of opportunity and achievement
Respect and appreciation for diversity
To seek world views different from one's own
Advocacy for empowerment of diverse students
A commitment to social justice and advocacy of diverse students
Knowledge
Cultural and individual strengths of diverse learners
Informed and nuanced view of cultural labels
Informed knowledge of parents and primary caretakers of diverse students with emphasis on their strengths and commitment to children
Structural roadblocks that impede success for diverse learners
Impact of stigma associated with disability labels and segregated educational environments
The significance and role of community groups to diverse cultural groups
Skills
Use cultural and individual strengths as a basis for learning so as to operate from a "Strength" rather than a "Deficit" paradigm
Engage diverse learners
Implement differentiated instruction
Support English language learners
Convene parental, community, and other relevant personnel to support the diverse learner