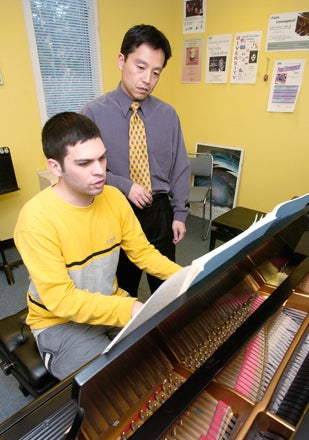 The Music Education certificate program is a fully accredited teacher certification program that prepares you to teach K-12 music. To complete this program you will fulfill curriculum requirements for the Bachelor of Music (Music Education concentration).
Students can be admitted to the Bachelor of Music degree program by a successful audition (contact the Department of Music for specific requirements).  Transfer credits in music theory, music history, and performance must be validated by placement examination. All Bachelor of Music students will take a piano proficiency examination at the conclusion of one year of study or by the end of the second semester of the sophomore year.
Undergraduate students apply for admission to the Music Education teacher certification program in January of their sophomore year. Admission requirements include the completion of an admission portfolio, confirmation of a BCI, and passing the Praxis I test.  A personal interview is also required. Beginning in the junior year, students accepted in the program will have a a variety of practicum experiences.
Successful completion of the B.M. in Music, the Music Education certificate program, and passing the Praxis II exams lead to teacher certification.