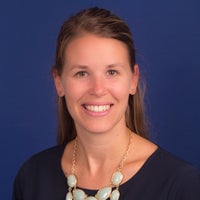 Clinical Assistant Professor
TESOL/Bilingual and Dual Language Education, Advisor for students with last names A-H
Phone: 401.874.4164
Email: correia@uri.edu
Biography
Amy Correia's passion for teaching culturally and linguistically diverse learners began while completing her undergraduate degree in Secondary Education and English at URI. Once she completed her degree, she accepted an English teaching position at Norwich Free Academy, a large, diverse high school in Norwich, Connecticut. She taught high school students for ten years (Beginner ELL English, American Literature, and Public Speaking), and ended her career as the school's Teacher of the Year for the many positive changes she made to the ELL Program.
As the head of the ELL Program, she was responsible for training faculty, testing and placing new students, ensuring curriculum aligned with state and national standards, and using data to advocate for program and policy changes to improve the education for ELLs. She was fortunate enough to continue teaching in the ELL Program while also serving as the administrator.
In 2015-2016, she joined Area Cooperative Educational Services (ACES), a Connecticut educational agency, to teach the Alternate Route to Certification for Teachers of English Language Learners (ARCTELL) program. Through this experience, she learned the value and power in preparing teachers to work with language learners and to become sources of knowledge for ELL education in their school and district.
She is excited to join URI's School of Education to bring her knowledge and experience of language education back to her roots where her passion for working with culturally and linguistically diverse students began.
Research
Designing and evaluating language programs
Curriculum design for language learners
Assessment design for language learners
Effective teaching strategies for language learners
Education
Educational Administration Certification Program, Sacred Heart University, 2012-2014
Sixth Year Diploma in Professional Education, Curriculum and Instruction Area of Focus: TESOL Education, University of Connecticut, 2012
Master of Science, Secondary Education/English, Eastern Connecticut State University, 2008
Bachelor of Human Science and Services, Secondary Education, and Bachelor of Arts and Sciences, English, University of Rhode Island, 2005