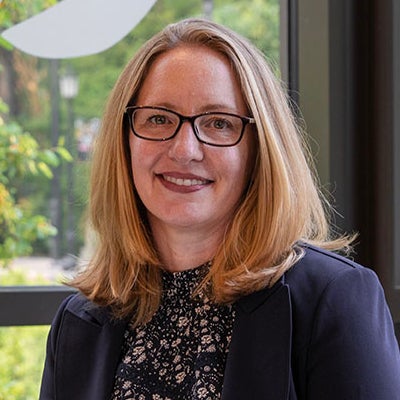 Dean and Professor
Phone: 401.874.8100
Email: danielle_dennis@uri.edu
Office Location: Chafee Hall, Rm 217
Biography
Danielle V. Dennis is the Dean of the University of Rhode Island College of Education and Professor of Literacy Teacher Education and Policy. Dr. Dennis's research focuses on building the capacity of literacy educators across the professional lifespan and the role of coaching to support teacher development.
In her previous faculty role, Dr. Dennis designed and coordinated an undergraduate urban teacher residency program and served as the PI for the Department of Education Investments in Innovation (i3) grant to study the efficacy of the Urban Teachers Residency Partnership Program. Additionally, Danielle works closely with several primary schools in the UK studying the supports necessary for developing teacher and leader knowledge whilst designing and implementing new curricula. Other research includes the use of assessment data to make instructional decisions and the ways literacy-focused policies enhance or inhibit equitable educational practices for children.
In addition to being a member of the ILA Board of Directors, Dr. Dennis served as the Chair of the Policy and Legislative Committee for the Literacy Research Association, is a director of the National Center for Clinical Practice in Educator Preparation and a member of the AACTE Clinical Practice Commission.
Research
Literacy Teacher Education
Educational Policy
School-University Partnerships
Teacher Residencies
Education
Ph.D., Literacy, Language, and Culture, University of Tennessee, 2007
M.Ed., Science and Environmental Education, University of Minnesota Duluth, 2000
B.S., Elementary Education, Florida Gulf Coast University, 1998
Selected Publications
McDermott-Fasy, C., Kurto, K., Foley, A., Obel-Ornia, C., Feinberg, N., Zoll, S., Pinheiro, B., LaCroix, K. Dennis, D. (2023). The Science of Reading in higher education: A collaborative effort to refine and enhance programs in the Ocean State. The Reading League Journal, 4(1), 52-57.
Johnson, R.D., Parsons, S.A., Parker, A., Zenkov, K., Dennis, D.V., del Prado Hill, P., & Garas-York, K. (2021). The case for PDS as an exemplary model of school-university partnerships. Rethinking School-University Partnerships (pp. 291-205). Charlotte, NC: Information Age Publishing.
Kilsby, J. & Dennis, D. V. (2020). Context, mechanism, outcome: How one primary school evaluated the efficacy of teaching strategies in a knowledge-rich curriculum. Impact, 8.
Zenkov, K., Dennis, D.V., & Parker, A. (2019). "Bless your heart," BBQ, and clinical practitioners as neologists: Developing a lexicon for clinical practice and school/university partnerships. School University Partnerships, 12(2), 62-72.
Parker, A., Zenkov, K., & Dennis, D. V. (2019). Exploring the lexicon or lack thereof in clinical teacher preparation. Action in Teacher Education, 41(3), 249-264.
Dennis, D. V. & Hemmings, C. (2018). Making the simple more complex: The influence of job-embedded professional development in supporting teacher expertise in reading. Literacy. *Finalist for The UKLA and Wiley-Blackwell Research in Literacy Education Award.