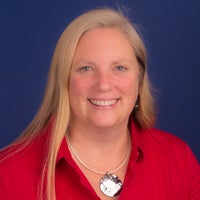 Associate Professor
Elementary Education, Environmental Education
Phone: 401.874.6008
Email: sara_sweetman@uri.edu
Office Location: Chafee Hall, Rm 616
Biography
Sara B. Sweetman, Ph.D., is an Associate Professor of Education in the College of Education and Professional Studies at the University of Rhode Island, and directs the Guiding Education in Math and Science Network (GEMS-Net), a school-university partnership focused continual improvement in STEM teaching and learning. As director of GEMS-Net, Sara conducts rapid cycle mixed-methodology research to inform the project's continuous improvement cycle and to work in partnership with 13 public school districts to provide professional learning opportunities for over 15,000 Pre-K through grade 8 teachers and administrators each year.
In addition, Sara is an advisor for a variety of children's media development and productions, including the CBP-PBS Ready to Learn Initiative, Sesame Street, Molly of Denali and the Too Small to Fail Campaign. She works collaboratively with producers, writers, station educators, and researchers to ensure that content being delivered through television shows, digital games, and other media sources are designed to provide meaningful learning opportunities for children and their families.
Beginning in the Fall of 2024, Sara will lead the new Environmental Education degree program at URI. She enjoys sharing her passion for learning about human-made and natural environments and for empowering people to embrace science for the betterment of their lives.
Research
Research interests include: children and climate change, research practice partnerships, teaching science through media, outdoor education, and the intersection of enjoyment and learning.
Education
Ph.D., Education, University of Rhode Island/Rhode Island College, 2013
M.S., Elementary Education, Rhode Island College, 2002
B.S., Child and Family Relations, University of New Hampshire, 1996
Selected Publications
Potvin, J., Chappell, K., Balestracci, K., Greene, G. W., Sweetman, S., & Amin, S. (2023). Formative Evaluation of a STEAM and Nutrition Education Summer Program for Low-Income Youth. Evaluation and Program Planning, 102255.
Sweetman, S. (July 30, 2021). How Much Time is Enough?: The Impact of Time of Exposure to Multiplatform Media Content on Preschoolers Understanding of the Nature of Science and Engineering. Connected Learning Summit Proceedings, Massachusetts Institute of Technology, Boston MA.
Pietros, J. & Sweetman, S. (2020). The Importance of Research Practice Partnerships for Professional Development. Journal of the National Association for Professional Development Schools, special edition Partners: Bridging Research to Practice 15(2) p.23-25.
Sweetman, S. & Shea, K., & Silversmith, J. (2018). Collaboration between formal and informal networks: Partnering educators for place-based learning experiences. School-University Partnerships 11(4), p.104-121.
Sweetman, S.B., Mirkin, L.S., Lund, A.E., and Bishop, S.K., (2018). Preschoolers learn to think and act like scientists with The Cat in the Hat In S. Pasnik (Ed.), Getting Ready to Learn: Creating Effective, Educational Children's Media. New York: Routledge.