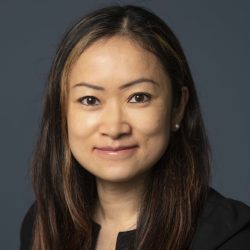 Assistant Professor
Chemical Engineering
401.874.5594
Office Location: Avedisian Hall 495C
Recent Grants1
Grant
6/29/2018. PI. URI Research Foundation. "Method Development and In Vitro Release Testing of Odan Laboratories' Ointments."
Recent Publications1
Citation
Kirk R, Akanji T, Li H, et al. Evaluations of
Skin Permeability of Cannabidiol and Its Topical Formulations by Skin Membrane-Based Parallel Artificial Membrane Permeability Assay and Franz Cell Diffusion Assay.
Medical Cannabis and Cannabinoids,
2022; 5(1), 129-137. doi: 10.1159/000526759
Perera K, Ivone R, Natekin E, Wilga CA, Shen J, Menon J. 3D Bioprinted Implants for Cartilage Repair in Intervertebral Discs and Knee Menisci.
Frontiers in Bioengineering and Biotechnology,
2021. doi: 10.3389/fbioe.2021.754113
Xie L, Yue W, Ibrahim K, Shen J. A Long-Acting Curcumin Nanoparticle/In Situ Hydrogel Composite for the Treatment of Uveal Melanoma.
Pharmaceutics,
2021; 13(9), 1335. doi: 10.3390/pharmaceutics13091335
Ivone R, Fernando A, DeBeof B, Meenach SA, Shen J. Development of Spray-Dried Cyclodextrin-Based Pediatric Anti-HIV Formulations.
AAPS PharmSciTech,
2021; 22(5), 1-10. doi: 10.1208/s12249-021-02068-w
Ivone R, Yang Y, Shen J. Recent Advances in 3D Printing for Parenteral Applications.
AAPS Journal
, 2021; 23(4), 1-16. doi: 10.1208/s12248-021-00610-z
Wang T, Suita Y, Miriyala S, Dean J, Tapinos N, Shen J. Advances in Lipid-Based Nanoparticles for Cancer Chemoimmunotherapy.
Pharmaceutics
, 2021; 13(4), 520. doi: 10.3390/pharmaceutics13040520
Deng Y., Shen L., Yang Y., Shen J. Development of Nanoparticle-Based Orodispersible Palatable Pediatric Formulations.
International Journal of Pharmaceutics
, 2021; 596, 120206. doi: 10.1016/j.ijpharm.2021.120206
Shah NK, Ivone R, Shen J, Meenach SA. A comparison of centrifugation and tangential flow filtration for nanoparticle purification: A case study on acetalated dextran nanoparticles. Particuology, 2020; 50, 189-196. doi: 10.1016/j.partic.2019.06.004
Yang Y, Wang X, Lin X, et al. A Tunable Extruded 3D Printing Platform using Thermo-Sensitive Pastes. International Journal of Pharmaceutics, 2020; 583, 119360. doi: 10.1016/j.ijpharm.2020.119360
Tipnis NP, Shen J, Jackson D, Leblanc D, Burgess DJ. Flow-through cell-based in vitro release method for triamcinolone acetonide poly (lactic-co-glycolic) acid microspheres. International Journal of Pharmaceutics, 2020; 579, 119130. doi: 10.1016/j.ijpharm.2020.119130
Li T, Bao Q, Shen J, Lalla RV, Burgess DJ. Mucoadhesive In Situ Forming Gel for Oral Mucositis Pain Control. International Journal of Pharmaceutics, 2020; 580, 119238. doi: 10.1016/j.ijpharm.2020.119238
Xie L, Yang Y, Shen J. Efficient Inhibition of Uveal Melanoma via Ternary siRNA Complexes. International Journal of Pharmaceutics, 2020; 573, 118894. doi: 10.1016/j.ijpharm.2019.118894
Andhariya JV, Jog R, Shen J, et al. In Vitro-In Vivo Correlation of Parenteral PLGA Microspheres: Effect of Variable Burst Release. Journal of Controlled Release, 2019; 314, 25-37. doi: 10.1016/j.jconrel.2019.10.014
Andhariya JV, Jog R, Shen J, et al. Development of Level A In Vitro-In Vivo Correlations for Peptide Loaded PLGA Microspheres. Journal of Controlled Release, 2019; 308, 1-13. doi: 10.1016/j.jconrel.2019.07.013
Andhariya JV, Shen J, Wang Y, Choi S, Burgess DJ. Effect of Minor Manufacturing Changes on Stability of Compositionally Equivalent PLGA Microspheres. International Journal of Pharmaceutics, 2019; 566, 532-540. doi: 10.1016/j.ijpharm.2019.06.014
Yang Y, Zheng N, Wang X, Ivone R, Shan W, Shen J. Rapid Preparation of Spherical Granules via the Melt Centrifugal Atomization Technique. Pharmaceutics, 2019; 11(5), 198. doi: 10.3390/pharmaceutics11050198
Yang Y, Li H, Xu Yingying, Dong Y, Shan W, Shen J. Fabrication and Evaluation of Dental Fillers Using Customized Molds via 3D Printing Technology. International Journal of Pharmaceutics, 2019; 562, 66-75. doi: 10.1016/j.ijpharm.2019.03.024
Yang Y, Zheng N, Zhou Y, Shan W, Shen J. Mechanistic Study on Rapid Fabrication of Fibrous Films via Centrifugal Melt Spinning. International Journal of Pharmaceutics, 2019; 560, 155-165. doi: 10.1016/j.ijpharm.2019.02.005
Shen J, Burgess DJ. Advances in Drug Delivery Related Biosensors and Medical Devices. International Journal of Pharmaceutics, 2018; 544(2), 307-308. doi: 10.1016/j.ijpharm.2018.03.051
Honors & Awards
International Pharmaceutical Excipients Council Emerging Researcher Award, 2017
American Association of Pharmaceutical Scientists Outstanding Postdoctoral Fellow Award, 2014