By Neil Nachbar
The core research facilities in the University of Rhode Island's College of Engineering features some of the most sophisticated, state-of-the-art equipment found anywhere.
Valued at millions of dollars collectively, the devices in the Shimadzu Engineering Research Core Facility, housing the Engineering Analytical Core Facility, the Surface Analysis Laboratory and the Rhode Island Consortium for Nanoscience and Nanotechnology, are available for use by researchers at URI and other academic institutions, industry professionals and non-profit organizations.
One of the companies that uses the core research facilities at the College of Engineering is EaglePicher Technologies, a supplier of high-end batteries for military, aerospace and medical applications.
"We are always pushing the limits of our materials, while delivering a consistent product that meets the needs of our customers," said Christine Cook, research and development engineer at EaglePicher. "The equipment at URI's College of Engineering allows us to quickly investigate the use of new materials and make changes to our methodology. This greatly reduces the cycle time for each design."
The images below of a bug, cookie and pencil viewed through an X-ray microscope were acquired by Irene Andreu and doctoral student Zachary Shepard.
Other companies to take advantage of the engineering expertise and equipment at URI include Procter & Gamble, Toray Plastics, On Semiconductor, Vishay Microelectronics, Aalberts Surface Technologies, Dryvit, Vishay Intertechnology, Ensign-Bickford Aerospace & Defense Company, NanoSoft, Verdox, and Xilectric.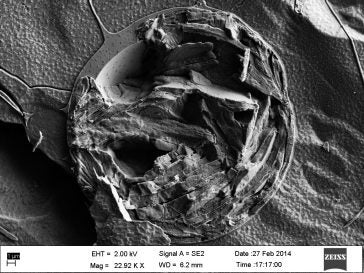 The Rhode Island State Crime Laboratory has also used the equipment, as have researchers from other universities. Professor Vicki Colvin of Brown University used the cryogenic scanning electron microscope to look at the arrangement of magnetic nanoparticles under magnetic fields.
"The lab equipment at URI has been critical to our work on synthetic biology and nanoparticles," said Colvin. "We've been able to observe how these particles organize themselves and bacteria to form new and interesting patterns relevant for power transmission and water treatment. The images have been pivotal to creating high-impact research papers and I am thrilled with the support my students and I have received from the URI engineering staff."
Some pieces of equipment in the core research facilities are worth over $1 million each. The new scanning transmission electron microscope was funded through a National Science Foundation grant for $2.3 million. An electron probe microanalyzer, which is a field emission electron microscope that is capable of doing wavelength dispersive spectroscopy, will be delivered to URI soon and will be fully operational by the end of the summer. It cost $1.255 million and was purchased from a $10 million gift made by Michael and Elizabeth Fascitelli.
"The equipment, instrumentation and expertise at our core facility is on par with any of the top engineering schools in the country and represents a tremendous asset to our partners across the region," said URI College of Engineering Dean Anthony Marchese. "This equipment is being used to push the boundaries of engineering. As the state's flagship public research university, we want industry to know that we can contribute toward the region's economic development by partnering with companies to solve real engineering problems, and improve their products."
Industry representatives or researchers outside of URI who wish to learn more about the equipment available for use in the College of Engineering's core research facilities, or would like to see a demonstration, may contact Irene Andreu at iandreu@uri.edu or 401.874.6885.
Some of the equipment found in the College of Engineering's core lab facilities are shown below. Photos by Mike Salerno.