By Neil Nachbar
When the National Institute for Undersea Vehicle Technology (NIUVT) was formed in 2017 as a partnership of the University of Rhode Island, the University of Connecticut and General Dynamics Electric Boat, it created collaborative opportunities in applied research, technology transition and workforce development.
"NIUVT educates individuals for the shipbuilding industry, transitioning not only technologies, but a solid knowledge-base to further advance the next generation and next platforms of undersea vehicles," said Arun Shukla, the institute's co-director and URI Simon Ostrach Professor of Mechanical, Industrial, and Systems Engineering.
NIUVT has had a profound impact on the local economy by preparing students for defense-related careers, providing further education for those working in the defense industry, and partnering with governmental agencies and companies that have defense contracts.
More than $16 million has been awarded to URI for NIUVT research projects and workforce development, including $5.5 million for 20 projects this year. Funding for this year's projects was approved on April 12, 2022.
When NIUVT was created, 12 technical areas were identified as having strategic importance to the Navy with regard to undersea vehicle technologies. URI and UConn have a rich history of research and collaboration with the Navy in these areas.
All five of URI's engineering departments – chemical; civil and environmental; electrical, computer and biomedical; mechanical, industrial and systems; and ocean engineering – are represented on NIUVT research projects.
In most cases, researchers from the two universities, or multiple researchers from the same university, along with collaborators from Navy-related companies, work on a project.
Through the latest round of funding, Helio Matos, assistant professor of mechanical engineering at URI, will work with UConn engineering professors Ali Bazzi and Rainer Hebert to determine the properties of 3D-printed materials for underwater vehicles.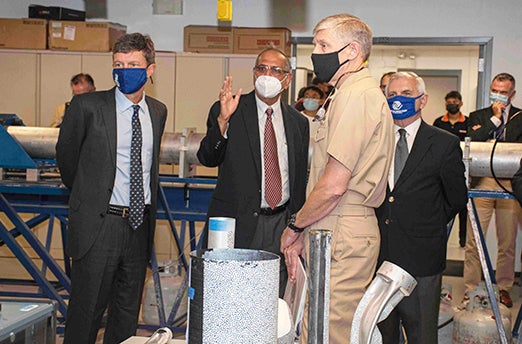 "I've met some of the UConn faculty through NIUVT-sponsored events," said Matos. "We share many of the same goals and visions for the future regarding smart materials and manufacturing, and our areas of expertise complement each other."
URI ocean engineering professors Brennan Phillips and Stephen Licht will use the funding to further their research on soft robotics used at great depths in the ocean.
"Stephen and I have been collaborating in innovative ways to achieve delicate manipulation of soft robotics in the deep ocean for over seven years," said Phillips. "NIUVT has provided a new pathway to explore these topics much further."
Other research projects underway involving URI and UConn researchers cover topics such as signal detection and identification, innovative sensors and sensing, shock mitigation, vibration and drag reduction, and challenges associated with power.
"The Navy's continued financial support of collaborative research and workforce development enables us to develop cutting-edge technologies, prepare the next generation for high-tech careers in the defense industry, and provide opportunities for engineers to obtain advanced degrees related to their work," said Shukla.