By Neil Nachbar
As a teenager, Kevin Suggs was a big fan of Japanese animation, also known as anime. As a student in the pre-engineering program at Davies Career and Technical High School in Lincoln, he developed an interest in electronics and engineering.
When Suggs realized he could continue his education in engineering, while also learning more about Japanese culture at the University of Rhode Island, his decision to enroll in the International Engineering Program was an easy one.
Getting started at URI
"I knew URI had a strong engineering program and the in-state tuition rate made URI a more feasible option," said Suggs. "I heard about the International Engineering Program during orientation. When I noticed there was an option for Japanese, I seized the opportunity to be in the program."
Suggs entered URI through the Talent Development program, a special admission program for Rhode Island's students of color and those from disadvantaged backgrounds.
"Talent Development was a great resource in my college career," said Suggs. "The program helped me stay on a track to success and helped me financially with grants. I had an advisor I checked in with and he directed me to resources that were useful for my classes and my well-being."
Getting to URI's Kingston Campus was sometimes as challenging as learning a foreign language. Suggs commuted everyday by public bus from his home in Pawtucket, waking up at 5 a.m. to arrive in time for an 8 a.m. class.
"It's tough having so much time taken away from the day or from sleep just by having to commute by bus," said Suggs.
A year in Japan
The fifth-year student is headed to Japan in September to complete the requirements for his bachelor's degrees in computer engineering and Japanese through URI's International Engineering Program.
For the fall 2022 semester, Suggs will take humanities and language classes at Kyushu University in Fukuoka, Japan. He'll conduct research or work as an intern for a Japanese company during the spring semester.
"When I was high school, I never imagined I would be able to study and intern in Japan," said Suggs.
Suggs' trip became more affordable thanks to a Beatrice S. Demers Foreign Language Fellowship grant and David L. Boren scholarship. He was one of seven URI students to receive a Boren Scholarship, which is considered the most prestigious study abroad award offered to U.S. college students.
Using Japanese at home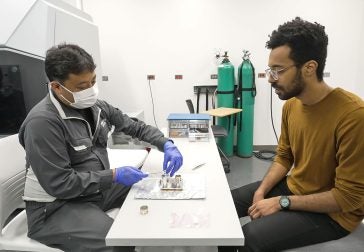 Kevin Suggs is looking for any opportunity to sharpen his Japanese language skills.
So when he was asked to help interpret for an engineer from Japan who was part of a team that was installing a new electron probe microanalyzer in URI's Shimadzu Engineering Research Core Facility, he was eager to do so.
When Shimadzu installs one of its state-of-the-art scientific instruments, it sends a team of engineers to oversee the process. Makoto Motoyama, who works as an engineer at the company's headquarters in Japan, was part of that team.
For two weeks, Suggs spent each day on the lower level of URI's Fascitelli Center for Advanced Engineering while the instrument was built, tested and a URI engineer was trained to use it. Whenever he was asked, he bridged any communication gap between Motoyama and his American counterparts.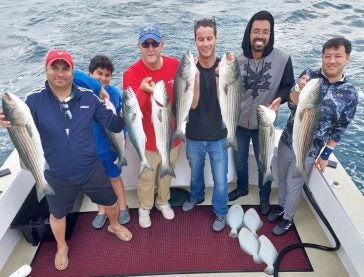 "The technical terms were the toughest part," said Suggs. "I practiced them from the brochures and websites they provided before we started. I also made notes of words that were used frequently and practiced them outside of work so that it became easier each day."
"This experience helped me with terms I may come across in Japan, but it mostly improved my confidence with the Japanese language," said Suggs. "I pinpointed my strengths and weaknesses with the language, which will help me prepare more effectively for living, studying and working in Japan."
Having options
Suggs isn't sure where his experience in Japan will take him, but he's open to the possibilities.
"I would like to work as an engineer in America or Japan," said Suggs. "What I like most about computer engineering is its versatility. There are many different career paths I could take, such as software, hardware, architecture, and more. I find technology to be very cool and interesting, so I would love to contribute to that in some way."