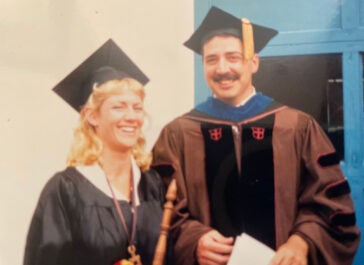 By Neil Nachbar
There are students who make lasting impressions. Then there's the occasional student who is so extraordinary, a professor can envision the pupil having a remarkable career.
Lisa Pruitt, who earned two bachelor's degrees in engineering from the University of Rhode Island in 1988, made such an impression on URI Distinguished Engineering Professor Otto Gregory.
"Lisa was my very first research student," said Gregory. "She was always an outstanding student in the classroom, but where she really excelled was in the research laboratory. Her passion was materials science and engineering. She took every materials science course she could and absorbed everything there was to know about materials science."
Pruitt is an endowed professor in mechanical engineering and bioengineering at the University of California, Berkeley, and is a professor of medicine at the University of San Francisco. She was Brown University's Co-Engineering Alumnus of the Year in 2022 and also published her fourth book this year.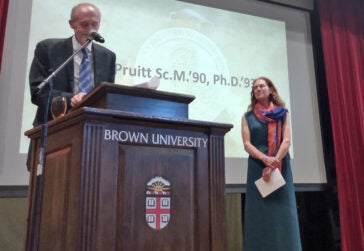 The recipient of numerous awards and author of more than 300 peer-reviewed articles in the fields of failure analysis, biomaterials, and medical devices, Pruitt recalled how her academic journey began at URI.
"I enrolled in the chemical and ocean engineering program at URI in 1984 with the intent of eventually going to medical school and that this engineering program would provide the requisite chemistry classes needed for such a pursuit," said Pruitt, who is originally from Mendon, Massachusetts. "As part of that program, I was required to take a course in metallurgy, and in brief, I fell in love with materials science."
Pruitt took enough materials courses to earn a bachelor's degree in materials engineering, making her a dual degree graduate from URI. She proceeded to earn a master's degree and doctorate in engineering from Brown, but credits Gregory for instilling a passion for conducting research.
"When Professor Gregory took me under his wing as an undergraduate researcher, it changed my life," said Pruitt. "As a mentor, he instilled a love of inquiry-based research. Dr. Gregory taught me many experimental methods for materials characterization, provided the fundamentals of preparing research presentations, and the writing of archival journal publications."
Gregory also instilled confidence in a student who needed it at the time.
"He believed in me before I believed in myself," said Pruitt. "Without his mentorship, I would not have considered graduate school at Brown. Dr. Gregory has been a life-long mentor and friend. My proudest moment at URI was receiving an award for my undergraduate research with Dr. Gregory."
In her latest book, Soul of a Professor: Memoir of an Un-Engineered Life, Pruitt writes at length about the paramount role Gregory played in her life. Here is an excerpt:
"… Professor Gregory puts me at ease, and I blossom in his lab. Under his direct mentorship, I work on a semiconductor project involving wet chemistry and surface characterization of germanium oxides. My academic trajectory is forever changed when I fall in love with research. Like with lectures, I become aligned with the very materials I study. Just as I had felt the life of the pine trees I climbed as a child, I find some life force from within the materials that I characterize. …
"Professor Gregory personally trains me on wet chemistry methods. I learn new characterization tools and discover the joy of reading archival journal papers. I find immense solace in the realm of research. He brings me to Brown University, where I also learn ellipsometry under the guid­ance of a collaborating physicist, Dr. Chrisman. They treat me like a grad­uate student, and I expand my research prowess under their mentorship. These extraordinary mentors imprint me with critical thinking skills and a love of inquiry-based learning …"
More than 35 years after they first met, Gregory recalled the potential he saw in Pruitt very early on.
"Lisa's potential as a researcher was most obvious from day one," said Gregory. "She never lost sight of the big picture and was able to carry out meticulous experiments to prove her hypothesis. You just knew she was going to accomplish great things."