By Neil Nachbar
It normally takes new faculty time to meet their colleagues and get familiar with their surroundings.
There was no such learning curve for Irene Andreu, who became an assistant professor of chemical engineering at the University of Rhode Island this fall.
Prior to become a professor, Andreu served as the director of operations for the Rhode Island Consortium for Nanoscience & Nanotechnology, which is housed in the Shimadzu Engineering Research Core Facility in URI's Fascitelli Center For Advanced Engineering. As the director, she worked closely with engineering faculty and was responsible for some of the most sophisticated and expensive devices at the University.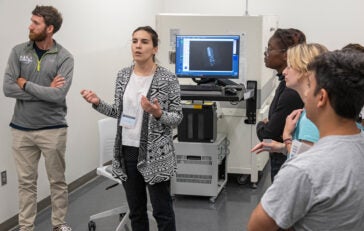 "When the opportunity to join the faculty came up, I didn't hesitate," said Andreu, who lives in Dedham, Massachusetts and is originally from Huesca, Spain. "I was already collaborating with professors in chemical engineering and other departments. While managing the lab equipment, I learned a lot about the College of Engineering's research ecosystem."
Andreu, who studied and worked with nanotechnology and materials science as a graduate student, thought about what she would do as a researcher if given the opportunity.
"Without knowing what the future held, I thought about research I could conduct with the lab equipment and the expertise of some of the other professors," said Andreu. "When it was time to apply for the faculty position, it helped to already have these ideas on how I would approach my research projects and grant proposals."
Andreu will focus on research that combines her prior experiences.
"During my graduate studies and postdoctoral fellowship, I mostly worked on synthesizing and characterizing magnetic nanoparticles," said Andreu. "In my work in the core lab facility, I worked on the characterization of materials, ranging from concrete to plants and anything in between. I can combine my two dissimilar fields of expertise to find novel ways of characterizing and using micro- and nanoparticles in complex media."
Andreu named her lab Characterization of Particles in Complex Media. Among others, she's collaborating with professors Ryan Poling-Skutvik and Arijit Bose. Poling-Skutvik has expertise in soft materials with magnetic actuation. One of Bose's areas of expertise, which couples well with Andreu's research, is in battery characterization.
One of Andreu's projects would involve using magnetic nanoparticles to evaluate the mechanical properties of biological tissues and using that knowledge to treat diseases. She also plans to characterize samples of microplastics collected from the environment, and analyze nanomaterials in aerosols.
"Pretty much anywhere there is a particle in a heterogeneous environment, that's where you will find me," said Andreu.