B.A. in English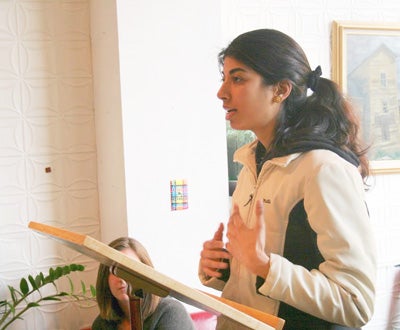 Overview
The English major at URI is both challenging and flexible, offering you a solid foundation in literary history and theory, and also allowing you to pursue your particular literary interests. As a result, no two English majors are the same.
The major is 36 credits (nine courses), and can easily be completed in two years. So if you choose, you can acquire a solid background in English as well as a genuinely broad experience in other disciplines. This can take the form of a double major—more than doubling your career options. Other choices include adding a minor in another area of interest or exploring a wide range of elective courses.
Creative Writing Option
English majors with a special interest in creative writing are encouraged to consider pursuing the Creative Writing Option, which requires the completion of the following three courses:
ENG 205 Introductory Creative Writing (poetry, fiction, nonfiction, or screenwriting) or ENG 305 (poetry, fiction, nonfiction, or screenwriting);
ENG 305 Advanced Creative Writing (students who have already taken this course, see above, select a different genre);
ENG 405 Creative Writing Capstone includes workshop, portfolio creation, critical responses to texts, and exploration of the creative writing field.
Interdisciplinary Opportunities
The English Department is actively engaged with several URI interdisciplinary programs:
Through a generous endowment from Edmund S. and Nathalie Rumowicz, we regularly offer an undergraduate seminar on the Literature of the Sea in collaboration with faculty and students from the Marine Affairs and History Departments. The Rumowicz endowment also makes possible a distinguished lecture series on the Literature of the Sea, and an undergraduate essay contest that draws contestants from disciplines all over the campus.
Double Major in English and Education
The English Department works closely with the URI School of Education to ensure that students who chose to double major in Secondary Education and English receive the courses they need to become properly certified in English as their content area.