"I am interested in international human rights; particularly on the continent of Africa. French is spoken widely in many nations there, and China has been investing widely across Africa over the past decade."
Every year on her birthday, Cynthia Malambi's mother tells her the same story.
It was the year 2000, and the Democratic Republic of the Congo was in the midst of the Second Congo War, also known as the Great War of Africa–a conflict involving nine African countries and 25 armed groups that would ultimately claim 5.2 million lives. Cynthia was three years old when she and her mother, then pregnant with her brother, fled from Congo amid the violence and chaos. "Every year my mother tells me the story of the man who took a bullet for us," she says. "We were under fire and he stepped in front of us to save us."
Cynthia and her family were among the approximately two million people displaced by the war, and her early childhood was marked by dangerous moments and sickness. They made their way to the Kpomassè refugee camp in Benin where they lived before emigrating to the U.S. when she was 10 years old. She relates her extraordinary story with humor, warmth, and gratitude, counting herself among the lucky ones. "I have researched the refugee camp where we lived and it is one of the better ones," she explains. "We had houses to live in and we were able to go to school."
And Cynthia's mother expected her to do well in school. "She made it clear that she didn't go through everything she did for us so we could be uneducated," Cynthia says. Her mother's desire to provide an education to her children was so strong that even when she got sick with malaria, she didn't want Cynthia to stay home and care for her. "She told me to go to school, but I didn't want to leave her. So I pretended to go, but stayed behind to watch over her," recalls Cynthia, who suffered three bouts of malaria herself while living in the refugee camp.
Like many children in West Africa, Cynthia learned French in school, and since she grew up surrounded by different accents and dialects, she is comfortable with the idea of mastering new languages. Swahili and Lingala were spoken at home and the refugee camp brought together people from a variety of nations. "I heard Kikongo, Fon, and Mina. I know few words in them and can understand them when someone speaks to me but I can't fully speak them," she says. "We had to use language to connect to each other so it was something we just picked up without learning it formally."
When Cynthia came to the U.S. it was hard for her to assimilate. "In the U.S. there is a culture of individualism, so the assimilation process is really ongoing," she says. Her mother's commitment to education paid off for her in school, where she skipped two grades. She and her mother also watched world news together and from a young age, Cynthia expressed the ambition to become a humanitarian.
At the University of Rhode Island, she majors in political science and French and is also studying Chinese. "I am interested in international human rights. Particularly on the continent of Africa. French is spoken widely in many nations there, and China has been investing widely across Africa over the past decade," she explains.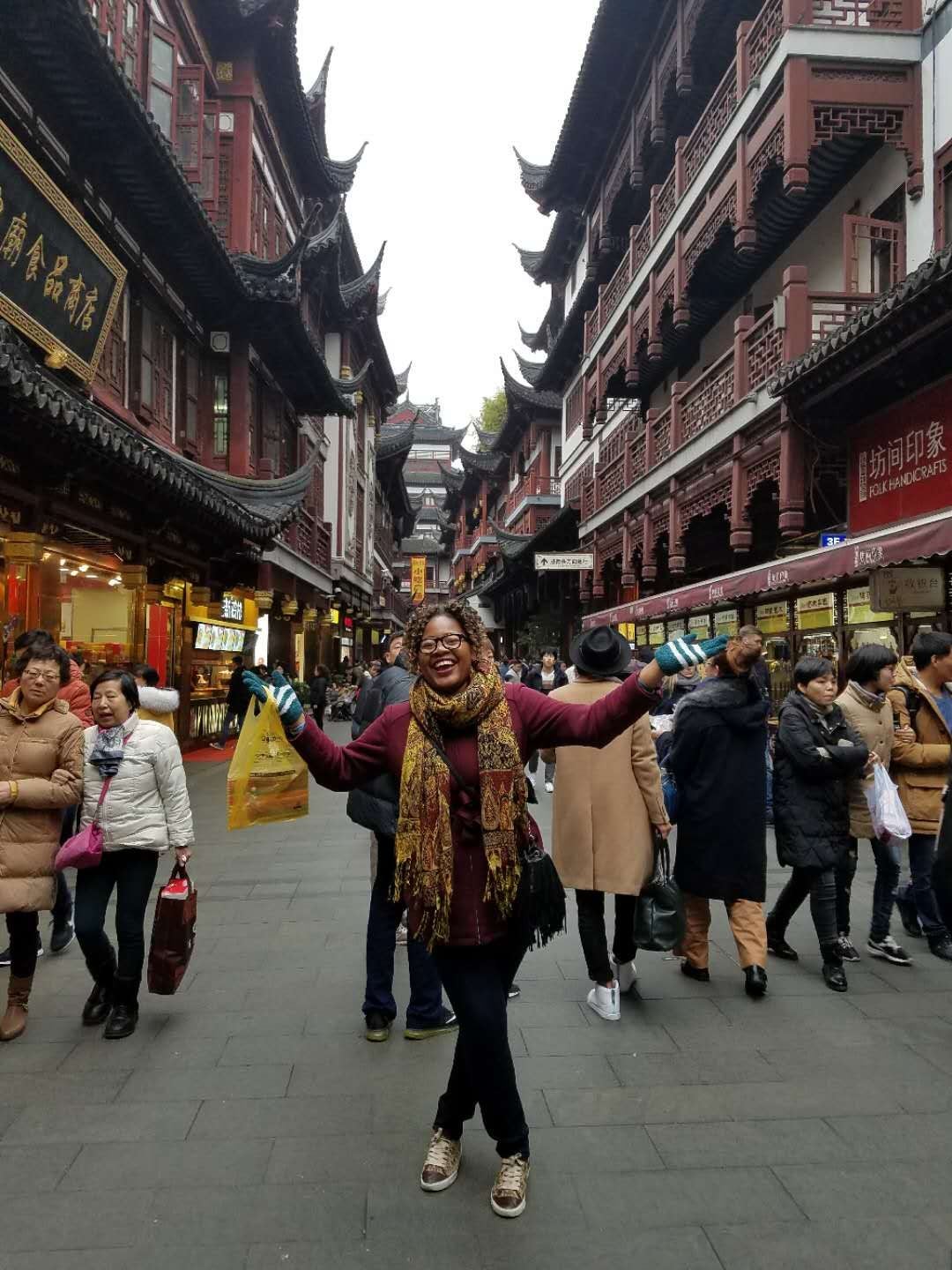 Cynthia's language skills in Mandarin were put to use during a semester in Shanghai, where she attended classes in the morning and explored cultural sites in the afternoon. "I was surprised how much Shanghai reminded me of New York," she says. She is especially interested in the policies that support development and how countries can grow economically and politically, while still retaining their own culture.
The semester in China also challenged her to examine her own cultural preconceptions. "I thought I was going to be treated differently because I am African and don't look like the people there," she says. "They made me feel welcome, so I really had to examine my own bias," she says. Many of the communal aspects of their culture, like the way they eat together also remind her of Africa.
"I want to do the impossible in life. I really believe that I went through what I did for a reason."
Cynthia is also the recipient of a Beatrice S. Demers Foreign Language Fellowship to study abroad for a year in Rennes, France. "I had to submit the scholarship application from China, which was a challenge because you have limited access to the internet there," she says. She worked with the close support of Kathleen Maher, director of the Office of National Fellowships and Academic Opportunities. "Kathleen had to download, print, and email everything to me because I wasn't able to get on the website myself," she says.
Before leaving for France, Cynthia got some hands-on experience in public policy over the summer, as an intern in Senator Jack Reed's office.
And after she graduates?
"I want to do the impossible in life," she says. "I really believe that I went through what I did for a reason."