"When you study another culture, you share their perspective, and it helps you treat the world with an equal level of respect."
On a clear windy day on the beach at the URI Bay Campus, there is a lot to take in. The expanse of Narragansett Bay is dotted with whitecaps, and depending on the season, you can see the occasional kayak and sailboat gliding by.
When Sandra Deeb looks out towards the ocean, she sees potential.
Sandra is enrolled in the French International Engineering Program (IEP), which provides unique preparation for the next generation of global engineers. She is actually earning two degrees simultaneously: a B.S. in Ocean Engineering and a B.A. in French.
"I want to do something good in the world," says Sandra. "Ocean engineering interests me because there is so much potential to discover new forms of renewable energy.
"There is enough energy in the ocean to power the whole planet, but the primary question is how to harness it."
"There is enough energy in the ocean to power the whole planet, but the primary question is how to harness it," she explains. "Scientists also need to study how sustainable energy projects, like the wind turbines off the coast of Block Island or tidal energy projects, will impact the environment."
Knowing how to study and work in another language is something she feels will help her work. "The field of ocean engineering is very international, and France is very advanced in the development of renewable energy." she says.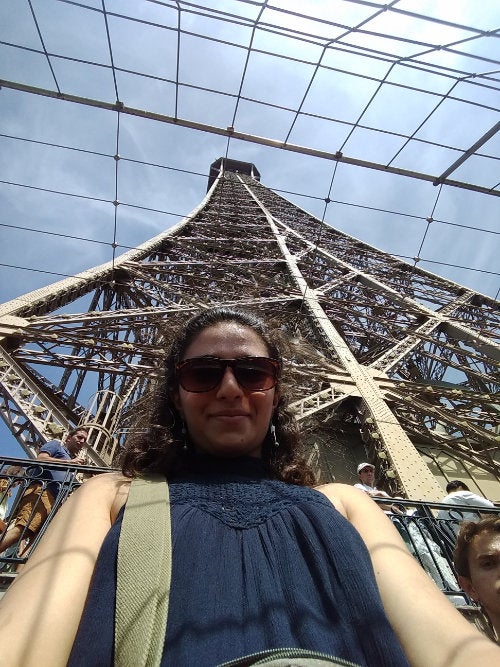 Sandra converses easily in French, often leading the weekly French conversation hours on campus. Her parents, who grew up in Syria, are fluent in Arabic and French, so she grew up hearing other languages at home. She has worked hard to perfect her skills in her French language classes. This fall she spent a semester abroad studying engineering at the University of Technology of Compiègne followed by an internship or research project in her field.
"Modern engineers cater to a truly global market, with small and large engineering companies having many branches and offices worldwide–particularly in the ocean engineering area," says Stéphan Grilli, distinguished professor and chair of the Department of Ocean Engineering. "Tomorrow's engineers will have to seamlessly navigate a highly diverse and multicultural environment, in which one's team and customer base will be international and multilingual, and multicultural skills and sensitivities will be key to a successful and productive career."
For Sandra, working on renewable energy and learning about another culture through the study of language hold importance beyond her own personal and professional goals. When many people here in the U.S. read about the years of armed conflict in Syria and the resulting humanitarian crisis, it is something that happens to other people on the other side of the world. But this crisis affects people in Sandra's family directly. Her grandmother had to leave Syria suddenly, abandoning her home and her way of life.
"In that part of the world, these conflicts are often related to fossil fuel. Working on sustainable forms of energy is one way that I can help," she says.
"Learning a language is important because it makes us care about each other more," she adds. "When you study another culture, you share their perspective, and it helps you treat the world with an equal level of respect."