Classical Studies B.A. (G.L.A.S.)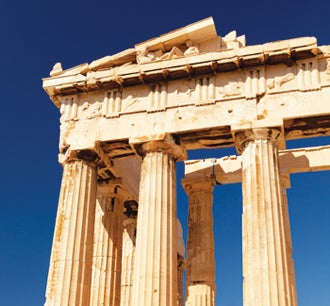 Overview
As a Global Language Area Studies major with a concentration in Classical Studies (or Classics), you will learn about the languages and civilizations of ancient Greece and Rome. Why should I study that, you ask? Good question. The simple answer is, because everything that's happening here and now traces back to what happened there, and then.
Modern ideas about everything—from politics to society, to law, to art, to athletics—come from the ancient Greeks and Romans. As a Classics major you will not only study the origins of contemporary society and culture, you will also learn Latin or Greek (or both), which will expand your English vocabulary and improve your grammar skills.
Why Classical Studies at URI?
Be Part of a Community
We're a small, close-knit group of about 20-30 majors, with accessible faculty who will give you personal, individual attention. And we invite you to join our URI Classics Society, which organizes museum trips, movie outings, and other social events.
Mix and Match Your Majors
Classics is inherently cross-disciplinary, and at URI you'll have the opportunity to pair it with a range of other degree options including art history, philosophy, anthropology, among others. You'll also have opportunities to deepen your understanding of languages and cultures with study abroad in Greece or Rome.
---
Careers
Studying Classics increases your capacity to think and express yourself clearly, to think critically and analyze, and to be precise, so a Classics degree is highly regarded by employers and professional programs. You'll have a range of career options, but here are some examples of careers pursued by our recent graduates:
Archaeology
Creative Writing
Engineering
Journalism
Law
Medicine
Museum curatorship and management
Psychology
Secondary and higher education
Social Work