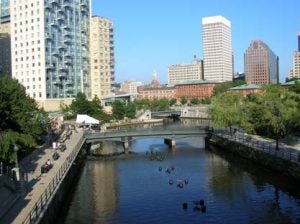 The URI Graduate Certificate in Community Planning provides advanced instruction and training in community planning and development to address contemporary planning challenges at different geographical levels in the United States. The certificate focuses on the knowledge of the principles and practices of community planning and development, specifically in areas of land use and environmental planning as well as urban design.
The graduate certificate offers the knowledge and technical skills for students interested in a career in governmental planning agencies, private sector consulting and/or real estate development companies as well as non-governmental organizations (NGOs). If you already practice in the field and wish to enhance your skills and understanding of the community planning and development issues, you are also encouraged to consider the graduate certificate.
Program Requirements
A total of 5 courses are required to complete the certificate (15 or 16 credits).
Required course:
CPL 410 (or 501): Fundamentals of Community Planning Practice (3 cr.)
Plus 6 credits from the following core courses:
CPL 434 (or 539): Introduction to Environmental Law (3 cr.)
CPL 450: Urban Design (3 cr.)
CPL 483: Land Development (3 cr.)
CPL 485: Environmental Planning (3cr.)
CPL/MAF 516: Seminar on the Urban Waterfront (3 cr.)
PSC 505: Public Program Evaluation (3 cr.)
Plus 6 or 7 credits from the following elective courses:
CPL 538: Site Planning (3 cr.)
CPL 549: Seminar in Ecological Planning (3 cr.)
LAR 444: Landscape Architecture Design Studio III: Sustainable Design (4 cr.)
LAR 445: Landscape Architecture Design Studio IV (4 cr.)
MAF 465: GIS Applications in Coastal and Marine Management (3 cr.)
MAF 475: Human Responses to Coastal Hazards and Disasters (3 cr.)
MAF 564: Port Planning and Policy (3 cr.)
PSC 524: Seminar in Public Policy Problems (3 cr.)
Admission Requirements
A bachelor's degree from an accredited College or University is required. International students are required to have an overall TOEFL score of 80 or more AND meet the minimum in each individual area: Reading 20, Writing 22, Listening 17, Speaking 17.
GREs are not required.
Application Instructions
Submit your online application through the URI Graduate School. You will need to provide:
college transcripts certifying successful completion of bachelor's degree,
two letters of recommendation from peers, mentors, or colleagues attesting to your ability to complete graduate-level coursework, and
a personal written statement explaining why you are seeking a graduate certificate in Community Planning.
Complete application instructions can be found on the Graduate School website.
Application Deadlines
For Fall semester admission: July 15
For Spring semester admission: November 15
Adding a Certificate to Your Degree
If you are currently a URI graduate student in another program (Masters or Ph.D.), you can add the Community Planning Certificate and have the application fee waived. Please follow these instructions on the Graduate School website.
Contact
For more information, contact Professor Farhad Atash (fatash@uri.edu) in the Department of Landscape Architecture.
Once in the program
The Graduate Certificate in Community Planning is treated as full-fledged graduate program of the University of Rhode Island. Students must follow standard graduate school guidelines, policies, and deadlines as they pursue the certificate. Important information resources for new students in the program can be found on the URI Graduate School website.
New students should meet with Dr. Atash to develop a Program of Study. The Program of Study lists all the classes the student must take to complete the requirements for the certificate.
In your final semester, a Nomination to Graduate form must be completed.
FAQs
Can credits in Community Planning classes taken for another graduate degree count toward the certificate?
Yes, as long as you are enrolled in both programs at the same time.
Can I transfer in credits taken before being admitted?
Yes, you can transfer in 3 credits of graduate Community Planning classes and apply them toward your certificate.