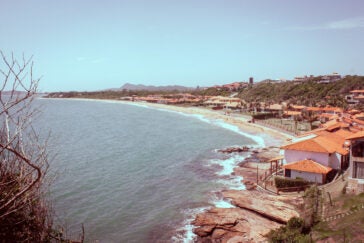 The study of coastal resilience and translating findings into practice is important for coastal communities, as well as the natural and economic systems that depend upon them. As climate change impacts become more and more evident, disaster losses will continue to rise in the United States and across the world. Hazards of concern in these regions include storm surge and wind impacts from tropical storms, wildfires, extreme heat, and inundation of low-lying lands during regular tidal cycles. With more than 50% of the United States population and a majority of global population living in coastal areas, natural disasters along the coast are particularly devastating. The next generation must face these challenges head on and the need to educate tomorrow's decision makers about coastal resilience will only become more pressing.
The Coastal Resilience Graduate Certificate Program provides students and professionals with advanced training needed to find professional employment in the field of coastal resilience. Upon completion of the Coastal Resilience Graduate Certificate Program, students will be able to: (1) apply knowledge in a variety of disciplines and have practical skills to address real-world problems in coastal resilience; and (2) find employment in agencies and businesses involved in research, scholarly, and problem-solving endeavors in the field of coastal resilience. In particular, the curriculum will provide students with academic and practice-based skills, knowledge and expertise to (1) explain threats to and impacts of natural hazards and disasters on natural and built environments and human communities; (2) describe human responses at a variety of scales (e.g., individual; international) to natural hazards and disasters; (3) apply theoretical concepts in coastal resilience to real-world and hypothetical scenarios; and (4) critically evaluate policies, programs, and plans for addressing the effects of coastal hazards and disasters.
---
Requirements
Students take 15 credits to complete the certificate program.
Students must take 9 required credits as follows:
3 credits from the following core Social Science and Policy Courses:
MAF 475 – Human Responses to Coastal Hazards
MAF 521 – Coastal Zone Law
NRS 514 – Climate Change Science and Policy
(Or other with approval from Grad Certificate faculty)
3 credits from the following core Natural Science/Engineering courses:
MAF 511 – Ocean Uses
GEO 577 – Coastal Geologic Hazards
OCG 440 – Geological Oceanography
OCG 569 – Oceanographic Processes
OCE 408 (Wave Mechanics and Littoral Processes)
OCG 493 – Special Problems And Independent Study In Oceanography
(Or other with approval from Grad Certificate faculty)
3 credits of Practicum:
NRS/MAF 510x – Field Practicum in Coastal Resilience
CVE/OCE591 – (Special Problems)
EVS 597 – Professional Internship in Environmental Science and Management
MAF 591/592 – Directed study with outside host (must be approved by
Grad Certificate faculty)
Students must take an additional 6 credits of free electives from the core courses or from the following strengthening courses:
Engineered Systems
OCE 421, 3 credits (Fall semester) Coastal Structures Design
OCE510, 3 credit (Fall alternate years) Engineering Ocean Mechanics
OCE514, 3 credit (Fall alternate years) Engineering wave mechanics and
nearshore processes
CVE 477/577 Environmental sustainability and Green Engineering
OCE408: (4 credit) Engineering wave mechanics and littoral processes
OCE 421: Coastal Structures
Community Systems
CPL 410 – Fundamentals of Community Planning Practice
CPL 434: Introduction to Environmental Law
CPL 450 – Urban Design
CPL 483: Land Development
CPL 485: Environmental Planning
CPL 538 – Site Planning
CPL 539 – Environmental Law
Marine Affairs
MAF 461 – Coastal Zone Management
MAF 465 – GIS Applications in Coastal and Marine Management
MAF 475 Human Responses to Coastal Hazards and Disasters
MAF 582 – Coastal Ecosystem Governance
MAF 516 – Seminar on the urban waterfront
MAF 521 – Coastal Zone Law
MAF 484 – Environmental Analysis and Policy in Coastal Management
MAF 545: Environmental Thought and Behavior
MAF 531 – Environmental Justice
MAF 564 Port Planning and Policy
MAF 577: International Ocean Law
Natural Systems
BES 551: Ecosystem Science and Sustainability
NRS 501 – Foundations in Restoration Ecology
NRS 514: Climate Change Science and Policy
NRS 555: Applied Coastal Ecology
NRS 585 – Salt March Ecology
CPL 549 – Seminar in Ecological Planning
OCG 451: Oceanographic Science
OCG 512: Ocean Waves and Storm Surge Modeling
Business and Management Systems
BUS 435 – Topics in Insurance: Risk Management
BUS 443: Organizational Design and Change
Other courses
LAR 444: Landscape Architecture Studio III: Sustainable Design
LAR 445: Landscape Architecture Studio IV
EEC 432: Environmental and Resource Economics and Policy
EEC 440: Benefit-Cost Analysis
EEC 535: Environmental Economics
HPR 411/CVE 323 Designing Sustainable Solutions for Developing Communities
OCG 508: Global Environmental Change Education
GEO 491 J-Term Indonesia (3 cr.)
---
Admission Requirements
Applicants may come with a range of skills and expertise and a strong interest in coastal resilience. We encourage applications from many types of prospective students, including:
Students enrolled in existing graduate programs at URI (e.g., Biological and Environmental Science, Marine Affairs, Oceanography, Ocean Engineering, MESM) who wish to obtain this credential in addition to their graduate degree
Students who possess a Bachelor's degree and want to improve their Coastal Resilience skills to enhance their employability
Working professionals who require advanced training in Coastal Resilience
Note: We do not require either the subject or general GRE.
Please visit the international admission site for information about language requirements for international students.
---
Application Instructions
Submit an online application through the URI Graduate School.
Applications should include:
College transcripts certifying successful completion of a bachelors degree
Two letters of recommendation from peers, mentors, or colleagues attesting to the applicant's ability to complete graduate-level coursework
A personal written statement explaining why the applicant is seeking a University of Rhode Island graduate certificate in coastal resilience
Updated resume
---
Cost
Standard URI tuition and fee rates for graduate programs apply for the Certificate in Coastal Resiliance.
---
Contact
For more information, contact Professor Austin Becker (abecker@uri.edu)