Academic Year 2023 – 2024
Regular Hours During Fall & Spring Semesters:
Monday – Friday: 7:30am – 10:00pm
Saturday & Sunday: 10:00am – 10:00pm
Fall Exceptions are as follows:
Wednesday, 12/20 (End of Final Exam Period): 7:30am – 5:00pm
If you have questions about events or programs scheduled in the Memorial Union, please call 401.874.2056
Directions / Parking
Memorial Union
50 Lower College Road
Kingston, RI 02881
FREE 45 MINUTE PARKING BEHIND THE UNION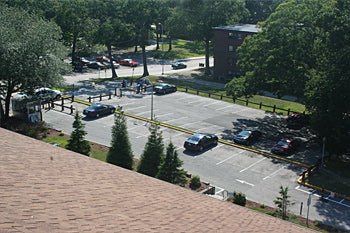 Hours of Operation:
Fall & Spring Semester
Monday–Friday: 8 a.m.–5 p.m.
Sat/Sun: Unrestricted parking
Winter, Spring & Summer Break
Monday–Friday: 9 a.m.–4 p.m.
Sat/Sun: Unrestricted parking
The Memorial Union parking lot serves students, faculty, staff, and the general public. The parking lot is regulated during normal business hours (8 a.m. – 5 p.m.). Guests are given a 45-minute allowance to park in the lot. During nights and weekends, the parking lot is unrestricted. For any other questions regarding the Memorial Union parking lot, please call 401.874.5290. All other parking inquiries can be directed to URI Parking Services at 401.874.9281.
Special Note:
The Fogarty and Morrill staff parking lots, located off of Campus Avenue are open for unrestricted use during nights (5:00 p.m. – 7:30 a.m.) and weekends.
Google map directions to the Memorial Union's parking lot.
Directions to URI
The URI Welcome Center is open Monday through Friday from 7:30 a.m. to 4:30 p.m., and at other times by special arrangement. If you have special needs, please alert the Welcome Center by calling 401.874.2133.