The memory of a University of Rhode Island College of Pharmacy graduate, who became a prominent optometrist in the community and a lieutenant colonel in the U.S. Air Force Reserves, is being memorialized in a scholarship that is benefiting another pharmacy student serving the country in the military during a monumental health challenge.
Dr. Samuel Montalto graduated from URI with a bachelor's and master's degree in pharmacy in the 1980s. He served as a pharmacist while attending New England College of Optometry, where he earned another degree, leading to a career with Coastal Eye Associates. He was also a commissioned officer in the United States Air Force Reserves, most recently promoted to the rank of Lieutenant Colonel. He was a member of the 439th Aerospace Medicine Squadron, serving at Westover Air Reserve Base from 2010 until he passed away from pancreatic cancer in 2017. Montalto, of Westerly, was 57 years old.
Montalto's family — including wife Debbie Montalto and children, Catherine, Emily and Sam —sought a way to memorialize the prominent health professional, who served as president of the Rhode Island Optometric Association for more than a decade. Joined by close friends Paul and Amey Larrat, and John and Mary Mastrianni, the family created the Samuel J. Montalto Jr. Memorial Scholarship to benefit URI College of Pharmacy students. (Paul Larrat is dean of the URI College of Pharmacy.)
"Sam really viewed education as a gift and treasured his time at URI," said Debbie Montalto, noting the couple's daughter is a nursing student at URI. "He was a great mentor and really stressed the value of education. He was always going out of his way to help others. This is a great way to honor his lifelong love of learning and his deep desire for service to others."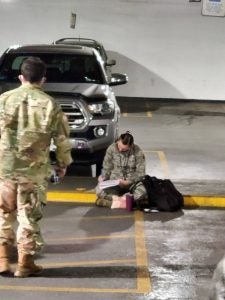 The scholarship originators began in 2017 seeking donations to fund the scholarship, securing gifts from 44 donors, including the Phi Sigma Kappa and Kappa Psi pharmaceutical fraternities. The endowment is used to provide financial assistance to URI pharmacy students in the professional curriculum who are Rhode Island residents, selected by the College of Pharmacy Scholarships and Award Committtee. Preference is given to students with documented financial need.
The scholarship's first recipient is Michaela Young, a pharmacy student in her P2 year who also serves as a pharmacy technician in the R.I. National Guard. In March, the Cranston native was activated to assist with the COVID-19 pandemic in R.I., continuing her studies during breaks from serving on the state's Contact Tracing Team. The scholarship helps Young cover her expenses, allowing her to focus on her schoolwork and her service to the community in the National Guard.
"If I had to worry about being able to pay rent each month, or how much I had to spend on food, I wouldn't be as focused as I am on school," Young said, noting she plans to continue her work with the military, in addition to pursuing a career in pharmaceutical science. "My career ambitions are to possibly work in a hospital setting. I've had a passion for obstetrics and pediatrics since my younger siblings were born, and I'd love to do something that ties in my pharmacy knowledge with that passion."
The passion and dedication Young has shown both for her studies and her extraordinary service to the community make her a worthy recipient of the scholarship named for a man who shared those qualities, according to Dean Larrat, who was a classmate and close friend of Montalto.
"Michaela exemplifies many of the traits that I remember in Sam," Dean Larrat said. "A love of country, family and colleagues. An unwavering desire to support those around them. A positive outlook, a great sense of humor and a love for life. I know Sam would be proud an exemplary student and dedicated member of the community like Michaela is the inaugural recipient of his scholarship."
Debbie Montalto shares Larrat's endorsement of Young, noting her hard work to continue her studies while selflessly dedicating herself to helping others in the National Guard.
"Michaela embodies what Sam strove for in education, service to others, love of country," she said. "From what we know of Michaela, it is an honor to have her as the first recipient of the scholarship."