Stacey Ranucci was presented with the URI College of Pharmacy award during Seminar by the Sea continuing education conference
The University of Rhode Island College of Pharmacy presented alumna and Rhode Island Primary Care Physician Corporation Director of Pharmacy Stacey Ranucci with the Dr. Norman A. Campbell Award for Ethics and Excellence in Healthcare, honoring her contributions to pharmacy and health care in general in the region.
Ranucci has more than 24 years of experience in the profession, and is board certified in geriatric pharmacotherapy and as a diabetes educator. In addition to her director role with the Rhode Island Primary Care Physician Corporation/Integra Community Care Network, she was appointed to the Rhode Island Department of Health's Board of Pharmacy in 2015 and served as the chairperson from 2018 through 2022. She served on the 2022 NABP Resolutions Committee for District 1 and was the NABP District 1 chairperson for the District 1 and 2 meeting in the fall of 2022.
"Stacey was instrumental in executing the national association of boards of Pharmacy district 1 and district 2 meeting here last fall," said MJ Kanaczet, director of Healthcare Workforce Development for the college. "Her service to the profession and the regulatory matters of the profession has been exemplary for many years. As a graduate and continuing partner, she is a credit to the URI College of Pharmacy."
Ranucci, a seasoned registered pharmacist and medication therapy specialist, has served as a clinical pharmacist for Triad Healthcare, Westview Nursing and Rehabilitation Center, PharMerica and CVS Pharmacy, and she is a current adjunct professor of ambulatory care for URI. She is a Fellow with the American Society of Consultant Pharmacists, a member of the National Association of Boards of Pharmacy Resolutions Committee, and former chair of the Board of Pharmacy for the state of Rhode Island.
"It's really an honor; I feel very thankful to the URI community for acknowledging me with this prestigious award," Ranucci said. "Norm Campbell was my law professor at URI. He's definitely a legend for us in the College of Pharmacy and in Rhode Island; he's probably educated most of us as practicing pharmacists. So being a URI graduate, a native Rhode Islander, I feel very honored to represent the state in this capacity."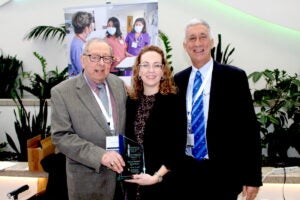 Ranucci was presented with the award during the 38th annual Seminar by the Sea Northeast Regional Conference presented by the University of Rhode Island College of Pharmacy Office of Continuing Professional Development. The flagship professional development conference hosted by the College brings health care professionals from all over the region to Rhode Island. This year's conference, "Food for Thought: Demystifying the Brain-Gut Connection," was delivered both virtually and in person on March 23-24 at the Newport Marriot, and offered valuable continuing education units for pharmacists. Learn more about the conference here.
Named for URI College of Pharmacy Professor Emeritus and former Associate Dean Norman Campbell, the Campbell Award honors those like Ranucci who have displayed high ethics and integrity over the course of their pharmacy and health care careers.
"Stacey has adopted a complete life of service to the profesion and her patients," Campbell said while presenting her with the award. "She has meshed her clinical and management skills to carry out all the criteria for which this award was created."
Ranucci graduated from the URI College of Pharmacy in 1998 and is currently enrolled in an MBA program at Nichols College in Dudley, Mass.