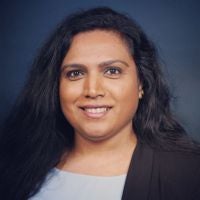 Associate Professor
Office: 244E
Phone: 401.874.7255
Email: avyas@uri.edu
Office Location: Avedisian Hall, 7 Greenhouse Road, Kingston, RI, 02881
Biography
Dr. Ami Vyas is an Associate Professor specialized in the area of Health Outcomes Research. She teaches courses in epidemiology, pharmacoeconomics, and systematic reviews and meta-analysis. Dr. Vyas has varied research interests including cost modeling, disease registry and claims database analyses, systematic review and meta-analyses, and health services research. Her current research projects are focused on examining social determinants of medication adherence, evaluating low-value healthcare services, and determining guideline-concordant treatment and associated health and economic outcomes across a range of chronic conditions.
Research
Healthcare Disparities; Treatment Patterns, Quality of Care, Systematic Review and Meta-Analyses, Survey and Claims Databases, Disease Registries, Pharmacoeconomics
Education
Ph.D., West Virginia University
M.S., West Virginia University
M.B.A., The University of Pune, India
B.Pharm., The Maharaja Sayajirao University of Baroda, India
Selected Publications
All publications are available here: https://scholar.google.com/citations?user=ZuiZGkcAAAAJ&hl=en
Vyas A, Descoteaux A, Kogut S, et al. Predictors of Adherence to Oral Anticancer Medications: An Analysis of 2010-2018 US Nationwide Claims. Journal of Managed Care and Specialty Pharmacy 2022;28(8):831-844
Kamat S, Patel J, Brown BR, Vyas A. Adverse Events Induced by Nivolumab Plus Ipilimumab vs. Nivolumab Monotherapy Among Cancer Patients: A Systematic Review and Meta-Analysis. Cancer Investigation 2022;1-12. doi: 10.1080/07357907.2022.2108827.
Webb AJ, Borrelli EP, Vyas A, Taylor LE, Buchanan AL. The Effect of Antiretroviral Therapy with High Central Nervous System Penetration on HIV-Related Cognitive Impairment: A Systematic Review and Meta-Analysis. AIDS Care 2022;1-12. doi: 10.1080/09540121.2022.2098231.
Vyas A, Mantaian T, Kamat S, Kurian S, Kogut S. Association of Guideline-Concordant Initial Systemic Treatment with Clinical and Economic Outcomes Among Older Women with Metastatic Breast Cancer in the United States. Journal of Geriatric Oncology 2021;12(7):1092-1099.
Vyas A, Aroke H, Kogut S. Guideline-Concordant Treatment Among Elderly Women with HER2-Positive Metastatic Breast Cancer in the United States. Journal of National Comprehensive Cancer Network 2020;18(4):405-413.
Babcock ZR, Kogut SJ, Vyas A. Association Between Polypharmacy and Health-Related Quality of Life Among Cancer Survivors in the United States. Journal of Cancer Survivorship 2020;14(1):89-99.
Vyas A, Patry E, Owens N, Belviso N, Kogut SJ. Development and Application of a Measurement Framework to Evaluate Safe, Effective and Efficient Medication Use Among Older Adults. Drugs Real World Outcomes 2019;6(4):173-181.