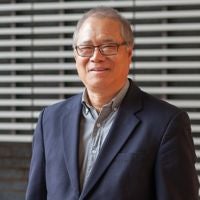 Director INBRE and Professor
Office: 495J Lab: 450
Phone: 401.874.5024
Email: bcho@uri.edu
Office Location: Avedisian Hall, 7 Greenhouse Road, Kingston, RI 02881
Program Director of Rhode Island IDeA Network of Biomedical Excellence (RI-INBRE)
Research Website
Biography
The human genome is under constant assault from the environment. DNA-damage-induced mutations are known to trigger carcinogenesis. It is essential to understand the impact of DNA mutations on cancer initiation. Environmental pollutants such as arylamines produce bulky DNA adducts. These lesions are known to adopt three prominent conformational motifs: the major groove B-type (B), stacked (S), and the minor groove wedge (W). We hypothesize that the conformational complexity contributes to various mutational and repair outcomes. Our work aims to investigate the structural and conformational aspects of the key molecular players involved in the adverse consequences of DNA damage.
To this end, our laboratory uses a wide range of spectroscopic, calorimetric, biosensor, and molecular biological technologies to probe conformation-specific mutation. We are also passionate about using 3D Science Visualization technology that would help facilitate students' learning of the molecular mechanisms of drug-macromolecular action.
Research
Cancer, DNA Damage, Repair, Replication, Mutation, DNA-adduct, Molecular Toxicology, Structural Biology, Chemical Biology, Per- and polyfluoroalkyl Substances (PFASs)
Education
Carcinogenesis, NCTR, FDA, Jefferson, AR, 1987-1991
Carcinogenesis, University of Chicago, Chicago, IL, 1985-1987
Ph.D. Medicinal Chemistry, University of Illinois Medical Center, Chicago, IL, 1985
M.S. Organic Chemistry, Yonsei University, Seoul, Korea, 1979
B.S. Chemistry, Yonsei University, Seoul, Korea, 1977
Selected Publications
Cai A, Bian K, Chen F, Tang Q, Carley R, Li D, and Cho BP. Probing the Effect of Bulky Lesion-Induced Replication Fork Conformational Heterogeneity Using 4-Aminobiphenyl-Modified DNA. Molecule, 24(8), 1566; https://doi.org/10.3390/molecules24081566 (2019). Special Issue on Structural and Functional Aspects of DNA Polymerases.
Cai A, Wilson S, Patnaik S, Wetmore SD, Cho BP. DNA base sequence effects on bulky lesion-induced conformational heterogeneity during DNA replication. Nucleic Acids Res. 40, 3939-3951 (2018).
Hilton B, Gopal S, Xu L, Mazumder S, Musich PR, and Cho BP, and Zou Y. Dissociation dynamics of XPC-HR23B from damaged DNA is a determining factor of NER efficiency. PLoS, http://dx.doi.org/10.1371/journal.pone.0157784 (2016).
Xu L and Cho BP. Conformational insight on the mechanism of acetylaminofluorene-dG induced frameshifts mutation in the NarI mutational hotspot. Chem. Res. Toxicol. 29, 213-226 (2016).
Jain V, Vaidyanathan VG, Patnaik S, Gopal S, and Cho BP. Conformational Insights into the Lesion and Sequence Effects for Arylamine-Induced Translesion DNA Synthesis: 19F NMR, surface plasmon resonance, and primer kinetic studies. Biochemistry 53, 4059-71 (2014).
Xu L, Vaidyanathan VG, and Cho BP, Real-time surface plasmon resonance study of biomolecular interactions between polymerase and bulky mutagenic DNA lesions. Chem. Res. Toxicol. 27, 1796-807 (2014).
Vaidyanathan VG, Liang F, Beard WA, Shock DD, Wilson SH and Cho BP. Insights into the conformation of aminofluorene-dG adduct in a DNA polymerase active site. J. Biol. Chem. 23573-85 (2013)
Vaidyanathan, VG, Xu L, and Cho BP. Probing the binary and ternary binding affinities between Klenow fragment (Kfexo-) and various arylamine DNA lesions by surface plasmon resonance, Chem. Res. Toxicol. 1568 (2013).
Jain V, Hilton B, Patnaik S, Zou Y, Chiarelli MP, and Cho BP. Conformational and thermodynamic properties modulate the nucleotide excision repair of 2-aminofluorene and 2-acetylaminofluorene dG adducts in the NarI sequence. Nucleic Acids Res. 1-13 (2012).
Patnaik S and Cho BP. "Structures of 2-acetylaminofluorene modified DNA revisited: insight into conformational heterogeneity." Chem. Res. Toxicol. 1650-1652 (2010).
Liang F and Cho BP. Enthalpy-entropy contribution to carcinogen-induced DNA conformational heterogeneity. Biochemistry 259-266 (2010).
A complete list of publications is provide on Dr. Cho's Research Website
Affiliations
American Association for Cancer Research (AACR)
American Chemical Society (ACS)
American Association for Colleges of Pharmacy (AACP)
International Society of Polycyclic Aromatic Compounds (ISPAC )
Rho Chi Society