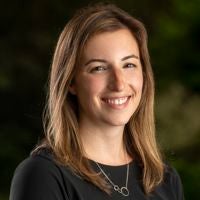 Clinical Associate Professor
Office: 244R
Email: brownbr@uri.edu
Office Location: Avedisian Hall, 7 Greenhouse Road, Kingston, RI 02881
Biography
Dr. Brown is a Board Certified Oncology Pharmacist and Clinical Assistant Professor at the University of Rhode Island. As of 2022, her clinical practice sites include Smilow Cancer Hospital Infusion Centers in Westerly, RI and Waterford, CT. Prior to that, she worked as the oncology pharmacist for the inpatient gynecologic oncology service and palliative care clinic at Women & Infants Hospital in Providence, RI.
Research
gynecologic oncology, oral chemotherapy, symptom management, and palliative care
Education
Board Certified in Oncology Pharmacy, 2016
PGY-2 Oncology Pharmacy Residency, Roswell Park Cancer Institute, 2014-2015
PGY-1 Pharmacy Practice Residency, Hahnemann University Hospital, 2013-2014
Doctor of Pharmacy, University of Rhode Island College of Pharmacy, 2013
Selected Publications
Awards and Honors
The University of Rhode Island College of Pharmacy Professor of the Year (2022)
Diversity, Equity, and Inclusion (DEI) Award, Hematology Oncology Pharmacy Association (2022)
Richard P. Welch Award Nominee, Women & Infants Hospital (2021)
Living the Mission Award, National Community Oncology Dispensing Association (2019)
From Out of the Blue Award, Women & Infants Hospital Oncology Fellows (2019)
Faculty Member of the Year, University of Rhode Island (2019)
Leadership Experience
Dr. Brown is an active member of the Hematology Oncology Pharmacists Association (HOPA) and was selected to Vice Chair their DEI Task Force from 2021-2022. She previously served as chair of the Oral Chemotherapy Education Committee for the National Community Oncology Dispensing Association from 2018-2020, followed by the Intravenous Chemotherapy Education Committee from 2020-2021. In 2021, Dr. Brown, along with nine other pharmacists from across the country, started PharmGradWishlist, a mutual aid movement to support racially and ethnically minoritized students as they matriculate into the profession.
At URI, Dr. Brown has served on the Diversity & Globalization Committee since starting at the university in 2017. She has served as Vice Chair of this Committee since 2020. In addition, she is the faculty advisor for the NCODA Student Group, as well as co-advisor for the Student National Pharmaceutical Association (SNPhA) and Timmy Global Health (TGH) URI Chapters.
Teaching
Co-Coordinator, Hematology/Oncology & Toxicology Foundations and Therapeutics (PHP526 and PHP513)
Co-Coordinator, Hematology/Oncology & Toxicology IAL (PHC527)
Co-Coordinator, Understanding Cancer: Basics and Beyond (PHP203G)
Professional Memberships
Hematology/Oncology Pharmacy Association (HOPA)
National Community Oncology Dispensing Association (NCODA)