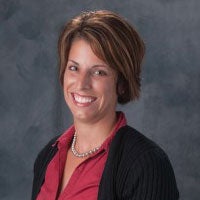 Clinical Professor
Office: 225D
Phone: 401.874.7638
Email: estus@uri.edu
Office Location: Avedisian Hall, 7 Greenhouse Road, Kingston, RI 02881
Biography
Dr. Estus' teaching, service, and scholarship activities are closely intertwined within her areas of interest focusing on older adults and her practice site at Brookdale South Bay. In addition, she co-coordinates and teaches a professional geriatrics elective using innovative teaching strategies to engage students throughout the curriculum.
Dr. Estus is a faculty member of the Rhode Island Geriatric Education Center. She is an active member of the American Society of Consultant Pharmacists (ASCP), and serves leadership positions on several national committees. She is currently serving her second two year term on the Board of Directors for Region 1 and is the faculty advisor for the student ASCP group she created at URI. Dr Estus is also involved with many local and national pharmacy organizations and committees within the University; she currently chairs the admissions committee for the College of Pharmacy.
Research
Areas of interest include geriatric pharmacotherapy, long-term care, health literacy, and improving communication between students and older adults through various intergenerational activities.
Education
Bachelor of Science in Pharmacy, University of Rhode Island, 1996
Doctor of Pharmacy, University of Rhode Island, 2000
Selected Publications
Leedahl SN, Brasher M, Estus EL, Breck BM, Dennis CB & Clark SC. Implementing an interdisciplinary intergenerational program using the Cyber-Seniors ® reverse mentoring model. Journal of Gerontology & Geriatrics Education 2018;1-18.
American Society of Consultant Pharmacists. Geriatric Pharmacy Curriculum Guide, 3rd Edition. Alexandria, VA: American Society of Consultant Pharmacists; 2015. (Co-chair, contributing author)
Estus EL, Asal NJ, Owens NJ. Renal and Urologic disorders. In: Hutchison LC and Sleeper RB, eds. Fundamentals of Geriatric Pharmacotherapy: An Evidence Based Approach. Bethesda, MD: American Society of Health-Systems Pharmacists; 2015: 221-256.
Anastasia E, Estus EL. Living in an older adult community: A pharmacy student's experience. Consult Pharm. 2013; 28(12): 762-68.
Martin CM, Estus EL. Precepting: A win-win for students and pharmacists. Consult Pharm. 2012; 27(6): 403-09.
Estus EL, Owens NJ. Nutrition and Exercise in the Older Person. In: Richardson M, Chant C, Chessman KH, Finks SW, Hemstreet B, Hume AL, et al, eds. Pharmacotherapy Self Assessment Program. 7th ed. Geriatrics. Lenexa, KS: American College of Clinical Pharmacy, 2011: 155-173.
Estus EL. The use of Facebook™ for academic purposes within a geriatric pharmacotherapy elective course. Am J Pharm Educ 2010; 74(8): Article145.
Estus EL, Hume AL, Owens NJ. Innovations in Teaching: Pharmacotherapy in Geriatrics: Improving Student Perception and Knowledge Through an Active Learning Course Model. Am J Pharm Educ 2010; 74(3): Article 38.
Awards
Rhode Island Pharmacists Association (RIPA): 2010 NASPA Innovative Pharmacy Practice Award
URI College of Pharmacy: 2009 Teacher of the Year
American Association of Colleges of Pharmacy (AACP) Council of Faculties: 2009 Innovations in Teaching Competition Recipient
URI College of Pharmacy: 2008 Preceptor of the Year