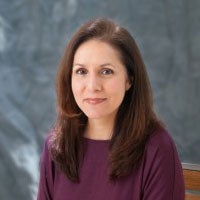 Coordinator, Pharmacy Outreach Program
Office: 295K
Phone: 401.874.7485
Email: nramos@uri.edu
Office Location: 7 Greenhouse Road, Kingston, RI 02881
Biography
Dr. Ramos-DeSimone is a bilingual pharmacist and one of the URI Pharmacy Outreach Program coordinators. She conducts educational programs to Spanish-speaking older adults and special populations of Rhode Island. She also serves as an Adjunct Clinical Assistant Professor for the College of Pharmacy.
Research
Medication Therapy Management and identification of medication-related problems and barriers for self-management of chronic health conditions in Hispanic older adults.
Education
B.S., Clinical Laboratory Science, The University of Rhode Island
Ph.D., Cellular and Molecular Pathology, SUNY at Stony Brook
Post-Doctoral Research, Brown University
Pharm.D., The University of Rhode Island
Selected Publications
Peloso, E., Gil, G., Cohen, L., Marcoux, R.M., Ramos-DeSimone, N. Evaluation of Perceptions Among Older Adults on Smart Phone App Technology as a Medication Adherence Tool. Orlando, Fl., ASHP (2017).
Marcoux, R.M., Ramos-DeSimone, N., Posada, L., Tortolani, N. Interdisciplinary Community Programs for Minority Seniors on the Management of Cardiovascular Disease and Diabetes. American J. of Pharmaceutical Education, 76 (5): Article 99 (2012).