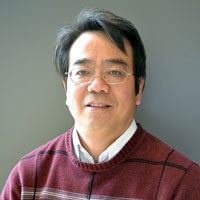 Professor
Office: 395C Lab: 350
Phone: 401.874.4950
Email: dengr@uri.edu
Office Location: Avedisian Hall, 7 Greenhouse Road, Kingston, RI 02881
Research Website
Biography
The long-term objective of our research program is to understand how cholesterol metabolism and bile acid homeostasis are regulated in physiological as well as pathological conditions. The homeostasis of bile acids is maintained through a tightly regulated enterohepatic circulation and canalicular secretion of bile acids via bile salt export pump (BSEP) is the rate-limiting step in the circulation.
BSEP plays a determinant role in maintaining intrahepatic as well as systemic bile acid levels. Impairment of BSEP expression by xenobiotics such as diabetic drug troglitazone and endobiotics such as estrogens leads to an increase in intrahepatic as well as systemic bile acid levels, a hallmark for intrahepatic cholestasis.
On the other hand, enhancement of BSEP expression by xenobiotics such as guggulsterone and endobiotics such as bile acids has potential therapeutic effects on intrahepatic cholestasis and cholesterol metabolism disorders such as hypercholesterolemia and gallstone disease.
New evidences indicate that bile acid imbalance is also implicated in such diseases as hepatocellular carcinoma and other metabolic syndromes. Consistent with such notion, we found that BSEP is dysregulated in patients with those conditions, especially with HCC. We are currently investigating the underlying mechanisms and molecular pathogenesis.
Research
Bile acids and cholesterol homeostasis, regulation and related diseases Drug transporters, toxicology and delivery Biological and pharmaceutical therapy development.
Education
Postdoctoral, University of Massachusetts Medical School, 1996
Ph.D., Ohio State University, 1992
M.S., Nanjing Agricultural University, China, 1986
B.S., Zhejiang (Agricultural) University, China, 1983
Selected Publications
Song X, Vasilenko A, Chen Y, Valanejad L, Verma R, Yan B and Deng R (2014) Transcriptional Dynamics of Bile Salt Export Pump during Pregnancy: Mechanisms and Implications in Intrahepatic Cholestasis of Pregnancy. Hepatology. (In Press)
Chen Y, Chen Y, Xiao D, Bose A, Deng R and Bothun GD (2014). Low-Dose Chemotherapy of Hepatocellular Carcinoma In Vitro through Triggered-Release from Bilayer-Decorated Magnetoliposomes. Colloids Surf B Biointerfaces. 116C:452-458.
Song X, Chen Y, Valanejad L, Kaimal R, Yan B and Deng R (2013) Mechanistic Insights into Isoform and species-specific regulation of bile salt export pump by farnesoid X receptor. J Lipid Res. 54:3030-3044.
Chen Y, Song X, Valanejad L, Vasilenko A, More V, Qiu X, Chen W, Lai Y, Slitt A, Stoner M, Yan B, Deng R (2013) Bile salt export pump is dysregulated with altered farnesoid X receptor isoform expression in patients with hepatocellular carcinoma. Hepatology. 57:1530-1541.
Gharavi J, Marks P, Moran K, Kingsborough B, Verma R, Chen Y, Deng R, Levine M (2013) Chiral cationic polyamines for chiral microcapsules and siRNA delivery. Bioorg Med Chem Lett. 23:5919-5922.
Deng R (2012) Pharmacy research at URI: bile acids and bile salt export pump: physiology and pathology. Med Health R I. 95:290-291.
Yang D, Yang J, Shi D, Deng R and Yan B (2012) Hypolipidemic agent Z-guggulsterone: metabolism interplays with induction of cholesteryl ester hydrolase ces1 and bile salt export pump. J Lipid Res. 53:529-539.
Deng R (2012) A review of the hypoglycemic effects of the five commonly used herbal food supplements. Recent Pat Food Nutr Agric. 4: 50-60.
Yang D, Yang J, Shi D, Deng R, Yan B (2011) Scoparone potentiates transactivation of the bile salt export pump gene and this effect is enhanced by cytochrome P450 metabolism but abolished by a PKC inhibitor. Br J Pharmacol. 164:1547-1557.
Deng R and Chow TJ (2010). Hypolipidemic, Antioxidant and Antiinflammatory Activities of Spirulina Microalgae. Cardiovasc Ther. 28: e33-45.
Yang D, Wang X, Chen YT, Deng R and Yan B (2009) Pyrethroid insecticides: isoform-dependent hydrolysis, induction of cytochrome P450 3A4 and evidence on the involvement of the pregnane X receptor. Toxicol Appl Pharmacol. 237:49-58.
Kaimal R, Song X, Yan B, King R and Deng R (2009) Differential Modulation of Farnesoid X Receptor Signaling Pathway by Thiazolidinediones. J Pharmacol Exp Ther. 330:125-134.
Yu BZ, Kaimal R, Bai S, Sayed KA, Tatulia SA, Apitz R, Jain M, Deng R and Berg OG (2009) Effect of bile salts and cembrenes on FXR and PLA2: Role in Catabolic homeostasis of cholesterol. J Nat Prod. 72:24-28.
Deng R (2009) Food and food supplements with hypocholesterolemic effects. Recent Patents on Food, Nutrition & Agriculture. 1:15-24.
Liu FJ, Song X, Yang D, Deng R, Yan B (2008) The far and distal enhancers in the CYP3A4 gene coordinate the proximal promoter in responding similarly to the pregnane X receptor but differentially to hepatocyte nuclear factor-4alpha. Biochem J. 409:243-250.
Song X, Kaimal R, Yan B and Deng R (2008) Liver receptor homolog 1 transcriptionally regulates human bile salt export pump expression. J Lipid Res. 49:973-984.
Deng R, Radke A, Yang J and Yan B (2007) Hypolipidemic Agent Guggulsterone Regulates the Expression of Human Bile Salt Export Pump: Dominance of Transactivation over FXR-Mediated antagonism. J Pharmacol Exp Ther. 320:1153-1162.
Deng R (2007) Therapeutic effects of guggul and its constituent guggulsterone: cardiovascular benefits. Cardiovascular Drug Reviews. 25:375-390.
Deng R, Yang D, Yang J, Yan B (2006) Oxysterol 22(R)-hydroxycholesterol induces the expression of the bile salt export pump through nuclear receptor FXR but not LXR. J. Pharmacol. Exp. Ther. 317: 317-325.
Li Y, Xie M, Yang J, Yang D, Deng R, Wan Y, Yan B (2006) The expression of antiapoptotic protein survivin is transcriptionally upregulated by DEC1 primarily through multiple sp1 binding sites in the proximal promoter. Oncogen. 25: 3296-3306.
Ma Y, Song X, Sachdeva K, Liu J, Li Y, Yang D, Deng R, Chichester CO, Yan B (2005) Clofibrate and perfluorodecanoate both up-regulate the expression of the pregnane X receptor but only clofibrate enhances its ligand-dependent induction of cytochrome P4503A23. Biochem. Pharmacol. 69, 1363-1371.