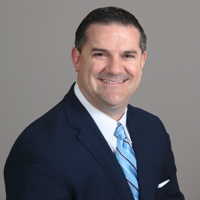 Clinical Assistant Professor
Office: 244R
Phone: 401.874.2848
Email: tbrothers@uri.edu
Office Location: Avedisian Hall, 7 Greenhouse Road, Kingston, RI, 02881
Biography
Dr. Todd Brothers, a graduate of MCPHS – Boston, is a Clinical Assistant Professor of Pharmacy Practice in the College of Pharmacy at the University of Rhode Island and is a board-certified clinical pharmacist, specializing in pharmacotherapy, pharmacogenomics, and critical care medicine. His professional experience has ranged from ambulatory and community based care to his current position in academia with an acute care focus.
Didactically he delivers content in the Doctor of Pharmacy curriculum in the areas of pharmacogenomics, infectious diseases, advanced cardiology, renal, pulmonary, and critical care diseases. His scholarship focuses on the use of artificial intelligence, particularly the clinical application of machine learning algorithms to improve clinical and healthcare quality outcomes.
Dr. Brothers is an active member within the Society of Critical Care Medicine (SCCM), the American College of Clinical Pharmacy (ACCP), and the American Association of Colleges of Pharmacy (AACP). He serves as the Co-Chair to The Executive Office of Health and Human Services, Rhode Island Medicaid Pharmacy and Therapeutics Committee as well as the Faculty advisor to the Mu Chapter of the Pharmacy Leadership Society, Phi Lambda Sigma (PLS).
He maintains a critical care and internal medicine clinical consultation service at Roger Williams Medical Center located in Providence, Rhode Island.
Education
Doctor of Pharmacy, Massachusetts College of Pharmacy and Allied Health Sciences- Boston, 2002
Selected Publications
Al-Mamun MA, Brothers T, Newsome AS. Development of Machine Learning Models to Validate a Medication Regimen Complexity Scoring Tool for Critically Ill Patients. Annals of Pharmacotherapy 2021;55(4):421-429
Sikora Newsome A, Murray B, Smith S, Brothers T, et al. Optimization of Critical Care Pharmacy Clinical Services: A Gap Analysis Approach. American Journal of Health-System Pharmacy, 2021 Jun 1.
Brothers T, Charpentier MM, Shah S, Tandon R. Colectomy averted: A successful case report of Fidaxomicin administration through a loop ileostomy for fulminant, Clostridioides difficile infection. Infectious Diseases in Clinical Practice 2020; 28(2): 96-98.
Oluwadolapo L, Gold J, Murthy A, Brothers T, et al. Rate and Risk Factors Associated with Prolonged Opioid Use After Surgery. A Systematic Review and Meta- Analysis. JAMA Network Open 2020;3(6):e207367.
Honors and Awards
APPE Preceptor of the Year- University of Rhode Island, 201345
Rhode Island Society of Health-Systems Pharmacists- New Clinical Pharmacy Practitioner of the Year, 2007
Excellence in Clinical Pharmacy Practice- Massachusetts College of Pharmacy and Allied Health Sciences- Boston, 2002