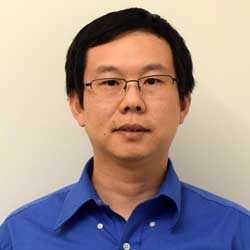 Associate Professor
Office: 395L Lab: 480
Phone: 401.874.5033
Email: xchen14@uri.edu
Office Location: Avedisian Hall, 7 Greenhouse Road, Kingston, RI 02881
Research Website
Research
My research focuses on developing transdermal drug/vaccine delivery technologies (1) and novel vaccines and adjuvants (2).
Education
Instructor, Massachusetts General Hospital, MA 2012-2015
Post-doc, Massachusetts General Hospital, MA 2008-2011
Post-doc, Burke Medical Research Institute, NY, 2007
Ph.D., Nanjing University, 2006
B.S., Nanjing University, 2001
Selected Publications
Chen X. Emerging adjuvants for intradermal vaccination. Int J Pharm. 2022 Dec 28;632:122559. doi: 10.1016/j.ijpharm.2022.122559.

Li Z, Kang X, Kim KH, Zhao Y, Li Y, Kang SM, Chen X. Effective adjuvantation of nanograms of influenza vaccine and induction of cross-protective immunity by physical radiofrequency adjuvant. Sci Rep. 2022 Dec 8;12(1):21249. doi: 10.1038/s41598-022-25605-4.

Zhao Y, Voyer J, Li Y, Kang X, Chen X. Laser microporation facilitates topical drug delivery: a comprehensive review about preclinical development and clinical application. Expert Opin Drug Deliv. 2023 Jan;20(1):31-54. doi: 10.1080/17425247.2023.2152002. Epub 2022 Dec 15.

Li Y, Li Z, Chen X. Comparative tissue proteomics reveals unique action mechanisms of vaccine adjuvants. iScience. 2022 Dec 14;26(1):105800. doi: 10.1016/j.isci.2022.105800. eCollection 2023 Jan 20.

Zhao Y, Li Z, Voyer J, Li Y, Chen X. Flagellin/Virus-like Particle Hybrid Platform with High Immunogenicity, Safety, and Versatility for Vaccine Development. ACS Appl Mater Interfaces. 2022 Apr 25;. doi: 10.1021/acsami.2c01028. [Epub ahead of print] PubMed PMID: 35467839.

Li Z, Cao Y, Li Y, Zhao Y, Chen X. Vaccine delivery alerts innate immune systems for more immunogenic vaccination. JCI Insight. 2021 Mar 9:144627. doi: 10.1172/jci.insight.144627.

Zhao Y, Li Z, Zhu X, Cao Y, Chen X. Improving immunogenicity and safety of flagellin as vaccine carrier by high-density display on virus-like particle surface. Biomaterials. 2020 Aug;249:120030.

Kakar P, Li Z, Li Y, Cao Y, Chen X. Laser facilitates week-long sustained transdermal drug delivery at high doses. J Control Release. 2020 Mar 10;319:428-437.

Cao Y, Zhu XY, Hossen MN, Kakar P, Zhao YW, Chen X. Augmentation of vaccine-induced humoral and cellular immunity by a physical radiofrequency adjuvant. Nature Communications. 2018, 9:3695.