Presidential Medallion
Marc Parlange is the University of Rhode Island's third president to wear the Presidential Medallion, designed and created by alumnus Robert C. Corio '73.
Corio and his Rhode Island-based jewelry company, Robert Corio Designs, donated the impressive piece as part of the University's centennial celebration in 1992. The design of the medallion, hand carved in wax and cast in 6 ounces of 18-karat yellow gold, features the official University seal. The oval links on the chain from which the medallion hangs are engraved with the names of URI's 12 presidents, including Parlange. Through the years, the name of each new University president will be added. 
The Presidential Medallion, traditionally worn by the University president as he presides over formal academic ceremonial occasions, including Commencement, is said to symbolize two enduring aspects of the University of Rhode Island: its deep traditions, and the dedication and generosity of its alumni.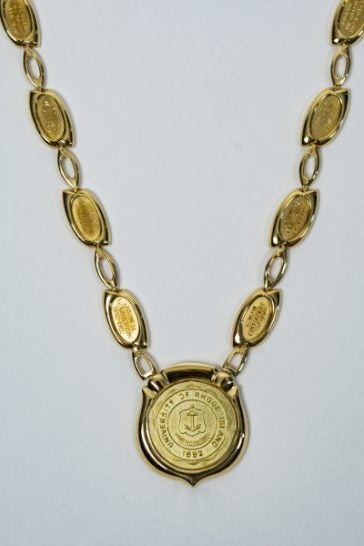 ---
Regalia
Academic regalia has its origin in the colorful gowns and hoods of the Middle Ages. In the United States, a common code of academic dress was not adopted until 1895. This decreed three kinds of gowns and three hood lengths for bachelor's, master's, and doctoral degrees. Hoods are lined with the color or colors of the university conferring the degree, and are bordered with a color representing the subject of study for which the degree is conferred.
At the Inauguration Ceremony, you'll see the pomp and ceremony of a feudal society and the intricacies of the medieval art of heraldry—in the ritual, the dress, the ceremonial accents, such as the University Mace, and in the wording of the degrees conferred.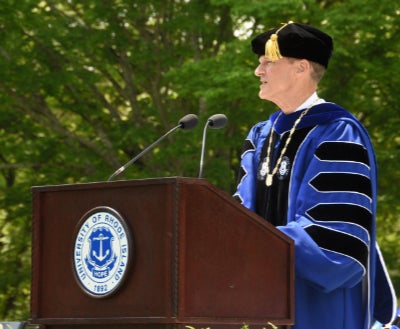 ---
University Mace
The University Mace was donated by the graduating class of 1963. It is made of gold-plated sterling silver and is mounted on a three-foot rosewood staff. The URI seal, three inches in diameter, crowns the staff, with a sketch of Davis Hall on the back. Davis is one of the University's oldest buildings and is the site of the college bell tower.