Making art, teaching art, creating community: the HeARTspot Art Center and Gallery is the culmination of years of professional and personal interests for 20-year public school teaching veteran Jennifer Gillooly Cahoon.
In the classroom, she split time teaching both art and special education, and for a time ran the art department at East Providence High. Gillooly Cahoon is also a fine artist herself.  About a year after leaving the classroom to pursue art full-time, the three-tiered idea of HeARTspot was born. She envisioned a multi-faceted facility, providing space for community members of all ages and backgrounds to take workshops and classes from experienced art educators. She also wanted to run a fine art gallery to support and display the work of talented local artists and artisans. And the third goal of her vision was to design programming to support special needs, foster care, and low income populations in the community.
A critical experience that led Gillooly Cahoon into the world of entrepreneurship was her involvement with the East Providence Arts Council (EPAC). As a member of the board, the need for an arts facility such as HeARTspot was realized after an unsuccessful venture with the city to establish a brick and mortar arts center which the council would have run. A central focus of EPAC is to help make arts accessible to citizens of East Providence and to help the economy of the city grow through a robust arts community in much the same way they have witnessed in several neighboring communities. After the failed effort to establish a center for the arts council, Gillooly Cahoon began to investigate what would be required to bring her personal vision to life.
Shortly after beginning to explore her options, Gillooly Cahoon discovered the Rhode Island Small Business Development Center (RISBDC). With no background in business, she needed the RISBDC's business development assistance to put together a solid business plan, apply for financing, and help integrate everything she hoped to do under the umbrella of a single business. She attributes her success to business counselor Amit Basnet, who was critical in assisting her to complete this piece of the puzzle, and in helping her prepare to answer lender interview questions with accuracy and confidence. With plans in hand, she secured a microloan from the city to assist with start-up costs, and HeARTspot came to life.
Thanks to the RISBDC, Gillooly Cahoon opened HeARTspot Art Center and Gallery exactly as envisioned on June 3, 2017, with overwhelming support from the community. She — and we! — see a bright future ahead for this community small business.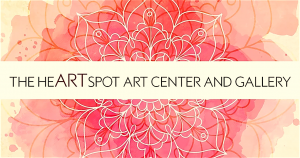 HeARTspot Art Center and Gallery
1970 Pawtucket Avenue, Lower Level
East Providence, RI 02914
(401) 383-7577
www.heartspotart.com