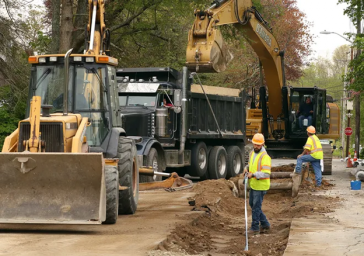 At a state Senate hearing in February 2020, Associate Director of Health, Seema Dixit, stated that a PFAS drinking water standard would be presented to Gov. Gina Raimondo's office in March, and publicly available by May 2020. However, the Rhode Island Department of Health (DOH) has been understandably side-tracked by the global pandemic, requiring an all-hands-on-deck response. A year later, environmental advocates are renewing their efforts to push for a PFAS drinking water standard, especially with concerns that the issue could be further delayed if actions are not taken before Raimondo leaves for her new position in Washington as U.S. Secretary of Commerce.
In November, Amy Parmenter, interim chief for DOH's Center for Drinking Water Quality, said that the governor's office was already reviewing draft regulations for approval. The proposal focuses on two potential maximum contaminant levels of either 10 or 20 parts per trillion (ppt) for the weighted sum of six PFAS chemicals (PFOA, PFOS, PFDA, PFNA, PFHxS and PFHpA). Although the health department has taken the lead on a drinking water standard, the agency is collaborating with the Department of Environmental Management (DEM) on broader application of the rules. Once the governor's office approves a drinking water standard, RI DEM would then start moving ahead on adopting the same standard for groundwater aquifers.
The DOH settled on the 10 and 20 ppt limits after looking at caps of 2, 35 and 70 ppt, and considering costs of testing and filtration technologies. Michael Byrns, principal environmental health risk assessment toxicologist for the DOH, concluded in a report that reducing PFAS levels in drinking water would benefit human health, through better immune function, slightly larger babies, and slightly lower cholesterol. The report projected savings of $150,000 in hospitalization costs for municipal water users and 2.3 fewer deaths from heart disease per year if a limit of 2 ppt is adopted. The economic benefits of the prevented deaths would equal $28 million a year based on a federal calculation for the value of a statistical life. The savings and prevented death estimates are smaller for higher caps.
"Compared to the predicted costs, each of these [maximum contaminant levels] appears to be justified," Byrn wrote. Based on the best available science, the health department recommends a 10 ppt cap, but says a 20 ppt cap is acceptable, according to Byrn's report. A 2 ppt limit would not be cost-justifiable and may not be feasible. The total installation costs for treatment systems across the state could range from $6 million to $19 million for a 20 ppt cap, and $31 million to $44 million for a 10 ppt cap. State regulators will likely base the PFAS drinking water limit on the cost-benefit-analysis of exposure levels, health effects and water treatment costs.