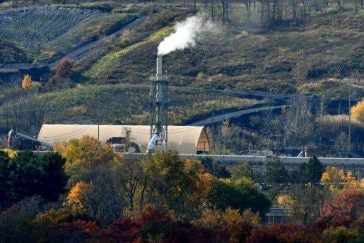 After a recent article brought attention to the potential dangers of aqueous film-forming foam (AFFF) incineration, a new study has analyzed soil and four water samples near the Norlite incinerator in Cohoes, New York, which is known to have incinerated AFFF from 2018 to 2019. The study revealed the presence of 10 PFAS compounds that have been associated with firefighting foam. Levels of the chemicals in soil and water declined with distance from the plant. Additionally, the levels of PFOS, a compound that has been widely used in firefighting foam, were twice as high downwind from the facility than upwind of it.
"All of this provides a strong indication of airborne deposition of PFAS from ineffective incineration of AFFF at the Norlite facility" said David Bond, a professor of environmental studies at Bennington College, who conducted the testing. Despite evidence that burning the firefighting foam posed health risks, the military has turned to incineration of as a way of disposing millions of gallons of AFFF in recent years. 25 states have sent AFFF to the Norlite facility with the hope that the foam could be safely incinerated at extremely high temperatures. But the testing done near the Norlite incinerator, which is less than 200 meters from a public housing complex that is home to more than 70 families, suggests otherwise.
Many residents are frustrated with the New York State Department of Environmental Conservation for the lack of oversite, environmental review, and test burning done in advance. The Norlite facility is temporarily shut down while it installs new scrubbers to ensure operations are protective of human health and the environment. However, community members are still concerned by what they have already been exposed to, and they are not alone. Incineration facilities and local communities in Ohio, Texas, Missouri, and Illinois are facing similar issues. "States across the U.S. are looking at AFFF as a hot potato, collecting it and sending it to municipal waste incinerators, landfills, and deep-well injection sites" said Jane Williams, executive director of California Communities Against Toxics.