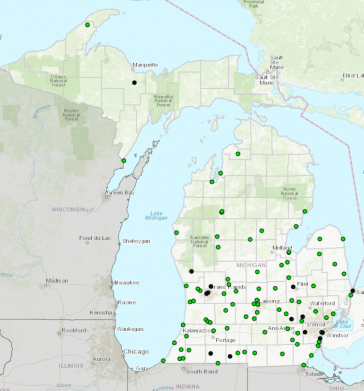 The state of Michigan has been proactive in limiting PFAS discharges within its borders. Michigan set water quality standards for PFOA and PFOS for discharges into drinking water supplies. The state prohibits releases from wastewater treatment plants (WWTPs) at levels above 420 parts per trillion (ppt) for PFOA and 11 ppt for PFOS. Additionally, state officials required WWTPs to determine whether were receiving PFOA and PFOS from industries, and ultimately discharging the chemicals into rivers and lakes. So far, 68 of the 95 WWTPs have no upstream industrial source of PFAS pollution or have industrial sources that discharge PFAS at amounts too low to violate state water quality standards.
In many cases, wastewater treatment plant operators worked with industrial polluters (which include electroplating companies, paper factories, chemical manufacturers, plastics makers, auto parts manufacturers, and aviation component manufacturers) to make substantial reductions of PFOS in discharges. Granulated activated carbon filters were installed at the expense of the industry member, which reduced discharges by 49 to 99 percent. In some cases, the polluter treated the PFAS-contaminated wastewater before it was sent to the treatment plant.
These reductions show that progress is possible, although several wastewater plants still reported releases above the standard set by the state. Wastewater utilities currently report PFOA and PFOS detections and test for dozens of different PFAS compounds and in the next year, state permits will include strict discharge limits if water quality standards are not met. If the national PFAS Action Act is passed, it would require similar regulations to take place nationwide, including effluent limitations, pretreatment standards, and permitted discharging.