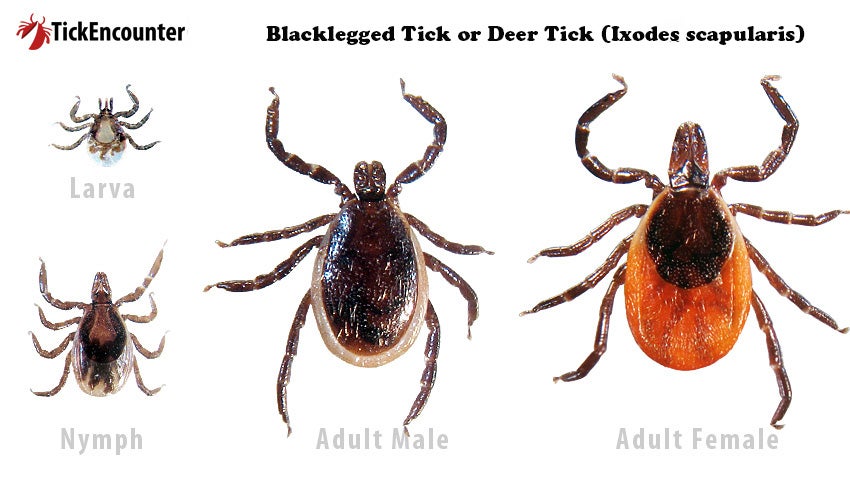 Overview
Blacklegged ticks (a.k.a deer ticks) take 2 years to complete their life cycle from eggs and larvae in one calendar year to nymphs and adults in the next. This tick is encountered predominately in deciduous forest as well as tall grasslands and shrubs bordering forest edges. Their distribution relies greatly on the distribution of their reproductive host, white-tailed deer. Both the poppy seed-sized nymph stage and the larger adult female stage are responsible for transmitting diseases such as Lyme disease, Babesiosis, and Anaplasmosis.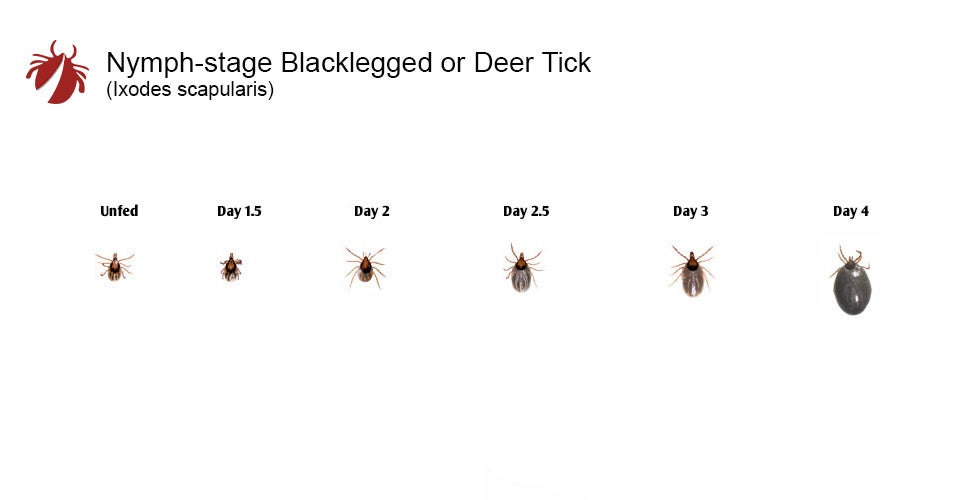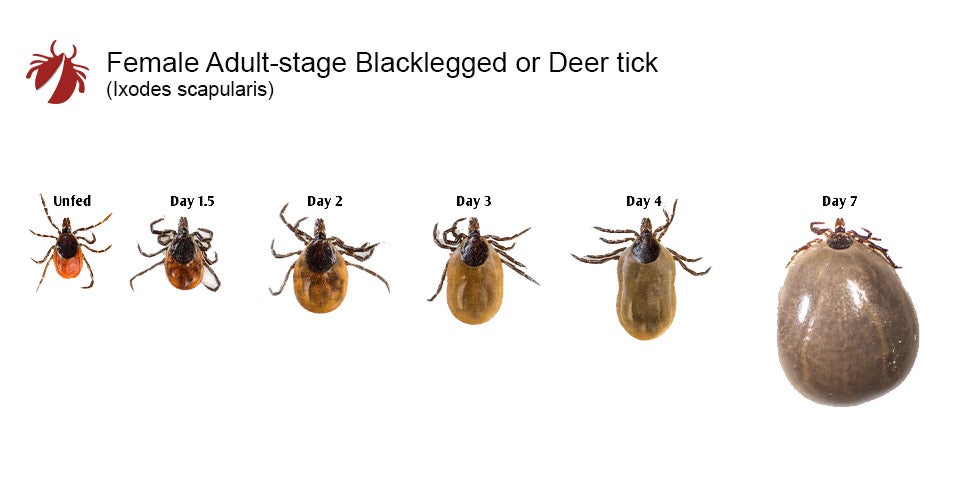 Field Notes
Adult males and females are active October-May, as long as the daytime temperature remains above freezing. Preferring larger hosts, such as deer, adult blacklegged ticks can be found questing about knee-high on the tips of branches of low growing shrubs. Adult females readily attack humans and pets. Once females fully engorge on their blood meal, they drop off the host into the leaf litter, where they can over-winter. Engorged females lay a single egg mass (up to 1500-2000 eggs) in mid to late May and then die. Larvae emerge from eggs later in the summer. Unfed female blacklegged ticks are easily distinguished from other ticks by the orange-red body surrounding the black scutum. Males do not engorge and, although infected like the female, they are not involved in transmitting infections. Males are frequently found coupled with females, mating even off-host.
Life Cycle Stages
Select a region to see how seasonal activity and diseases carried by this tick change across the country.
Larva

Northeast Central Region

Known Diseases Transmitted

Hard tick relapsing fever

Borrelia miyamotoi (bacteria)

Southeast Central Region

Known Diseases Transmitted

No known diseases in this region at this time.

Mid Atlantic Region

Known Diseases Transmitted

Hard tick relapsing fever

Borrelia miyamotoi (bacteria)

New England Region

Known Diseases Transmitted

Hard tick relapsing fever

Borrelia miyamotoi (bacteria)

South Atlantic Region

Known Diseases Transmitted

No known diseases in this region at this time.

Northwest Central Region

Known Diseases Transmitted

No known diseases in this region at this time.

Southwest Central Region

Known Diseases Transmitted

No known diseases in this region at this time.

Nymph

Northeast Central Region

Known Diseases Transmitted

Hard tick relapsing fever

Borrelia miyamotoi (bacteria)

Human Anaplasmosis

Anaplasma phagocytophilum (bacteria)

Human Babesiosis

Babesia microti (protozoa)

Lyme Disease

Borrelia burgdorferi (bacteria)

Powassan virus

Powassan virus lineage II (flavivirus)

Southeast Central Region

Known Diseases Transmitted

Hard tick relapsing fever

Borrelia miyamotoi (bacteria)

Human Anaplasmosis

Anaplasma phagocytophilum (bacteria)

Human Babesiosis

Babesia microti (protozoa)

Lyme Disease

Borrelia burgdorferi (bacteria)

Powassan virus

Powassan virus lineage II (flavivirus)

Mid Atlantic Region

Known Diseases Transmitted

Deer Tick virus

Flavivirus Powassan virus lineage

Hard tick relapsing fever

Borrelia miyamotoi (bacteria)

Human Anaplasmosis

Anaplasma phagocytophilum (bacteria)

Human Babesiosis

Babesia microti (protozoa)

Lyme Disease

Borrelia burgdorferi (bacteria)

Powassan virus

Powassan virus lineage II (flavivirus)

New England Region

Known Diseases Transmitted

Deer Tick virus

Flavivirus Powassan virus lineage

Hard tick relapsing fever

Borrelia miyamotoi (bacteria)

Human Anaplasmosis

Anaplasma phagocytophilum (bacteria)

Human Babesiosis

Babesia microti (protozoa)

Lyme Disease

Borrelia burgdorferi (bacteria)

Powassan virus

Powassan virus lineage II (flavivirus)

South Atlantic Region

Known Diseases Transmitted

Hard tick relapsing fever

Borrelia miyamotoi (bacteria)

Human Anaplasmosis

Anaplasma phagocytophilum (bacteria)

Human Babesiosis

Babesia microti (protozoa)

Lyme Disease

Borrelia burgdorferi (bacteria)

Powassan virus

Powassan virus lineage II (flavivirus)

Northwest Central Region

Known Diseases Transmitted

Hard tick relapsing fever

Borrelia miyamotoi (bacteria)

Human Anaplasmosis

Anaplasma phagocytophilum (bacteria)

Human Babesiosis

Babesia microti (protozoa)

Lyme Disease

Borrelia burgdorferi (bacteria)

Powassan virus

Powassan virus lineage II (flavivirus)

Southwest Central Region

Known Diseases Transmitted

Hard tick relapsing fever

Borrelia miyamotoi (bacteria)

Human Anaplasmosis

Anaplasma phagocytophilum (bacteria)

Human Babesiosis

Babesia microti (protozoa)

Lyme Disease

Borrelia burgdorferi (bacteria)

Powassan virus

Powassan virus lineage II (flavivirus)

Adult Male

Northeast Central Region

Known Diseases Transmitted

No known diseases in this region at this time.

Southeast Central Region

Known Diseases Transmitted

No known diseases in this region at this time.

Mid Atlantic Region

Known Diseases Transmitted

No known diseases in this region at this time.

New England Region

Known Diseases Transmitted

No known diseases in this region at this time.

South Atlantic Region

Known Diseases Transmitted

No known diseases in this region at this time.

Northwest Central Region

Known Diseases Transmitted

No known diseases in this region at this time.

Southwest Central Region

Known Diseases Transmitted

No known diseases in this region at this time.

Adult Female

Northeast Central Region

Known Diseases Transmitted

Hard tick relapsing fever

Borrelia miyamotoi (bacteria)

Human Anaplasmosis

Anaplasma phagocytophilum (bacteria)

Human Babesiosis

Babesia microti (protozoa)

Lyme Disease

Borrelia burgdorferi (bacteria)

Powassan virus

Powassan virus lineage II (flavivirus)

Southeast Central Region

Known Diseases Transmitted

Hard tick relapsing fever

Borrelia miyamotoi (bacteria)

Human Anaplasmosis

Anaplasma phagocytophilum (bacteria)

Human Babesiosis

Babesia microti (protozoa)

Lyme Disease

Borrelia burgdorferi (bacteria)

Powassan virus

Powassan virus lineage II (flavivirus)

Mid Atlantic Region

Known Diseases Transmitted

Deer Tick virus

Flavivirus Powassan virus lineage

Hard tick relapsing fever

Borrelia miyamotoi (bacteria)

Human Anaplasmosis

Anaplasma phagocytophilum (bacteria)

Human Babesiosis

Babesia microti (protozoa)

Lyme Disease

Borrelia burgdorferi (bacteria)

Powassan virus

Powassan virus lineage II (flavivirus)

New England Region

Known Diseases Transmitted

Deer Tick virus

Flavivirus Powassan virus lineage

Hard tick relapsing fever

Borrelia miyamotoi (bacteria)

Human Anaplasmosis

Anaplasma phagocytophilum (bacteria)

Human Babesiosis

Babesia microti (protozoa)

Lyme Disease

Borrelia burgdorferi (bacteria)

Powassan virus

Powassan virus lineage II (flavivirus)

South Atlantic Region

Known Diseases Transmitted

Hard tick relapsing fever

Borrelia miyamotoi (bacteria)

Human Anaplasmosis

Anaplasma phagocytophilum (bacteria)

Human Babesiosis

Babesia microti (protozoa)

Lyme Disease

Borrelia burgdorferi (bacteria)

Powassan virus

Powassan virus lineage II (flavivirus)

Northwest Central Region

Known Diseases Transmitted

Hard tick relapsing fever

Borrelia miyamotoi (bacteria)

Human Anaplasmosis

Anaplasma phagocytophilum (bacteria)

Human Babesiosis

Babesia microti (protozoa)

Lyme Disease

Borrelia burgdorferi (bacteria)

Powassan virus

Powassan virus lineage II (flavivirus)

Southwest Central Region

Known Diseases Transmitted

Hard tick relapsing fever

Borrelia miyamotoi (bacteria)

Human Anaplasmosis

Anaplasma phagocytophilum (bacteria)

Human Babesiosis

Babesia microti (protozoa)

Lyme Disease

Borrelia burgdorferi (bacteria)

Powassan virus

Powassan virus lineage II (flavivirus)