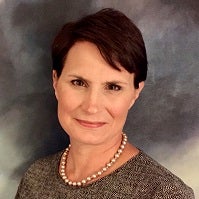 Clinical Professor
Office: 295J
Phone: 401.874.7484
Email: kward@uri.edu
Office Location: Avedisian Hall, 7 Greenhouse Road, Kingston, RI 02881
Biography
Dr. Ward is Clinical Professor and Director of Drug Information Services. The mission of Drug Information Services is twofold: to provide healthcare practitioners with timely, evidence-based drug information to promote the safe, rational use of medications and to serve as a training site for Doctor of Pharmacy students and post-doctoral residents.
Research
Drug information, literature evaluation, biostatistics, women's health (contraception, pregnancy/lactation, infertility), medication adherence
Education
ASHP-accredited Specialty Residency in Drug Information Practice, University Medical Center, Jacksonville FL, 1997-1998
ASHP-accredited Pharmacy Practice Residency, University Medical Center, Jacksonville FL, 1996-1997
Doctor of Pharmacy, University of Pittsburgh, 1996
B.S., Pharmacy, University of Rhode Island, 1994
Selected Publications
Zeng YS, Wang C, Ward KE, Hume AL. Complementary and alternative medicine in hospice and palliative care: A systematic review. J Pain Symptom Manage 2018; Aug 2. pii: S0885-3924(18)30390-7. doi: 10.1016/j.jpainsymman.2018.07.016.
Ryu R, Ward KE. Atezolizumab for the first-line treatment of non-small cell lung cancer (NSCLC): Current status and future prospects. Front Oncol 2018;8:277. doi: 10.3389/fonc.2018.00277.
Ward KE. Chapter 78: Pregnancy and lactation: Therapeutic considerations. In: DiPiro JT, Talkbert RL, Yee GC, et al, editors. Pharmacotherapy: a pathophysiologic approach. 10th ed. New York: McGraw-Hill Medical; 2017. 1229-46.
Phillips J, Ward KE. Descriptive statistics. In: Gabay MP, ed. The clinical practice of drug information. 1st ed. Burlington (MA): Jones & Bartlett Learning; 2015. p. 141 – 52.
Ward KE, Cohen LB. Promoting Safe Use of Medications: Providing Medication Education to Seniors Receiving Meals on Wheels. Consult Pharm 2015;30:616-22.
Landi M, Springer S, Estus E, Ward K. The impact of a student-run journal club on pharmacy students' self-assessment of critical appraisal skills. Consult Pharm 2015;30:356-60.
Gomes DM, Ward KE, LaPlante KL. Clinical implications of vancomycin heteroresistant and intermediately susceptible Staphylococcus aureus. Pharmacotherapy 2015;35:424-32.
Edwards KL, Salvo MC, Ward KE, et al. Assessment and revision of clinical pharmacy practice internet websites. Ann Pharmacother 2014; 48:258-67.
Phillips JA, Gabay MP, Ficzere C, Ward KE. Curriculum and instructional methods for drug information, literature evaluation, and biostatistics: Survey of U.S. pharmacy schools. Ann Pharmacother 2012;.46:793-801.
Bernknopf AC, Karpinski JP, McKeever AL, Peak AS, Smith KM, Smith WD, Timpe EM, Ward KE. Drug Information PRN Opinion Paper: Drug Information: From Education to Practice. Pharmacotherapy 2009;29:331-46.
LaPlante KL, Mersfelder TL, Ward KE, Quilliam BQ. Prevalence of and risk factors for dysglycemia in patients receiving gatifloxacin and levofloxacin in an outpatient setting. Pharmacotherapy 2008;28:82-9.