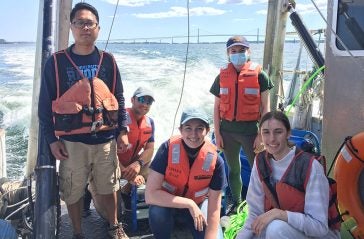 By Neil Nachbar
When Edgewater, Maryland native Maeve Story was deciding where to study ocean engineering, she confidently selected the University of Rhode Island.
What she didn't realize prior to enrolling at URI was how fast Rhode Island's blue economy was growing and what great career opportunities would await her upon graduating.
"Because of my work in the ocean engineering department, I was offered a position as a project engineer with Cathie Group, a geoscience and geotechnical engineering consultancy," said Story, who earned her master's degree in ocean engineering in spring 2022, and dual bachelor's degrees in 2020 in ocean engineering and German through URI's International Engineering Program. "I couldn't pass up the opportunity to be part of the rapidly growing offshore wind industry developing in Rhode Island."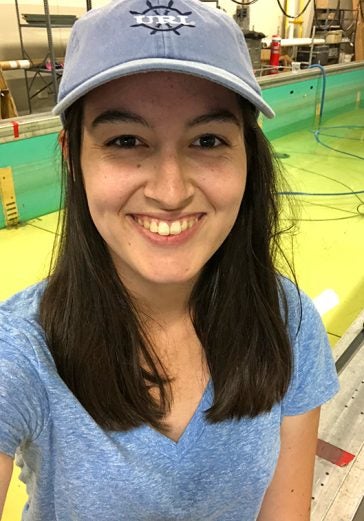 Cathie Group has more than 450 clients in a wide range of offshore and near shore industries in more than 90 countries.
Offshore wind was one of many possible paths Story could have taken academically and professionally.
"I knew I wanted to study ocean engineering, but I wasn't sure what aspect of the discipline I wanted to focus on," said Story. "The program at URI provides the flexibility to discover your passion. There are courses and research opportunities in a wide range of subjects, including robotics, acoustics, coastal engineering, offshore renewable energy, marine geotechnics, structures, hydrodynamics and waves, and hydrodynamics and naval architecture."
As she started taking courses and working on research projects, Story enjoyed the collaborative nature of the students and faculty.
"Because the subjects often overlap, collaboration is big in the department. It's not unusual to find professors with different areas of expertise working with each other, and with those in other departments," said Story. "The atmosphere is welcoming to curious students. You can walk up to someone and ask about the project they're working on and even get the opportunity to help. It's common for undergraduates to have research positions with the faculty or help other students with their research."
Upon completing her bachelor's degrees, Story considered all possibilities when looking at graduate schools.
"I had opportunities that would have taken me to the Mid-Atlantic or the West Coast, but by staying at URI for my master's degree, I had the opportunity to work on the Block Island Wind Farm Structural Health Monitoring study," said Story. "It was a truly unique opportunity to work with real-time data from the first commercial offshore wind farm in the United States. That was an experience I wasn't going to find anywhere else."
The faculty at URI was as pleased with Story's decision to study at URI as she was.
"Maeve is one of the most driven and dedicated students I've worked with in my 22 years at URI," said Professor Christopher Baxter. "I hired her as a junior to conduct wave tank experiments and as a graduate student to help monitor the structural health of the wind farm. During her time in ocean engineering, she helped organize end-of-the-year cookouts, job fairs, and even made ocean engineering T-shirts. She made sure she got the most out of her time here."
Story is hoping the ocean engineering program, and the rest of the Bay Campus, receives the financial support it needs to make facility improvements, so that those who follow in her footsteps will have an even greater experience than she had.
"With new facilities, students will not only have a more up-to-date learning environment, but also access to better research equipment, including a longer wave tank which will open up new research capabilities," said Story. "URI's ocean engineering program is competing with other leading universities. New facilities will push the department to the next level and attract students to the state for cutting-edge research and job opportunities."