What's Inside: Magic Maple, Outstanding Master Gardener Award, Red Pin Awardees, Year-End Reports Deadline, #ChooseMagic, The Weed Guy, Ask the Expert, Leave the Leaves Coloring Book, Help Wanted, Continuing Education, Program Reminders

Maple Foods Beyond Syrup: Maple Sap Water, An Emerging Functional Beverage
Submitted by Vanessa Venturini, URIMGP State Program Leader
Save the date for an upcoming webinar on December 1 at 6pm to learn about the magic of maple! Maple water is one of the newest rehydrating drinks on the market, joining the ranks of coconut water, and other "functional beverages". Explore the science behind maple water, how it's made, its sustainability, and its potential health benefits. This webinar will include Kate Weiler, the Co-Founder of Drink Simple, Dr, Navindra Seeram, Professor and Chair of the Dept of Biomedical and Pharmaceutical Sciences at URI, and Dr. Amanda Missimer Clinical Assistant Professor in the Dept. of Nutrition and Food Sciences at URI.
This webinar is free, but registration is required.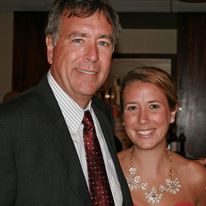 2021 Outstanding Master Gardener Award
Submitted by John Twomey, URIMGP Class of 2015 & 2020 Outstanding MG
It is my pleasure to present the 2021 Outstanding Master Gardener award this year to a Master Gardener who has taken it to a higher level.
The recipient has shown exceptional leadership before and during the pandemic. This Master Gardener is always the first at the project site and the last to leave. This Master Gardener always has an answer to a question and if a problem comes up, a solution is not far away. This Master Gardener even during covid was able to bring his project to a higher level and helped more people than the year before.
This Master Gardener is from the class of 2016, has over 4000 volunteer hours, and is the project leader at the Produce Donation Garden at the Roger Williams Park Community Garden.
Please join us in presenting the 2021 Outstanding Master Gardener award to Kevin Rabbitt.
Kevin is pictured with his daughter Lisa, who has volunteered at the Roger Williams Park Produce Donation Garden and Flavor Lab. Kevin looks forward to her upcoming wedding!
Congratulations to Red Pin Awardees!
The URIMGP is proud to announce the MGs who have earned Red Pin status, completing 250 hours of service. Congratulations!
Jean Apostolou Erin Beuka Candice Blanchard
Jenifer Bond Mark Cordle Cheryl Cotter
Eileen Czyrklis Michele Fogg Deborah Gorman
Sheila Lawless Margaret McCafferty Kathy Parker
Alyce Pedder Paula Quigley Kenneth Rix
Barbara Rounds Paul Sheinkopf Cathy Solomon
Joe Studlick Sheila Sullivan Andrea Trubia
Susanna Williams Helena Willis
Last week, we neglected to list Brenda Woodward as a recipient of a Blue Pin (50 hours). Our apologies!
#ChooseMagic: Nature Can Restore Itself — Like Magic
A local project is featured in #ChooseMagic, a new short video! Two programs, Billion Oyster Project in New York City and Harvest Cycle Compost in Providence, Rhode Island, are profiled for their critical work on oyster shell recycling and composting to restore our ocean to its natural vibrancy.
Harvest Cycle Compost is also a partner with our sister program, Food Recover for Rhode Island. If this inspired you, consider applying to our winter session.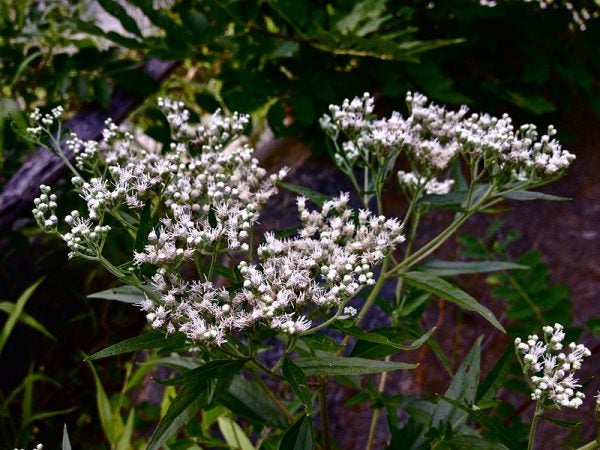 The Weed Guy: Boneset and Snakeroot
Submitted by Julius Ferraro, URIMGP Class of 2021
If you're wondering about small, white puffball flowers with longish stamens that emerged a few weeks ago, you're probably looking at late boneset (Eupatorium serotinum) or white snakeroot (Ageratina altissima). I have not seen much of the former, but snakeroot follows me everywhere, from the fringes of my garden in Providence all the way down to my parents' home in Doylestown, PA, where it blooms in vast colonies on the roadside.
Snakeroot is usually short but can grow to about five feet tall. Its 2-5 inch leaves are flat, broadly toothed, heart-shaped, and arranged opposite along the stem. Boneset can be a few feet taller, and its leaves are narrower and longer.
Despite this, the two are considered lookalikes. Both have white flowers, but snakeroot's small starburst flowers, with stamens radiating out circularly with a messy near-symmetricality, contrast easily with boneset's somewhat stingier blooms, which are fewer and pinch in one direction.
Boneset is medicinal; snakeroot is its poisonous look alike, and a pest to ranchers, as cows will sometimes eat it, poisoning their milk.
Despite this, some Ageratina varieties are common decorative plants, and it was once believed to have some medicinal uses (for one, as a snakebite curative); it's possible Abraham Lincoln's mother died from this mistake.
As a general rule, do not eat any foraged plant until you are certain you do not have an allergy, and then eat only a small amount the first time to make sure. Do extensive plant research before identifying the plant; I recommend Leda Meredith's Northeast Foraging.
Image Credits: "Eupatorium serotinum - Late Boneset" by Fritzflohrreynolds is licensed under CC BY 3.0 "Ageratina_altissima_002" by H. Zell is licensed under CC BY 3.0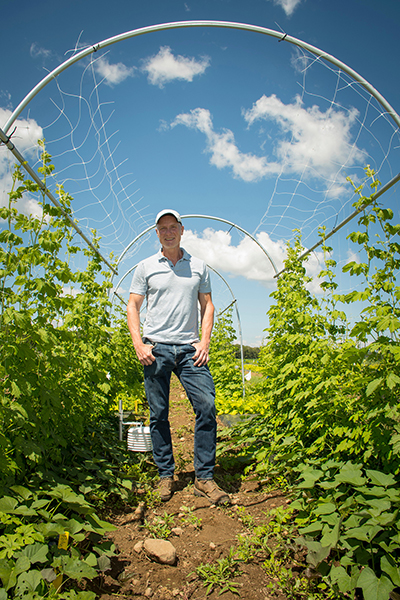 URI Campus Sustainability: Ask the Expert
Excerpted from the URI Sustainability, original article by Erin Harrington
An average day of research for Dr. John Taylor (Assistant Professor, Agroecology) is anything but average. It consists of walking through and cataloging community "food forests." Food forests are essentially just what the name suggests — forests of food. And according to Taylor, depending on the age of the forest, walking through a food forest can be almost like taking a stroll out in the woods.
Picture walking through the Northwoods on campus, except most of the trees and bushes that you pass by on the path would be nut and fruit-bearing plants that you could actually harvest and eat. As you look up, a canopy of Chinese chestnut trees comes into focus, and below that, you see smaller trees like juneberry, with maybe some blueberry bushes and strawberries sprinkled around the ground floor as you walk. You may also spy a few other plants that wouldn't necessarily produce food, but would be beneficial for pollinators like butterflies and bees.
If you happen to be walking through a food forest in a city, you would likely also come across a smaller community garden, areas for socializing, beautiful, culturally-relevant murals, and maybe even a community center with an area for activities like dancing and barbecuing! Taylor isn't simply interested in the food that these systems produce, he's also interested in the people who create these agroecosystems.
"How can food systems be designed in ways that are ecologically sustainable and socially sustainable and contribute to equity and inclusion?" "I'm interested in developing urban food systems that are sustainable in the fullest sense of the word," Taylor explains.
Taylor studies what are referred to as urban "agroecosystems." Put simply, agroecology is any form of agriculture developed with principles of ecology in mind. An agroecosystem can be anything from a farm to a community garden, or even your own garden at home. But fully understanding the concept of agroecology is a bit tricky.
"Agroecology has been defined as a science, a practice, and a movement," Taylor informs me. "It's a practice with roots in traditional and indigenous agriculture and agricultural systems. Agroecologists take a lot of their inspiration from those traditional systems which had to be very circular in their metabolism so that they're not relying a lot on outside inputs, but they're self-supporting like a natural ecosystem."
One example of practicing agroecology when growing food is using polycultures rather than monocultures. Rather than growing just one large crop of one type of plant, you grow a variety of plants that complement, or sometimes even facilitate, the growth of one another. The classic case study of polyculture is the Three Sisters garden: beans, squash, and corn. These three plants grow on a different timeline, and so they don't compete for resources. The corn grows tall first, and provides a place for the bean vines to grow up at just the right time. The squash grows last, and its leaves spread out across the garden floor, keeping moisture in the soil for all three plants. This style of farming was originally practiced by many different American Indian nations and confederacies such as the Haudenosaunee.
Read the full article here.
Photo Credit: Dr. John Taylor is an Assistant Professor in Agroecology at URI. Photo Credit: Nora Lewis.
Leave the Leaves Coloring Book
Submitted by Vanessa Venturini, State Program Leader, URI Master Gardener Program
LEAVE THE LEAVES creator MJ Robinson is a local artist and educator - check out their work at mj-robinson.com, on Instagram, and via their monthly newsletter. Lee Ann Freitas is the director of Roger Williams Park Botanical Garden, where you can pick up a physical copy of the coloring book.
A PDF version of the coloring book is available for download.
Project in Need of Compost
Submitted by Joe Carberry, Central Region Coordinator
The Varnum House historical garden located in East Greenwich is in need of 1-1.5 yards of compost in order to winterize the rose hedge. Any individuals or projects that have compost to share, please contact Joe Carberry (joe.urimg@gmail.com) to coordinate. Bagged compost would be ideal, but anything would be greatly appreciated!
Volunteers Needed at the RI Veterans Home in Bristol
Submitted by Barbara Jones, URIMGP Class of 2004
Like most MG projects, work at the Veterans' Home came to a halt in March of 2020, just after we had gotten approval to plant in the six patios gardens that grace the brand-new facility. We have spent this year trying to clean up and plant raised beds with vegetables and flowers. Short term, we are looking for volunteers for 3-4 hours on Saturday mornings (rain date, Sunday): 10/30 and 11/6. Please join us on these workdays and consider joining our team. Contact Barbara Jones (bsjones@cox.net) with your interest and availability.
Image: RI Veterans Home residents Bill and Al, enjoying one of the six patios maintained by MGs.
Are You a Smart Well Owner?
Wednesday, November 3 | 6:00-7:00 p.m.
Webinar via Zoom
During the workshop you will learn about:
• Regular water testing
• Well water protection
• Good housekeeping practices to protect your drinking water quality
Register for the Zoom link.
Pruning Basics
Register for only 1 session:
Saturday, November 13 | 11:00a.m.-12:00 (Rain Date: Sunday, November 14)
Saturday, November 13 | 1:00-2:00 p.m. (Rain Date Sunday, November 14)
URI Kingston Campus, Mallon Center, 3 East Alumni Ave, Kingston, RI 02881
Please join Vivian Schaull, MG class of 2014 to learn proper pruning techniques - the why, how, and when of pruning.
This is a hands-on course in two parts. Part one is to watch a short Powerpoint presentation on pruning basics at home before attending part two. A link to the recording is provided below. Part two is a hands-on class where attendees actually do some pruning.
New master gardeners from the class of 2020 and 2021 are encouraged to register for this in-person workshop. Attendees should bring their own pruners, loppers, and hedge trimming tools. Register in Volgistics.
Please watch this Pruning Basics video before the hands-on class or enjoy it any time to learn more about the pruning techniques.
Please register in Volgistics.
How Native Plant Cultivars Affect Pollinators
Sunday, November 14 | 1:30 pm
Webinar via Webex
Native plant species are often recommended to provide optimal foraging and nesting habitats for pollinators and other wildlife. The growing demand for native plants, coupled with the horticulture industry's desire for plants with unique characteristics, has led to the increased breeding and availability of native cultivars or "nativars". But do native cultivars provide the same valuable habitat as the straight native species? Annie White will share her field research on this topic and discuss the complex benefits and challenges of using both native species and native cultivars in landscape design.
Annie White is an Ecological Landscape Designer and the owner of Nectar Landscape Design Studio in Stowe, Vermont. She is also a full-time Lecturer of Sustainable Landscape Horticulture + Design at the University of Vermont. Annie earned an MS in Landscape Architecture from the University of Wisconsin-Madison in 2005 and a PhD in Plant & Soil Science from The University of Vermont in 2016. She is passionate about designing cutting-edge and science-based ecological landscapes at all scales-from urban backyards to rural agricultural landscapes.
This lecture is underwritten by the Lisa Lofland Gould Native Plant Program Fund and cosponsored with the Rhode Island Natural History Survey and University of Rhode Island Master Gardener Program. Register for this Webex event.
Renewable Energy and Our Electric Grid: Innovation at URI
Wednesday, November 17 | 6:00 p.m.
Webinar via Webex
Renewable energy will be an integral part of New England's future power system. Rhode Island has mandated aggressive renewable energy goals for the electric sector, which will increase our reliance on the electric grid and demand innovation in space. Research into technological innovations to improve the efficiency, security, and reliability of our electric grid is underway right here at URI. Hear about this exciting research in the second lecture of the 2021 PIER Lecture Series on Wednesday, November 17th at 6:00 p.m.! This event is free, registration required.
Regional Continuing Ed & CE on the Web
The Dirt on The Dirt
Submission Instructions
Send URI Master Gardener Program submissions to thedirtnewsletteruri@gmail.com as an email or Word/Google document by Tuesday at 7:00 pm for that week's newsletter. Include your URIMG class year and please identify fellow MGs in photos. The Dirt arrives in your inbox on Fridays.
Updating Your Subscription
To update your email address for receiving The Dirt, send an email to URIMGP's Program Associate, Francesca Gallo with the email address you would like removed and your new, preferred email.
Connect with the URIMGP
Follow @URICoopExt on Facebook and Instagram. Visit our website for event listings.
Follow @URIMasterGardeners now on Instagram!