What's Inside: : Hotline Update, Rookie of the Year, Green Pins, Day of Giving Update, Island Community Farm Tour Recap, Update Your Email, Year End Reports, Help Wanted, Continuing Education, Program Reminders

Hot Off the Presses! The Hotline is Now Year-Round!
Submitted by Sejal Lanterman, Community Engagement Coordinator
We've recently made changes to the Hotline and will now be operating year-round! We encourage YOU to use this service and to please pass the word around to friends and family.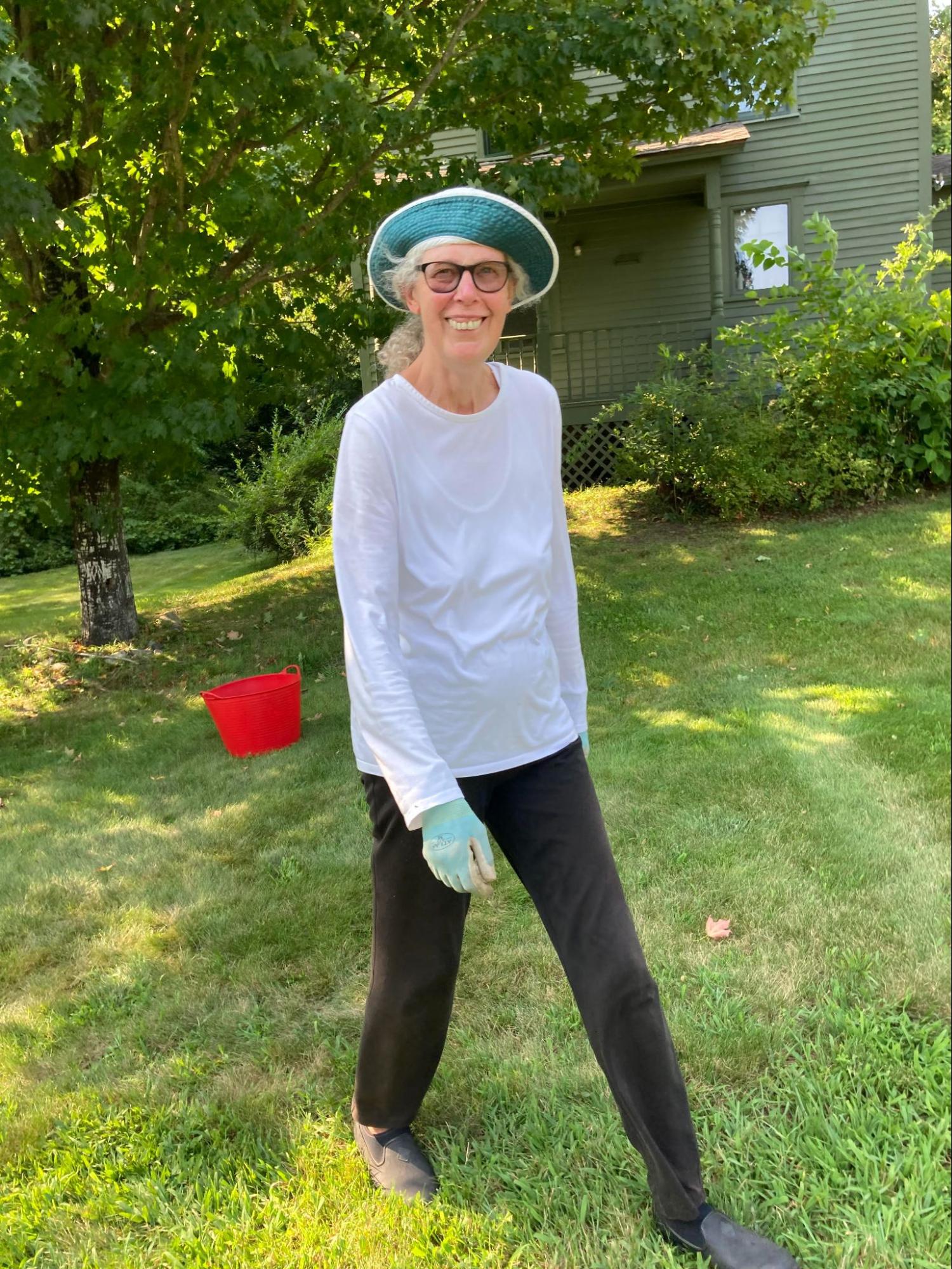 Rookie of the Year Award
Submitted by Alan Newton, URIMGP Class of 2020 & 2020 Rookie of the Year
"A nominee for the Rookie of the Year Award must have completed a minimum of 50 hours of Direct volunteer service and have demonstrated extraordinary commitment to at least one URI Master Gardener Program approved project.
This year's awardee has far exceeded both of these requirements, having completed more than 250 hours of service in not one, but in three, project areas. The awardee has also not only demonstrated extraordinary commitment but exemplary service in each of these three areas.
The awardee this year is Susanna Williams. Listen to what those who nominated said about Susanna:
• Ann Casey and Cynthia Corbridge at Smith Castle said that Susanna threw herself into the garden revision project, helping to bring the plans to fruition, clearing overgrown and weed-infested beds and sourcing needed plants from other projects. She participated in garden tours and stepped in to help when help was needed in other site gardens.
• Amanda Ward at Norman Bird Sanctuary said the word "Fantabulous" sums up Susanna. "She is always willing to learn and has collaborated to improve the education department. In addition, she was quick to interact with visitors to the garden and to take on tasks like watering and weeding."
• And Mary McNulty with soil testing said Susanna is vivacious, knowledgeable, personable, and is a good listener. She jumped right in and had fun learning the process and enjoyed interacting with the public. She has a thirst to learn as evident by the hours she put in during her intern year. "It would be nice if we could clone her. I definitely could use her on all my projects."
Susanna, it is my great pleasure to present you with the 2021 Rookie of the Year award."
Congratulations to Green Pin Awardees!
The URIMGP is proud to announce the MGs who have earned Green Pin status, completing 500 hours of service. Congratulations!
Linda Butler Ellen Grennan Ruth Haynsworth
Emmy Kmet Jim Jordan Earl Jackman
Susan Lipski Beth Marstiller Lindsay Neagle
Ellen Patterson Tom Piecuch Katherine Tolsdorf
Ginny Twomey
Thanks for your Support: We Won the Day of Giving Challenge!
Submitted by Kate Venturini Hardesty, Programs Administrator, Extension Educator
Thank you to those of you who participated in the URI Day of Giving the challenge to raise funds for our Cooperative Extension programs. The URI Master Gardener Program pulled away with the most gifts by the end of the day.
It's worth noting that in three years of doing this Challenge, we've had three different winners:
2019: Watershed Watch
2020: Cooperative Extension Education Center
2021: URI Master Gardeners Educational Endowment with 47 gifts, totaling $2981.00.
Also noteworthy is that the number of gifts from all the groups has gone up every year and nearly every group has seen a steady increase in dollars raised. Bottom line is that the Cooperative Extension Challenge is a huge success and is the reason CELS has finished first in the number of Day of Giving gifts three years in a row.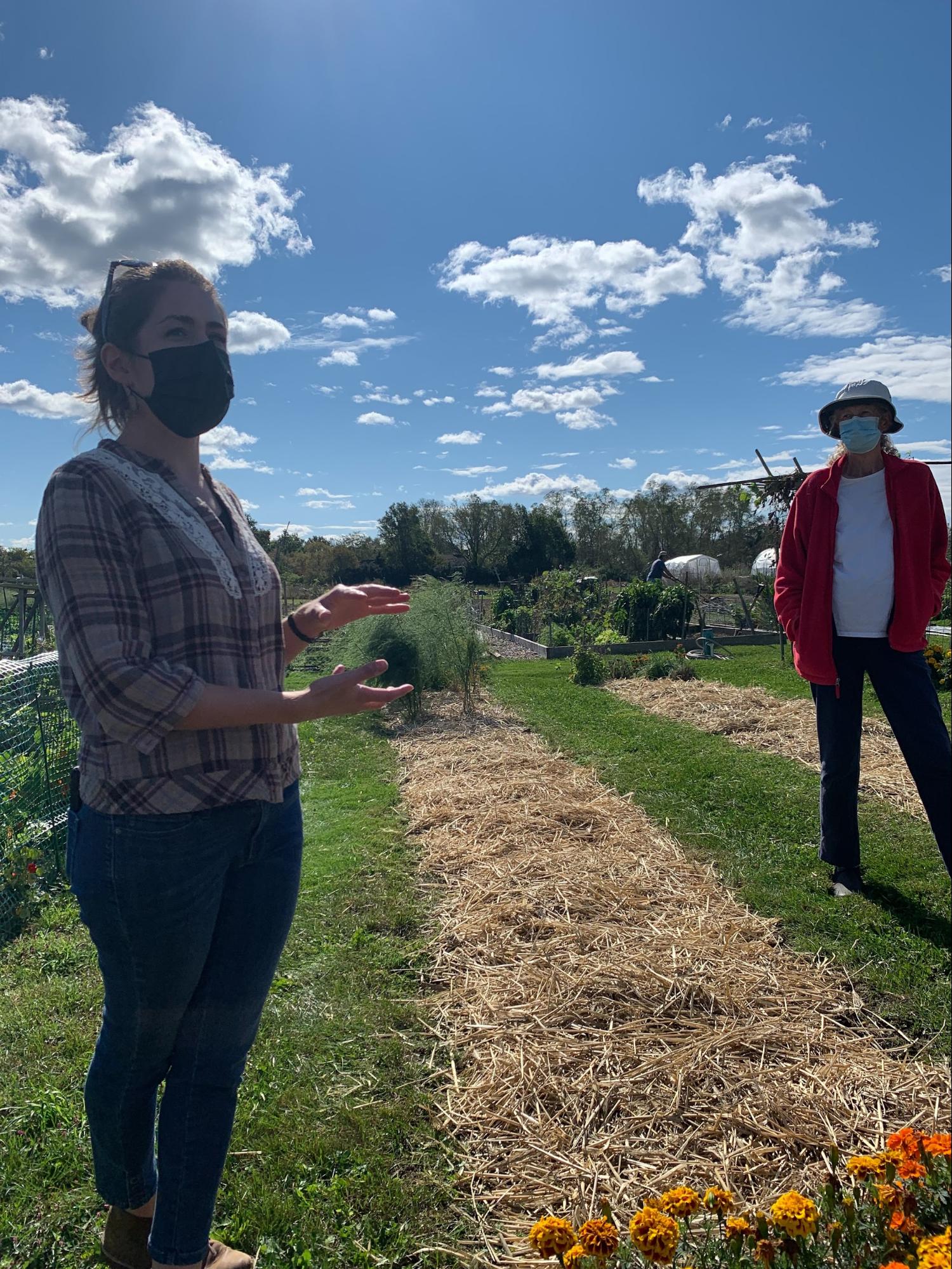 Island Community Farm Tour Recap
Submitted by Jean Anderson, URIMGP Class of 2005
Aquidneck Community Table (ACT), a nonprofit organization on Aquidneck Island, provides oversight for three community gardens: Island Community Farm in Middletown, Great Friends Meeting House, and the Florence Gray Center in Newport. Residents can rent space in raised beds in Newport and larger in-ground plots in Middletown. ACT also provides children and youth programming, supports the Aquidneck Growers Market, and keeps Newport County aware of " healthy food systems".
On Monday, October 18, the ACT Program/Administrative Manager, Mary-Kate Kane, MG Class of 2014, led a tour of the 2.5 acre Island Community Farm site on land preserved by the Aquidneck Land Trust. Joining her were URI MGs Jean and Russ Frisbie and Janet Sells who have plots or allotments at the farm. They happily shared how and when they became involved, what they are and have been growing, how they fight pests, and how they put their beds to rest for the winter.
There are now over forty 4x30 ft garden plots rented here for a low fee through ACT with a waiting list. Large diverse perennial beds greeted us at the entrance with a children's play area nearby. Water is supplied through a solar array.
We wound our way through the garden beds and noted the choices made by the renters from asparagus to garlic, lettuce, chard, and multiple other greens and a grow tunnel hanging with squash. At the rear, next to still more acres of open fields, is a large composting system which is supplemented by the soil from Earth Care Farm and local sources. Thank you to Mary-Kate, Jean, Russ, and Janet for this inspiring tour.
Image Credit: Jean Anderson
Update Your Email In Volgistics to Continue Receiving The Dirt
Submitted by Francesca Gallo (she/her/hers), URIMGP Program Associate
The Dirt will soon be transitioning to a new publishing platform – MailChimp! To ensure that you continue to receive The Dirt at your desired email address, be sure to update your current email address listed in Volgistics and complete your 2022 volunteer renewal (available soon!). You will be able to unsubscribe and change your email address through MailChimp starting in the near future (as you do with most newsletter subscriptions); however, we will periodically update the MailChimp email list with data imported from Volgistics, so it is important that your email there is accurate and that you maintain your volunteer renewal status. Thank you for being a reader of this newsletter and preparing for this transition with us!
Coming Attractions: The Seed Sort is Back!
Submitted by the Seed Sort Team
The MG Seed Sort is returning for 2021-22! MG volunteers sort and distribute viable seed packets donated by Ocean State Job Lot Charitable Foundation to individuals and organizations in surrounding states. This year, the project will be located at East Farm in Kingston. Weekday and Saturday morning shifts will be available. Check future issues of The Dirt for volunteer opportunities.
Help an FFA Student
Submitted by Sejal Lanterman, Community Engagement Coordinator
Please consider helping out a senior year Future Farmers of America student from Max, North Dakota, working on their FFA Agriscience Research Project. This will be the third year they have participated in the FFA Agriscience Research project and this year they are examining the public's perception of vertical farming. As part of the project, they have created a quick online survey to gather the thoughts of "viewers like you" across the United States on the topic. They will then write a research paper on their findings/results and share the project and findings with a panel of state judges and, potentially, a panel of national judges. If you are willing, please take a few minutes to complete this very short survey by November 12th.
Image Credit: "20120208_1648 Chicago O'Hare Airport Vertical Farm" by chipmunk_1 is licensed underCC BY-SA 2.0
Project in Need of Compost
Submitted by Joe Carberry, Central Region Coordinator
The Varnum House historical garden, located in East Greenwich, is in need of 1-1.5 yards of compost in order to winterize the rose hedge. Any individuals or projects that have compost to share, please contact Joe Carberry (joe.urimg@gmail.com) to coordinate. Bagged compost would be ideal, but anything would be greatly appreciated!
Volunteers Needed at the RI Veterans Home in Bristol
Submitted by Barbara Jones, URIMGP Class of 2004
Like most MG projects, work at the Veterans' Home came to a halt in March of 2020, just after we had gotten approval to plant in the six patios gardens that grace the brand-new facility. We have spent this year trying to clean up and plant raised beds with vegetables and flowers. Short term, we are looking for volunteers for 3-4 hours on Saturday morning, November 6 (rain date, Sunday). Please join us on these workdays and consider joining our team. Contact Barbara Jones (bsjones@cox.net) with your interest and availability.
I

CYMI: Hydroponics 101 Webinar Now Available Online
Master Gardeners who missed this informative webinar presented by Amy Chauvin can now access the recording through this link.
ICYMI, Part 2: Seed Saving Basics Now Available Online
Learn the principles of saving seeds with URI Master Gardeners and the Providence Seed Library. URI MG Bill Baddeley covers the benefits of seed saving for the home gardener, the basic principles of seed saving, and describes in detail how to save seeds using two examples. Fatema Maswood shares information about the Providence Seed Library. The recording can be accessed through this link.
How Native Plant Cultivars Affect Pollinators
Sunday, November 14 | 1:30 pm
Webinar via Webex
Native plant species are often recommended to provide optimal foraging and nesting habitats for pollinators and other wildlife. The growing demand for native plants, coupled with the horticulture industry's desire for plants with unique characteristics, has led to the increased breeding and availability of native cultivars or "natives". But do native cultivars provide the same valuable habitat as the straight native species? Annie White will share her field research on this topic and discuss the complex benefits and challenges of using both native species and native cultivars in landscape design.
Annie White is an Ecological Landscape Designer and the owner of Nectar Landscape Design Studio in Stowe, Vermont. She is also a full-time Lecturer of Sustainable Landscape Horticulture + Design at the University of Vermont. Annie earned an MS in Landscape Architecture from the University of Wisconsin-Madison in 2005 and a Ph.D. in Plant & Soil Science from The University of Vermont in 2016. She is passionate about designing cutting-edge and science-based ecological landscapes at all scales-from urban backyards to rural agricultural landscapes.
This lecture is underwritten by the Lisa Lofland Gould Native Plant Program Fund and cosponsored with the Rhode Island Natural History Survey and University of Rhode Island Master Gardener Program. Register for this Webex event.
Renewable Energy and Our Electric Grid: Innovation at URI
Wednesday, November 17 | 6:00 p.m.
Webinar via Webex
Renewable energy will be an integral part of New England's future power system. Rhode Island has mandated aggressive renewable energy goals for the electric sector, which will increase our reliance on the electric grid and demand innovation in space. Research into technological innovations to improve the efficiency, security, and reliability of our electric grid is underway right here at URI. Hear about this exciting research in the second lecture of the 2021 PIER Lecture Series on Wednesday, November 17th at 6:00 p.m.! This event is free, registration required.
Maple Foods Beyond Syrup: Maple Sap Water, An Emerging Functional Beverage
Wednesday, December 1 | 6:00 pm
Webinar via Webex
Save the date for an upcoming webinar on December 1 at 6 pm to learn about the magic of maple! Maple water is one of the newest rehydrating drinks on the market, joining the ranks of coconut water, and other "functional beverages". Explore the science behind maple water, how it's made, its sustainability, and its potential health benefits. This webinar will include Kate Weiler, the Co-Founder of Drink Simple, Dr, Navindra Seeram, Professor and Chair of the Dept of Biomedical and Pharmaceutical Sciences at URI, and Dr. Amanda Missimer Clinical Assistant Professor in the Dept. of Nutrition and Food Sciences at URI.
This webinar is free, but registration is required.
Regional Continuing Ed & CE on the Web
The Dirt on The Dirt
Submission Instructions
Send URI Master Gardener Program submissions to thedirtnewsletteruri@gmail.com as an email or Word/Google document by Tuesday at 7:00 pm for that week's newsletter. Include your URIMG class year and please identify fellow MGs in photos. The Dirt arrives in your inbox on Fridays.
Updating Your Subscription
To update your email address for receiving The Dirt, send an email to URIMGP's Program Associate, Francesca Gallo with the email address you would like removed and your new, preferred email.
Connect with the URIMGP
Follow @URICoopExt on Facebook and Instagram. Visit our website for event listings.
Follow @URIMasterGardeners now on Instagram!