What's Inside: Twenty-Year MGs, Hall of Fame, Yellow Pins, Tech Team Recognition, JEDI, Jumping Worms, Update Your Email, Help Wanted, Continuing Education, Program Reminders

Twenty-Year MG Recognition Correction
Submitted by Garry Holmstrom, URIMGP Recognition Committee Chair
Congratulations to the 20-Year Master Gardeners from the 2001 Class! The following MGs were regrettably omitted from public recognition at the Volunteer Recognition event on Saturday, October 16.
Michael Cannon
Ann Fletcher
Heather Gordon
Valerie Harvey
Carolynne Johnson
Beverly Muldoon
Ann Perkins
Earle Perkins
Terri Pinto
Ron Sienkowski
Paula Theroux
These important MGs will receive pins and certificates to honor their two decades of service to the URIMG Program. Thank you for your time and dedication!
Introducing...Our 2021 Hall of Fame!
Hall of Fame Master Gardeners are a phenomenal contributors to our program, having volunteered at least 1000 hours of service. The Dirt will feature 2021 Hall of Fame awardees each week through the end of the year. Congratulations and many thanks to these amazing individuals!
Vivian Shaull, Class of 2014, is a true blue educator. A former teacher, she brings these talents to her role as a public presenter and the co-leader of Educational Services. Vivian is passionate about helping people grow their own food and has delivered some of our most popular talks during the pandemic and also serves as a hotline. On top of that, she's a very thoughtful and dedicated leader
Eleanor Silva, Class of 2004, is a wonderful gardener and has been the organizer of our Plant a Row for the Hungry program for many years. This enables MGs to plant food at home and donate to local food pantries, a practice that really increased during the pandemic. Thank you for your leadership!
Cheryl Smith, Class of 2016, was the Southern Region Coordinator for the past 3 years where she provided great insight and steadiness as we navigated this difficult time. Her medical background as a nurse came in handy with public health concerns. She's also a valuable addition to the Hotline crew and greenhouse where she continues to serve.
Richard Suls, Class of 2015. So many things to say about our Technology King and current Ed Services Co-Coordinator! Richard continues to lead our Volgistics team, has a passion for educating others about gardening as a presenter and soil tester, and is co-leading our Ed Services as we make strategic decisions about how to deliver programming effectively online and in the community. We are so grateful for your long-term commitment to this organization.
Congratulations to Yellow Pin Awardees!
The URIMGP is proud to announce the MGs who have earned Yellow Pin status, completing 750 hours of service. Congratulations!
Gail Brodeur
Laura Conlin
Doris Delekta
Mary Beth Dumouchel
Roger Laberge
Douglas Smith
Darlene Trott
Thank You, Tech Team!
Submitted by Alan Newton, MGP Volunteer Tech Support Coordinator
We are grateful to Alan Newton and the MG Tech Support Team for making our educational resources more accessible.
• In 2021, the Technical Support Team completed 107 projects for a total of 365 hours of volunteer time.
• During 2021 videos produced on the Cooperative Extension YouTube channel were viewed by 33.2K views for 2021 and an increase of 621 new viewers this year.
• The work of the team includes video creation, video editing, YouTube uploading, Closed Captioning editing, and adding Chapters to videos. We also teach Master Gardener Volunteers how to access and use technological resources.
URIMGP JEDI Team: Leading the Way
Submitted Uma Kuruganti, URIMGP Class of 2020
The MGP at Oregon State University recently interviewed Vanessa Venturini and Maria Saillant to learn about the URI Master Gardener Program's Social Justice, Equity, Diversity and Inclusion (JEDI) Task Force and their journey over the past year.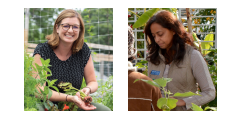 Maria and Vanessa shared the challenges, successes, and hopes for the future. One of the challenges early on was dealing with the vast amount of literature and resources available and how to make them relevant for the MGP. The team learned to focus the work on topics relevant to the master gardener program by "examining social justice resources through the lens of Extension, food systems, land stewardship, and gardening." As Maria says in the interview: "The work of dismantling racism and the work of social justice is hard work, but it is so very rewarding. It is redemptive and can bring about much-needed change for [those] whose time has certainly come."
The JEDI committee was formed in Jan 2020 and is co-chaired by Vanessa Venturini and Maria Saillant. Over the past year, a lot has been accomplished – several subcommittees were formed, a list of resources pertinent to MG volunteers was collated--Justice, Equity, Diversity and Inclusion (JEDI) Resources for URI Master Gardener Volunteers--and next steps for the team are to continue integrating JEDI concepts into the Core training, partnering with the Southside Land Trust and other organizations and continuing to educate our fellow master gardeners.
Come and join this growing group (pun intended!) as we continue this journey. During this past year since I got involved, it has been a journey of learning--as much as it is with gardening! I've been impressed with how passionate the team is and how committed they are in supporting the goals of expanding the diversity of our volunteer base in order to represent our larger community and to help our volunteers reach and most effectively serve our diverse population.
Want to join the JEDI team? Please complete this survey or contact Maria Rivera Saillant. The next meeting is on November 16th at 5 PM.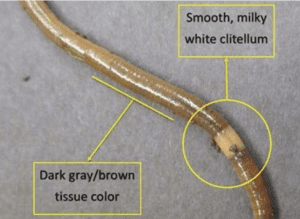 What is a Jumping Worm?
By Gail K. Reynolds, M.F.S, UConn Extension Master Gardener Program. Excerpted from UCONN Extension News, October 12, 2021.
Jumping worms. Snake worms. These nicknames apply to invasive earthworms of the genus Amynthas found in the United States. These Asian worms have been in the U.S. for years but have recently been in the spotlight due to the damage they can cause. Globalization, commerce, and development have contributed to their spread.
There are extremely few native earthworm species in the northeastern United States. Worm populations were eliminated during the last Ice Age. Our local ecosystems developed since the last Ice Age without worm activity. In addition to Asian earthworms, nightcrawlers and other non-native earthworms have been introduced to northeastern North America.
Jumping worms take their earthmoving abilities to the extreme. In unmanaged, natural environments, their activities homogenize the leaf litter and other materials on the forest floor. Many plant species require a natural layer of leaf litter for successful germination and to obtain the nutrients in forest floor materials. In managed areas, such as lawns and gardens, these earthworms can destroy areas due to their voracious appetites, leaving only their castings and nullifying soil benefits.
Image credit: University of Illinois
Update Your Email In Volgistics to Continue Receiving The Dirt
Submitted by Francesca Gallo (she/her/hers), URIMGP Program Associate
The Dirt will soon be transitioning to a new publishing platform – MailChimp! To ensure that you continue to receive The Dirt at your desired email address, be sure to update your current email address listed in Volgistics and complete your 2022 volunteer renewal (available soon!). You will be able to unsubscribe and change your email address through MailChimp starting in the near future (as you do with most newsletter subscriptions); however, we will periodically update the MailChimp email list with data imported from Volgistics, so it is important that your email there is accurate and that you maintain your volunteer renewal status. Thank you for being a reader of this newsletter and preparing for this transition with us!
Help Wanted, Help Offered: Capacity-Building with TerraCorps Students
Submitted by Rebecca Reeves, Class of 2019
I'm a fellow master gardener looking to connect with sites that need help achieving progress this spring, whether that be with garden planting/tending, trail maintenance, educational development, or invasive plant management. This project is part of my service at the Greene School via TerraCorps, an AmeriCorps program.
"Capacity-building" is part of TerraCorps/AmeriCorps service. Each TerraCorps member must facilitate projects that help increase the scope of a nonprofit organization over time so that the organization becomes capable of more than they would have without TerraCorps facilitation. The goal is that capacity-building projects also allow organizations to continue building upon the progress achieved.
If you have a project in mind for spring, or if you'd like more information, please reach out to rreeves@thegreeneschool.org. Thank you!
Help an FFA Student
Submitted by Sejal Lanterman, Community Engagement Coordinator
Please consider helping out a senior year Future Farmers of America student from Max, North Dakota, working on their FFA Agriscience Research Project. This will be the third year they have participated in the FFA Agriscience Research project and this year they are examining the public's perception of vertical farming. As part of the project they have created a quick online survey to gather the thoughts of "viewers like you" across the United States on the topic. They will then write a research paper on their findings/results and share the project and findings with a panel of state judges and, potentially, a panel of national judges. If you are willing, please take a few minutes to complete this very short survey by November 12th.
Image Credit:"20120208_1648 Chicago O'Hare Airport Vertical Farm"by chipmunk_1 is licensed under CC BY-SA 2.0
Project in Need of Compost
Submitted by Joe Carberry, Central Region Coordinator
The Varnum House historical garden, located in East Greenwich, is in need of 1-1.5 yards of compost in order to winterize the rose hedge. Any individuals or projects that have compost to share, please contact Joe Carberry (joe.urimg@gmail.com) to coordinate. Bagged compost would be ideal, but anything would be greatly appreciated!
Volunteers Needed at the RI Veterans Home in Bristol
Submitted by Barbara Jones, URIMGP Class of 2004
Like most MG projects, work at the Veterans' Home came to a halt in March of 2020, just after we had gotten approval to plant in the six patios gardens that grace the brand-new facility. We have spent this year trying to clean up and plant raised beds with vegetables and flowers. Short term, we are looking for volunteers for 3-4 hours on Saturday morning, November 6 (rain date, Sunday). Please join us on these workdays and consider joining our team. Contact Barbara Jones (bsjones@cox.net) with your interest and availability.
How Native Plant Cultivars Affect Pollinators
Sunday, November 14 | 1:30 pm
Webinar via Webex
Native plant species are often recommended to provide optimal foraging and nesting habitats for pollinators and other wildlife. The growing demand for native plants, coupled with the horticulture industry's desire for plants with unique characteristics, has led to the increased breeding and availability of native cultivars or "natives". But do native cultivars provide the same valuable habitat as the straight native species? Annie White will share her field research on this topic and discuss the complex benefits and challenges of using both native species and native cultivars in landscape design.
Annie White is an Ecological Landscape Designer and the owner of Nectar Landscape Design Studio in Stowe, Vermont. She is also a full-time Lecturer of Sustainable Landscape Horticulture + Design at the University of Vermont. Annie earned an MS in Landscape Architecture from the University of Wisconsin-Madison in 2005 and a Ph.D. in Plant & Soil Science from The University of Vermont in 2016. She is passionate about designing cutting-edge and science-based ecological landscapes at all scales-from urban backyards to rural agricultural landscapes.
This lecture is underwritten by the Lisa Lofland Gould Native Plant Program Fund and cosponsored with the Rhode Island Natural History Survey and University of Rhode Island Master Gardener Program. Register for this Webex event.
Renewable Energy and Our Electric Grid: Innovation at URI
Wednesday, November 17 | 6:00 p.m.
Webinar via Webex
Renewable energy will be an integral part of New England's future power system. Rhode Island has mandated aggressive renewable energy goals for the electric sector, which will increase our reliance on the electric grid and demand innovation in space. Research into technological innovations to improve the efficiency, security, and reliability of our electric grid is underway right here at URI. Hear about this exciting research in the second lecture of the 2021 PIER Lecture Series. Registration required.
Maple Foods Beyond Syrup: Maple Sap Water, An Emerging Functional Beverage
Wednesday, December 1 | 6:00 pm
Webinar via Webex
Save the date for an upcoming webinar on December 1 at 6 pm to learn about the magic of maple! Maple water is one of the newest rehydrating drinks on the market, joining the ranks of coconut water, and other "functional beverages". Explore the science behind maple water, how it's made, its sustainability, and its potential health benefits. This webinar will include Kate Weiler, the Co-Founder of Drink Simple, Dr, Navindra Seeram, Professor and Chair of the Dept of Biomedical and Pharmaceutical Sciences at URI, and Dr. Amanda Missimer Clinical Assistant Professor in the Dept. of Nutrition and Food Sciences at URI.
This webinar is free, but registration is required.
Regional Continuing Ed & CE on the Web
Each week, The Dirt curates a shortlist of upcoming learning opportunities from around the local region and on the web. Earn CE hours for your attendance! Select the event links below for full descriptions and registration information.
From NC State University Extension, ongoing through November 22:
• Annuals, Perennials, Vines, and Groundcovers
• Houseplants, Succulents, and Cacti
The Dirt on The Dirt
Submission Instructions
Send URI Master Gardener Program submissions to thedirtnewsletteruri@gmail.com as an email or Word/Google document by Tuesday at 7:00 pm for that week's newsletter. Include your URIMG class year and please identify fellow MGs in photos. The Dirt arrives in your inbox on Fridays.
Updating Your Subscription
To update your email address for receiving The Dirt, send an email to URIMGP's Program Associate, Francesca Gallo with the email address you would like removed and your new, preferred email.
Connect with the URIMGP
Follow @URICoopExt on Facebook and Instagram. Visit our website for event listings.
Follow @URIMasterGardeners now on Instagram!