What's Inside: Congrats Hall of Fame, MG Profiles, Plant of the Year Candidates, Maple Water CE, Volgistics Videos, Pruning Basics Recap, November Tips, Seed Sort Help Wanted, Continuing Education, Program Reminders

Congratulations to the Newest Hall of Famers!
Submitted by Vanessa Venturini, MGP State Program Leader
We are excited to announce the full list of Master Gardener volunteers serving an impressive 1000 hours to earn Hall of Fame status. They will all be profiled in The Dirt in the coming weeks. The URIMGP congratulates the newest group of Hall of Famers!
Wendy Brennen

Joseph Carberry

Linda Carlow

Roland Crevier

Erik Gardner

Pamela Goulet

Melissa Hughes

Nancy LaPosta-Frazier

Heather McGregor

Warren McNeilly

Alan Newton

Katherine Reed

Catherine Rodrigues

Vivian Shaull

Eleanor Silva

Cheryl Smith

Richard Suls
Thank you for helping Rhode Islanders grow!
Meet the 2021 Hall of Fame
Hall of Fame Master Gardeners is phenomenal contributors to our program, having volunteered at least 1000 hours of service. The Dirt will feature 2021 Hall of Fame awardees each week through the end of the year. Congratulations and many thanks to these amazing individuals!
Linda Carlow, Class of 2010, is our long-time Northern Region School Garden, Mentor Coordinator. We are grateful for the partnerships she's helped us create with many new schools, welcoming in new SGMs, and running a tight ship as one of our Queens of the North!
Roland Crevier, Class of 2015, is the type of person when you need something done, he will do it, immediately and the right way. His fellow volunteers say they can always count on him. He is involved in soil testing, demo gardens, and the Produce Donation Garden at Roger Williams Park.
Pamela Goulet, Class of 2004, has been actively engaged in a variety of projects since she took the class. She's been a great contributor at Daggett Farm, Veterans Home, and Learning Landscape. Pam we appreciate you, thank you for your service.
Heather McGregor, Class of 2011, is a day leader on the Friday veggie greenhouse team whose leadership skills show in her attention to the details. Heather is a patient teacher and font of information for her fellow volunteers. She has made it a lot of fun for her crew!
Vote for the 2022 Plant of the Year!
Submitted by the East Farm Greenhouse Leaders
The Spring 2022 greenhouse season is underway! The seed catalogs are in and the East Farm greenhouse leaders are putting orders together for the seeds we will use to grow plants for the MG plant sale, schools, and demonstration gardens – but first, the Plant of the Year for 2022 must be chosen. Let's meet the candidates!
The Plant of the Year has been narrowed down to three choices and we need your help in crowning the winner! Please review the descriptions of the contenders below, then cast a vote through our one-line voting survey. Please take 30 seconds to submit your vote by Tuesday, November 30!
Juliet Tomato
From our personal experience, the Juliet tomato just keeps going, and going, and going. We have used the fruit dried as a pizza topping, turned it into soup and sauce, tossed in salads, and even sliced for a sandwich. This variety stores extremely well and will give you plenty of tomatoes to share with your favorite food bank!
According to Johnny's Seeds, Juliet "is one of the most disease resistant in industry trials. Deep red, shiny fruits average 2–2 1/4" x 1 3/8–1 1/2", weighing 1 1/2–2 oz. Typically 12–18 fruits per cluster. Delicious, rich tomato flavor for salads, great salsa, and fresh pasta sauce. Good crack resistance, vine storage, and shelf life. Intermediate resistance to early blight and late blight. AAS winner. Indeterminate."
Swiss Chard
This plant never ever stops! From our own experience, it is quite resistant to the bugs that like to eat the kale and other greens in the garden, and it has even been known to overwinter, returning in the spring. This beautiful plant will allow you to have plenty for yourself and have more than enough to donate!
According to Johnny's Seeds, this swiss chard is "nicely savoyed with glossy green or bronze leaves with stems of gold, pink, orange, purple, red, and white with bright, pastel, and multicolored variations. Consistent growth rate, leaf shape and texture, and strong bolt resistance across all colors make this a superior mix. Suitable for production year-round, but somewhat less frost-hardy than other chards. AAS winner."
Gem Marigold
Gem Marigold beauties are a staple of the veggie greenhouse and come in a variety of hues. Not only are they great companions for your vegetable garden, they are also a nice addition to the flower garden, or planted in with greenery for a nice splash of spreading color.
Johnny's Seeds describes edible Gem Marigolds as "Hundreds of petite flowers [on] neat, low mounds of lacy foliage with a citrusy scent. Long-blooming for beds, borders, and containers where it attracts beneficial insects, such as ladybugs, hoverflies, butterflies, predatory bugs, and parasitic wasps. Leaves of the plant are edible and are used as flavorful salad greens and garnish. Also known as signet marigold. Use the flowers to dress up salads and desserts or cook in egg or rice dishes. The flavor is floral with hints of citrus and spice, and slightly bitter. Remove the petals from the flower base before consuming them as the base can be quite bitter. Height 10–12 inches."
Reminder: Register for the Magic of Maple CE!
Wednesday, December 1 | 6:00 - 7:30 pm Webinar
Kick off December with an online CE class all about the magic of maple water, one of the newest "functional beverages" on the market. The webinar, Maple Foods Beyond Syrup: Maple Sap Water, An Emerging Functional Beverage," will explore the science behind maple water, how it's made, its sustainability, and its potential health benefits.
Presenters include Kate Weiler, the Co-Founder of Drink Simple, Dr. Navindra Seeram, Professor and Chair of the Dept of Biomedical and Pharmaceutical Sciences at URI, and Dr. Amanda Missimer, Clinical Assistant Professor in the Department of Nutrition and Food Sciences at URI. Registration required.
Volgistics F.A.Q.
MGs use Volgistics to track project hours and reserve spots for MG events. Need a refresher on logging volunteer shift hours? Can't quite figure out how to register for an upcoming event or class? Check out these two handy video tutorials from the Volgistics User Guide team! The videos review Volgistics Time Entry (timesheets) and Volgistics Sign Up (event registration).
We hope these tutorials shed some light on these procedures and make using Volgistics easier. Still, have questions? Email urimastergardener@gmail.com.
Pruning Basics Continuing Ed Recap
Submitted by Debbie Ferriter, URIMGP Class of 2021
On November 13, a crisp sunny day, an eager group of MG '20 and '21 interns as well as some veteran blue pins began their pruning experience at the Mallon Center with Vivian Shaull, Hall of Fame MG. She started by teaching sharpening techniques for pruning tools. Next, the group was directed to focus on the node of the branch. Vivian demonstrated how to deadhead and cut the cross branches. The group pruned many bushes and shrubs. Vivian helped evaluate the health of the trees and gave ideas on how to shape them. At first the pruners were cautious but by the end, the saws came out and the serious pruning began. Yes, Vivian, we had a lot of fun!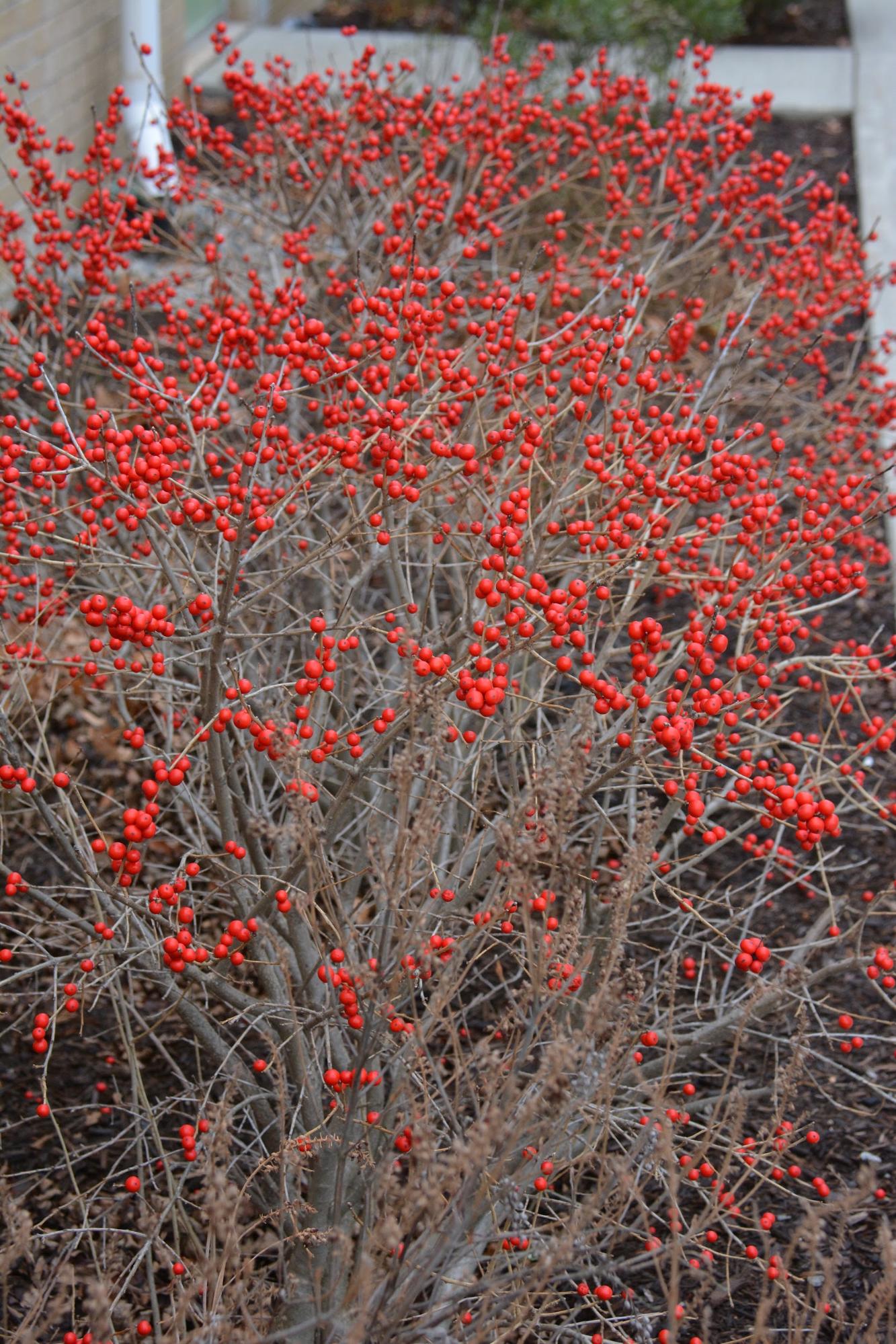 November is the Month To . . .
Excerpted from UMass Hort Notes, November 2021 Vol. 32 No. 9
Mulch berries and perennials. Organic mulch helps to moderate temperature fluctuations to protect plants from frost heaving caused by freezing and thawing of the soil. Fall mulch application can also help smother winter annual weeds, decrease runoff and increase water retention for the following summer. Mulches also protect the soil from compaction by rain and foot traffic.
Remove spent plants. Spent vegetable plants and annuals should be removed to reduce the risk of disease carryover to the next season. Perennial plants that die to the ground can also be removed except for disease-free ornamental grasses, Echinacea (coneflower), Eutrochium (Joe-Pye weed), and Rudbeckia (black-eyed Susan) that can provide birds with seeds, vertical accent during the winter, and necessary places for pollinators to overwinter.
Rake leaves and remove mummified fruit. Leaves and mummified fruit from fruit trees that were diseased should be raked, removed, and destroyed to reduce the amount of disease pathogens carried over to the next season. The leaves and mummified fruits should not be thrown into the compost pile. Fungi that cause leaf and fruit spots can overwinter in infected debris in soil or under the plants. These pathogens stay in a dormant state until the following spring when rains and warmer weather induce the production of spores which are disseminated by wind and rain to infect plants during the growing season. Removal of infected plant material helps to reduce the amount of disease pathogens present in the area, thus reducing the amount of potential disease for the next season.
Protect tender evergreen shrubs from winter damage. Broadleaf evergreens such as rhododendrons, holly, boxwood, and mountain laurel are susceptible to dry cold winds which can cause desiccation of leaves. During the winter when the soil is frozen, evergreen shrubs can lose water faster than they can take it up if they are exposed to cold dry winds. The leaves then get desiccated and appear brown and dead in late winter and spring. Protect plants from drying winter winds by erecting windbreaks made of burlap attached to frames on the side facing the prevailing winds. Stakes can be placed about 12-18 inches away from the plant to support the burlap barrier to buffer the wind.
Reduce watering and fertilizer application to houseplants. During the months of cold temperatures and shorter days, the growth of most houseplants slows down. During this period, new growth is minimal. Reduce fertilizer application and water house plants until spring when new growth resumes.
Read the full November edition of Hort Notes from UMass Extension.
Update Your Email In Volgistics to Continue Receiving The Dirt
Submitted by Francesca Gallo (she/her/hers), URIMGP Program Associate
The Dirt will soon be transitioning to a new publishing platform – MailChimp! To ensure that you continue to receive The Dirt at your desired email address, be sure to update your current email address listed in Volgistics and complete your 2022 volunteer renewal (available soon!). You will be able to unsubscribe and change your email address through MailChimp starting in the near future (as you do with most newsletter subscriptions); however, we will periodically update the MailChimp email list with data imported from Volgistics, so it is important that your email there is accurate and that you maintain your volunteer renewal status. Thank you for being a reader of this newsletter and preparing for this transition with us!
NEW! Sign Up for the Seed Sort Today!
Submitted by the Seed Sort Team
It's back! The 2022 Free Seed Program will take place in the Garcia Greenhouse at East Farm beginning on Tuesday, November 30. The work schedule will be Tuesday through Saturday, 9:00 to 1:00, for both the sorting and packaging phases. Volunteers will be sorting unsold 2021 seed packets generously donated by Ocean State Job Lot and preparing them for distribution to MGP School Gardens and Projects and then to Rhode Island organizations and individuals. Volunteers must sign up for daily shifts in Volgistics; due to COVID restrictions, we will not be able to accept walk-in volunteers. Daily crews will be restricted to 8 volunteers and mask wearing is mandatory. If you have any questions, please email Nancy LaPosta-Frazier (nancy.laposta@gmail.com).
Photo Credit: "Organizing my Seed Stash" by Chiot's Run is licensed under CC BY-NC 2.0
Maple Foods Beyond Syrup: Maple Sap Water, An Emerging Functional Beverage
Wednesday, December 1 | 6:00 - 7:30 pm
Webinar via Webex
Register for this webinar to learn about the magic of maple! Maple water is one of the newest rehydrating drinks on the market, joining the ranks of coconut water, and other "functional beverages." Explore the science behind maple water and its potential health benefits. Read the full CE description here.
---
Regional Continuing Ed & CE on the Web

The Dirt on The Dirt
Submission Instructions
Send URI Master Gardener Program submissions to thedirtnewsletteruri@gmail.com as an email or Word/Google document by Tuesday at 7:00 pm for that week's newsletter. Include your URIMG class year and please identify fellow MGs in photos. The Dirt arrives in your inbox on Fridays.
Updating Your Subscription
To update your email address for receiving The Dirt, send an email to URIMGP's Program Associate, Francesca Gallo with the email address you would like removed and your new, preferred email.
Connect with the URIMGP
Follow @URICoopExt on Facebook and Instagram. Visit our website for event listings.
Follow @URIMasterGardeners now on Instagram!